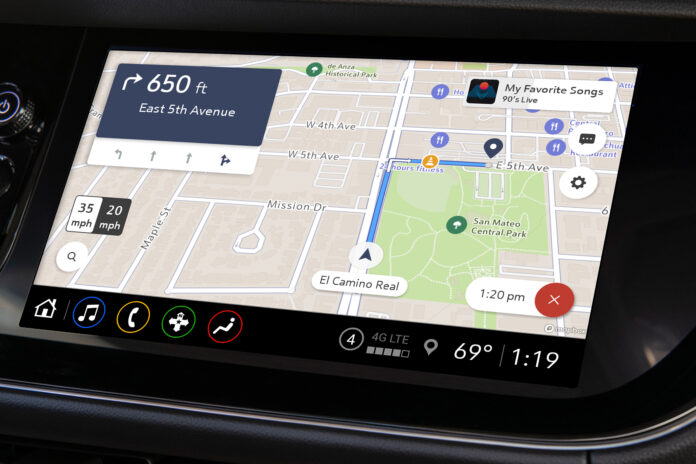 Maps+ To Be Installed In Vehicles That Did Not Have Built-in Navigation
By Kevin Dennehy
General Motors [GM] is launching an in-vehicle, app-based navigation service with Mapbox to install in select model year 2018 and newer Chevrolet, Buick, GMC and Cadillac vehicles by the end of the year.  Mapbox' Map+ is expected to be installed in 900,000 vehicles on April 30 as part of GM's connected services plan.
Maps+ will be offered to current owners of selected vehicles that previously did not have built-in navigation to enable voice assistants, navigation and apps.  Although Map+ doesn't require a phone to be connected to a vehicle, it does cost have a monthly subscription fee through OnStar's connectivity plan (which starts at roughly $15 per month).
Maps+ features built-in Alexa voice control for music and podcasts using integrated audio apps, the company said.  In addition, a search capability offers access to points of interest, shops, restaurants, parking and more.  Other Waze-like features include speed limit, road hazard alerts and outing to nearby stations if vehicle is low on fuel.
Key Takeaways:
It's a big deal when open-source-based Mapbox can grab a big chunk of automotive mapping business from Google, HERE and TomTom.
Current eligible Chevrolet, Buick, GMC and Cadillac owners will be notified when their vehicle is eligible for Maps+.
The planning for Maps+ was solid.  It gives the opportunity to owners with older cars, or those who opted-out of buying an in-vehicle unit, the ability to gain cutting-edge navigation features.