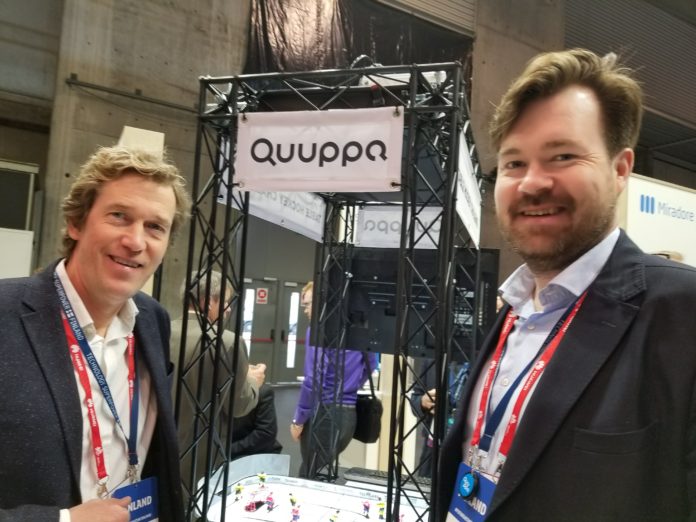 BARCELONA—Indoor positioning companies exhibited at the Mobile World Congress here to educate retailers, government agencies, transportation companies and others about the benefits of locating and tracking customers, assets and goods.
At MWC, Finland-based Quuppa rolled out a Bluetooth Low Energy (BLE) tag module for third-party manufacturers to build devices with location capabilities. The tag is already being used by the company's partners for locatable keycards, ID badges, bracelets, asset tags and even hockey pucks, the company said.
Quuppa rose out of Bluetooth research at Nokia, said Kimmo Kalliola, company CEO and co-founder. "We started working on Angle of Arrival-based (AOA) methods in combination with Bluetooth," he said.  "We believe we are more accurate, in some cases 10 centimeter accuracy in sports uses, but more reliable than most beacon-based [systems] because of our AOA principle."
The company, with offices in Finland, Washington and Shanghai, currently has 24 employees and more than 70 partners using its technology, Kalliola said. "The 70 partners is a good start, who are working with us as we offer one platform with a shorter time to market," he said.
Some of the big markets for Quuppa include large hospital complexes and warehouses, said Thomas Hasselman, company CMO. "Warehouses need to know where forklifts are. They want to know if one is approaching a corner and allow it to brake within a fraction of a second," he said.
Hasselman said the location tags are going in the 5-euro range in quantity. "In a hospital, you can track patients and then throw the tags away, instead of a cleaning process for them," he said. "In a hospital, a nurse or doctor can go into an area that is geofenced to ensure they are sanitized before entering [with the tags]."
In terms of the retail market, which Quupa is still involved in, many companies haven't found it to be the home run they expected. "Retailers haven't found the return-on-investment. It's been a hard market," Hasselman said. "It's still about five years away. Supermarkets are kind of like warehouses. The applications being built, though, have to justify the investment."
Hasselman said the tags, which are interoperable with other technologies that work indoors and outdoors, are being deployed in prisons in China to track prisoners and other military and law enforcement applications.
Citing long battery life and easy-to-launch testing, One of its partners, Bitwise, is developing a "smart puck" with the Quuppa Tag Module.
More Than 30 Indoor Positioning Companies Exhibit at MWC
Although still a small footprint in the cavernous halls of Barcelona's Fira center, at least 33 companies displayed products and services related to indoor location, which is growing over previous years, said Bruce Krulwich, Grizzly Analytics founder and chief analyst.
For the fifth year, Pole Star installed hundreds of its indoor location beacons at the 240,000-square-meter Fira Barcelona during the Mobile World Congress.
The company says its core markets are smart offices, healthcare, malls and stores, transportation and smart manufacturing.
"We're profitable for the third straight year. Some of our customer's applications include tracking boxes in a warehouse, monitoring drugs, tracking employees indoors and others," said Christian Carle, Pole Star CEO.
The company, which has partnered with France-based Mapwize on its mapping applications, said it installed beacons in 100 new sites last year in 26 coutnries.  Mapwize allows customers to digitalize existing floorplans, customize maps and use it in existing mobile and web apps.
Pole Star said that only one SDK, beacon and access to its platform is necessary for deployment.  The system is compatible with Android and IoS operating systems.
PoLTE Makes Deals at MWC
Location provider PoLTE partnered with ACS at MWC. ACS will use PoLTE's LTE-based location tracking to allow business in the manufacturing, industrial and transportation industries to track assets, goods, workers and devices.
The company is still undergoing trials and proofs of concepts connected to wireless operator's network test platforms, said Ed Chao, company CTO, who recently joined PoLTE from T-Mobile.
The company also signed a deal with Sequans to integrate PoLTE positioning technology into Sequans' Monarch LTE Platform, enabling low-power, indoor and outdoor positioning capability for LTE for IoT devices.
PoLTE says companies are increasing costs, size and energy consumption by embedding GPS, Wi-Fi, Bluetooth or other radios for location. The PoLTE-Sequans joint product uses only the LTE radio for accurate indoor and outdoor location capabilities, the company said.
"When you plug a device into a power source, you don't have to worry about power draw of GPS—when trying to find out who stole your RV," Chao said. "You don't have a power source on top of RV, no exposed wires, just two AA batteries that last two years. Set it and forget it. It works indoors and outdoors—where GPS doesn't make a lot of sense."