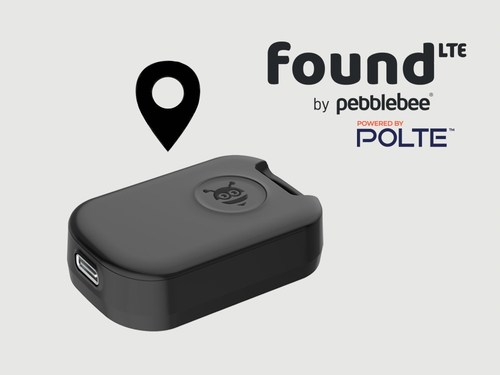 Polte Location Technology Integrated in Asset Tracker (Photo: Pebblebee)
Pebblebee said its latest generation of Found asset recovery devices will include Polte 4G/5G Massive IoT cellular location technology.
The Polte technology allows Found LTE devices to leverage existing cellular infrastructure and secure cloud computing for indoor and outdoor use, which extends beyond the range of BLE and GPS.
"By leaning on Polte's cloud-based cellular location technology beyond where BLE can reach, rather than GPS, the device is able to significantly cut cost and power drain for a range of use cases including pet and general enterprise asset tracking," said Daniel Daoura, Pebblebee founder and CEO, in a statement.
The product, which costs $149 with a one-year subscription thrown in, will be marketed to both consumer and enterprise markets.
Polte's positioning capability is provided through an API to preclude the expense of hardware, access points, or beacon deployments, the company said.
Pebblebee, founded in 2012, has shipped more than 1 million units to such retailers as Costco, according to their website.  These units range from dog trackers to TV control and wallet finders.  The company said that Found LTE is being shipped to "thousands of preorder customers" with initial rollout in the U.S. and Canada.
The company said its employees come from Google, Apple, Microsoft, Boeing, Hewlett-Packard, GE, HBO and others.
Contact:  Christina Wicker, Polte, (949) 527-0923, christina@polte.com, www.polte.com; Pebblebee, contact@pebblebee.com.