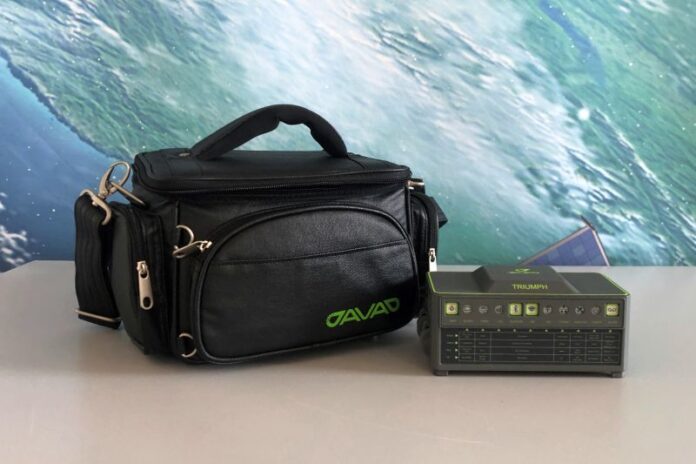 Photo:  ALLSAT Offers the JAVAD Triumph-3 in Germany and Austria.
With new GNSS survey technology being rolled out, and a robust worldwide surveying and mapping market predicted, many established dealers are looking to expand their existing product lines.
While many survey dealers are established businesses, others are experienced entrepreneurs who want to set up a dealership in a specific country.  Either way, survey dealers are selected by GNSS equipment manufacturers for a variety of reasons.
"With regard to our typical dealer, and the qualities we are looking for, this is quite a mix and depends upon a number of variables, with location being one of the biggest factors," said Tom Hunter, JAVAD GNSS Chief Sales Officer.  "In Europe and Asia, we have dealers that have been well established in the survey, mapping and reference station market segments.  They have been successfully selling and supporting our products for a great number of years."
Hunter said the company's newer dealers, located in such places as Eastern Europe, Africa, India, Central America and other regions, have established survey sales and support organizations.  "They wanted to have access to our newest high precision, real-time survey solutions to meet the requirements of their customers," he said.  "In the United States, we are now evaluating new dealer requests.  We take into consideration dealer location, business size, staffing and their ability to promote and adequately support our survey products.  In addition to new dealer requests, we are also adding independent agents as a supplement."
Dealer Cites Relationship with Manufacturer as Key to Success
Because GNSS survey equipment, methods and operations are changing at a rapid pace, dealers need to stay on top of any problems a customer may have, including current training, said Jürgen Rüffer, managing director of Hannover, Germany-based ALLSAT GmbH.
"You need to understand the technical details of precision GNSS.  You also need to know your markets very well," he said.  "Companies need to have people in their organizations who love to sell high-tech and sophisticated electronics.  You also need people who have a profound understanding of [the product's] functionality in order to advise customers what they can achieve with GNSS equipment and what may be too far from the real world."
Much of ALLSAT's sales and consulting comes from customers who want to solve a specific problem with a GNSS survey system, Rüffer said.  "We give support to customers who have problems using their equipment and the processing of raw data.  We offer on-the-job training and deliver new equipment for specific applications," he said.  "We install and interface with equipment on such platforms as ships, machines, aircraft, agriculture and reference stations until customers can continue a job on their own. We also repair GNSS hardware, to a certain extent, with the exception of warranty repairs."
Rüffer said that a survey problem occurred when a customer from a German research institute needed equipment to be used for an Alaska monitoring job in order to find suitable solar panels for charging.  This included accuracy in the millimetre range using post-processing software and centimetre-level, real-time kinematic with radio communication, he said.
"The equipment had to be lightweight as it would be carried for weeks during an expedition in a harsh environment.  We had to find the right equipment, reliable hardware, post-processing software and training," Rüffer said.
Rüffer said that ALLSAT, which has sold JAVAD GNSS products for more than 20 years in Germany and Austria, has enjoyed working with the San Jose, Calif.-based company because of mutual trust and professionalism.   "While they are an international player in the GPS and GNSS field, it feels like we have always been working with a small company," he said.  "It's always been possible to communicate with their engineers once a problem occurred and couldn't be solved immediately."
The relationship started with JAVAD GNSS founder Javad Ashjaee and Hunter, who recently came out of retirement to lead the company's sales and marketing efforts.  The relationship continues with Nedda Ashjaee, Javad's daughter and company CEO, Rüffer said.  "We have been friends and business partners for more than two decades," he said.  "We are supporting JAVAD GNSS during testing of new unreleased hardware and firmware."
Dealer Incentives to Take Advantage of Growing Market
The worldwide GNSS survey market continues to evolve as new technology and products are introduced each year.  Because the overall GNSS survey market is expected to grow, particularly in Asia over the next 10 years, dealers have the opportunity to expand their product lines with the most recent systems and technology.
JAVAD GNSS currently offers new dealers a program that includes resources to develop business opportunities in their regions.  These include online marketing, training and support products, available on the company's website, to generate demand and maximize profits, the company said.
The company currently offers dealers a 50 percent annual discount on a complete demonstration survey system (single base and rover units).  In addition, the company compensates dealers for increased technical support levels and related staffing.  JAVAD GNSS also provides a co-op advertising and marketing assistance program based on dealer annual sales volume, the company said.
Other JAVAD GNSS dealer incentives include:
Authorized Service Center Program (additional 2.5 percent dealer discount): After a dealer has been provided with factory service training for the primary products sold and has been issued an Authorized Service Center Certificate.
Level 2 Technical Support Program (additional 2.5 percent dealer discount): After a dealer has proven the ability to provide adequate basic and intermediate level of technical support directly to their customers.
Dealer Demonstration Stock Program: JAVAD GNSS, from time to time, may offer special discounts for limited quantities of demonstration units and will provide notice to eligible dealers.
Contact:  JAVAD GNSS, (408) 770-1770, sales@javad.com, www.javad.com/jgnss.