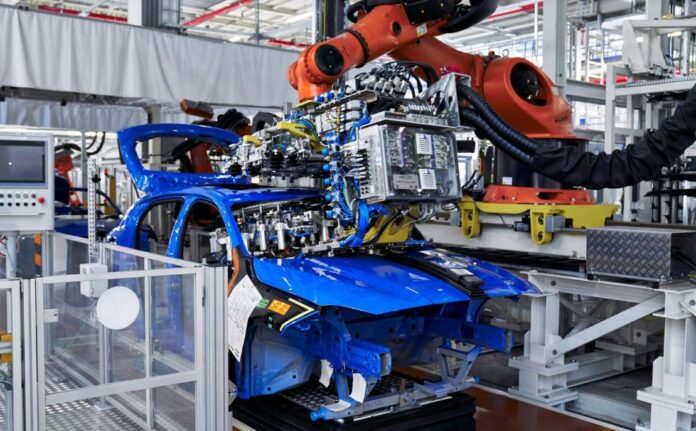 Three major European companies are testing high-accuracy indoor positioning (HAIP) at a BMW Group auto plant in Leipzig, Germany.  Vodafone Germany VOD 0.09%↑, Nokia NOK -0.47%↓ and BMW [BMWYY] are testing HAIP services over a 5G 'campus network' at the plant.
The site, which is used to test the automaker's 5G and AI capabilities, will test positioning technology that locates machines, tools, cars and spare parts at the site down to centimeter-accuracy, the companies say.
"Real-time location technologies will play a key role in the smart factories of the future.  They can be used to precisely localize networked materials, tools, machines and vehicles," said Alexander Saul, Vodafone Germany, managing director, corporate customers, in a statement.  "In the next step, they will then also be able to interact with their environment in real time via 5G networks."
More than 1,000 vehicles roll off of the production line at the plant each day, which will integrate 5G positioning for the first time, to locate thousands of tools and spare parts across the factory, the companies said.  In addition to the variety of location technologies that are used at the plant, which include Bluetooth Low Energy, WiFi, RFID and iBeacon, autonomous vehicles transport tools around the 4,500 square meters in the assembly hall.
The companies are making the bold statement that their 5G technology could be "the most important system for centimeter-precise positioning in the future."   The pilot project will equip the driverless transport vehicles and pallets with car parts and tools with the 5G positioning technology.
"The pilot project will help us to refine the 5G positioning technology in practical use.  In the industrial environment, the exact location of objects is particularly challenging due to the different environments," said Martin Beltrop, Nokia's head of portfolio management enterprise.  "Walls, machines or technical systems must be taken into account in the positioning calculations and 5G antennas must be aligned."