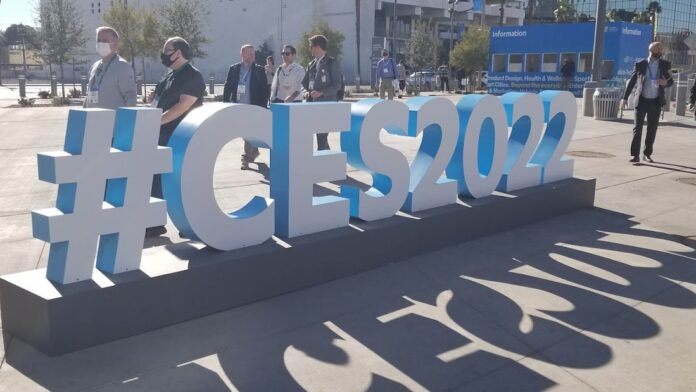 Despite 75 percent less attendees, companies rolled out products and services
LAS VEGAS—Organizers of the CES 2022 trade show here said that attendance was down nearly 75 percent for this year's conference. However, most vendors at the traditionally huge conference, and the media events (CES Unveiled, Pepcom, Showstoppers), were upbeat, despite low numbers of attendees and "name" exhibitors bailing because of the recent Omicron virus outbreak.
Here Technologies, which made several announcements at CES despite having a virtual presence, partnered with Volta Trucks and what3words.  United Kingdom-based what3words, which has partnered with such automakers as Mercedes, Mitsubishi, Lamborghini, Tata and others, says location is difficult to most users.
"Street addressing covers some parts of world, but can be fairly inaccurate.  The thing drops in you in middle of business or a parking lot—and not the entrance you wanted," said Giles Ryhs-Jones, what3words CMO.  "We've mapped trillions of 10 by 10 squares that are totally unique and use three identifying words.  I could say in a Mercedes, 'table, chair, lamp' and the [navigation unit] knows exactly where I want to go."
Lots of Lidar at CES 2022
There must have been more than 30 Lidar companies at CES.  One company, Quanergy Systems, citing cost and performance as differentiators, is focusing on the industrial market.
"We've noticed that what matters for customers is the intelligence and security of the software.  The differentiator for many industrial applications is performance and cost," said Enzo Signore, Quanergy CMO.  "We believe that industrial is a very strong business model.  Autonomous vehicles are a very complex market that will take five-to-seven years to mature."
At CES, the company announced that it achieved the industry's first 200-meter range for optical-phased array solid state Lidar.
---
---
More CES News:
Tewksbury, Mass.-based inertial sensing company Aceinna has focused on autonomous driving for the past three years, said Teoman Ustun, company vice president of marketing.  "We also offer industrial and agricultural inertial sensing products as part of our portfolio," he said.  "We've also offered [inertial measurement units] in several form factors.  For autonomous vehicles, our inertial navigation systems are important because of the localization required."
At CES, Aceinna announced the INS401 INS and GNSS/RTK for autonomous vehicle positioning.
Taoglas Group had a busy CES and 2021, said Dermot O'Shea, company co-founder and joint CEO.  "We split the business up into two divisions—one an antenna and advanced component.  The other is an IoT division," he said.
O'Shea, who said that the company seeks to hire more engineers and sales professionals, believes IoT has been a great opportunity because as the market matures, more products are being launched—and those solutions require antennas.
One Point says 2022 is going well with its partnerships with Ligado and Quectel.  "We are also getting into other verticals outside of automotive like agriculture and such micromobility as scooters so they don't go on sidewalks," said Aaron Nathan, Point One CEO.  "We are also into the robotics and delivery markets.  Autonomous deliveries are taking off at universities—it's an emerging market for us."
At CES, Nathan said he was concerned when he started seeing company and meeting cancellations.  "All of a sudden, our calendar filled up," he said.
Speaking of Quectel, which had its own presentations at CES at the Sahara Hotel, the company launched its SG865W-WF Android smart module.  The unit integrates with cellular and GNSS modules such as Quectel's EC20 LTE module, and the RG500Q 5G module.  Some applications include UAVs, video conferencing, robotics and smart retail.
CES 2022 had the requisite amount of food delivery and autonomous agriculture vehicles:
Finally, there were a number of pet, valuables, car, theft recovery trackers all throughout CES: