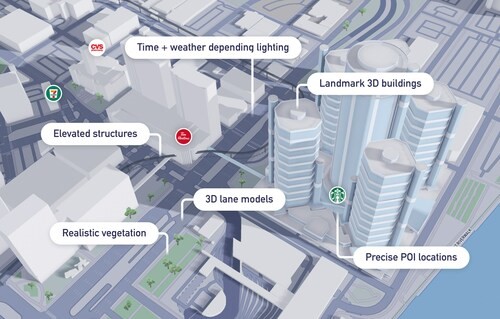 Company rolls out 3D Live Navigation, Mapbox for EV and makes a deal with Toyota Europe
LAS VEGAS—Mapbox rolled out its Mapbox 3D Live Navigation at CES that seeks to improve a driver's ability to understand their digital map in different scenarios.  3D Live Navigation combines 3D lane models, real-time sensor information, sign data, environmental models, 3D landmark buildings, dynamic lighting conditions and weather data, the company said.
"With 3D Live Navigation, we've added dynamic data layers that really change the qualities of the map and make them contextual to the consumer," said Young Hahn, Mapbox CTO.  "The whole goal is to make it easier for drivers to understand what is going on with the map.  This could be in a complex interchange where a car has to get over two lanes to make the right maneuver."
Mapbox 3D Live Navigation also integrates ambient weather and road weather alerts. Sun angles, scene lighting, and shadow angles are true to the time of day and actual local conditions, providing visual orientation cues reflecting the real world.  "Weather is much more contextually integrated into the navigation experience.  Drivers experience temperature drops of 20 degrees, light and dark road conditions," Hahn said.  "We wanted to represent the conditions dynamically, including atmospheric conditions, to tell drivers what is happening to the vehicle."
The company also announced Mapbox for EV for electric vehicles that predicts available range, finding the best charging locations and enables payments directly from the infotainment screen at the charging location, the company said.  Mapbox for EV, which comes as an option in the in-car navigation application Mapbox Dash, can also be integrated into any in-car or mobile application via Mapbox cloud APIs.
"Today, EV charging is broken," said Peter Sirota, Mapbox CEO, in a statement. "Finding functional and available charge points is clunky and the need to download and manage multiple apps for charging is a painful part of being an EV owner, adding to their already substantial range anxiety."
By reviewing analytics from their own applications, and what OEMs tell them, the company has found out that more than 40 percent of charging attempts fail, Hahn said.  "It's a challenge for drivers.  Sometimes the location of charging stations is in a remote corner of a parking garage, on the third level, or not working," he said.  "When it is working, sometimes the operator wants you to download an app and add a credit card."
The company also announced that it is partnering with Toyota Motor Europe to offer cloud navigation powered by Mapbox Dash. Toyota's European vehicle models Yaris, Yaris Cross and Aygo X will have access to lane-level navigation; parking search, including real-time parking availability; speed limit and speed camera warnings, the company said.