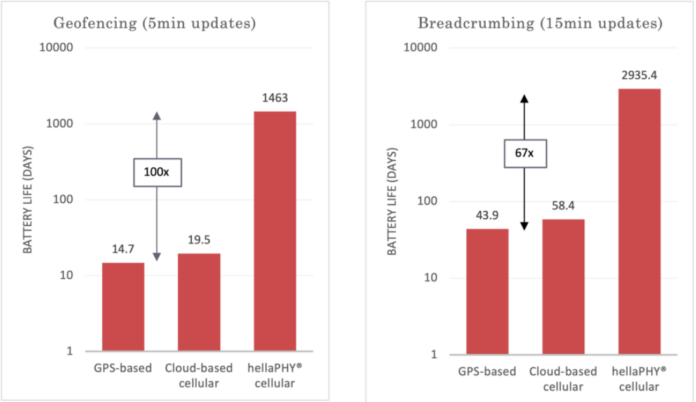 San Diego-based PHY Wireless said that its hellaPHY device-based cellular positioning technology can reduce the size, cost and power requirements for tracked devices, while providing both indoor and outdoor high accuracy positioning.
The company has announced a new whitepaper, published by ABI Research, titled "Delivering on the Promise of Massive IoT Tracking and Location Services."  The research firm believes that device-based 4G and 5G show a growing trend "to increased edge intelligence on the device" to allow it to be more autonomous.
The company is testing hellaPHY in demanding urban environments—and believes that the technology's low cost eliminates the need for such other location technologies as Wi-Fi, Bluetooth or GNSS, said Steven Caliguri, PHY Wireless vice president, strategy and business development.
The company's device-based location technology, tailored for existing 4G LTE and 5G networks, allows service providers overcome both economic and deployment challenges of location tracking, the company said.  In addition, while hellaPHY features cloud-based location, it carries out all computation using on-device software, shifting positioning determination from being User Equipment (UE)-assisted to being UE-based, the company said.
PHY Wireless, formed in 2019 as a part of Acorn Technologies, has been testing and deploying IoT and location technology for many years, said CEO Tom Horgan.  It lists retired software entrepreneur Peter Norton as chairman of its board of directors.
Contact:  Jeremy Hyatt, for PHY Wireless, pr@glfashmedia.com, www.phywireless.com. Click here to download the whitepaper.