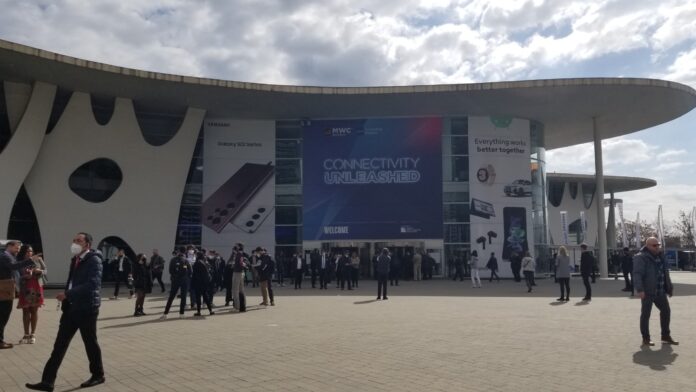 Halls seemed to be packed, but was it all smoke and mirrors?
BARCELONA—While the Mobile World Congress here drew more of a crowd than last year's sparse pandemic numbers, many location industry companies either did not attend at all or had a small presence via meeting rooms.
However, attending companies seemed upbeat and used the large smartphone show as a way to reveal how location technology will thrive in a 5G world and beyond. At its press conference, which was made available online, Qualcomm [QCOM] CEO president Cristiano Amon made several announcements, based on Snapdragon Connect, which he says offers true connectivity, not only for cellular, but Bluetooth, Wi-FI and position location.
Previous MWC shows had a number of automotive companies—and many thought it would rival CES as a car tech show. This year's MWC, however, had a scaled-back presence from auto companies—many of which participated in "smart mobility" panels. In fact, Qualcomm's Connectivity-as-a-Service feature for Snapdragon Car-to-Cloud Services to support global connectivity was one of the few announcements.
Data was again a big topic at MWC as such companies as Geotab, which draws information from more than 2.6 million connected vehicles worldwide, develops sustainability products for their customers, said Aaron Jarvis, company associate vice president, sales and business development.
"We take massive data and make it relevant, with a Green Fleet Dashboard and machine learning, to someone with fleets of 10 or 100 vehicles.  This includes what would be beneficial to a short-stop or long-stop driver," he said.  "We have improved one company's fleet by reducing 60 percent in carbon emissions."
MWC allowed Dallas-based Polte to showcase its precise positioning technology among the 5G rollouts and private networks.  "Location for 5G private networks is a no-brainer.  In Europe, Deutsche Telecom has field tested Polte and found that we are 10-20 times more accurate [than competitors]," said CEO Ed Chao. "Because of 5G, the quality of the networks is getting better.  The need for location platforms is increasing."
Chao said that secure and available location is critical for industrial uses.  "In 5G location use cases for industrial you need the best seamless performance," he said.  "Wi-Fi just doesn't have the range, plus it's in an unlicensed band. A robot, or other critical device, can't just stop working."
In other MWC news:
GSMA, the organizers of MWC, banished Russian companies and shut down the country's pavilion in the wake of its invasion of Ukraine.
At least two halls were shut down due to lack of exhibitors (and the existing halls were scaled back.
North American companies seemed to have a smaller presence this year. Mapping companies were scarce.