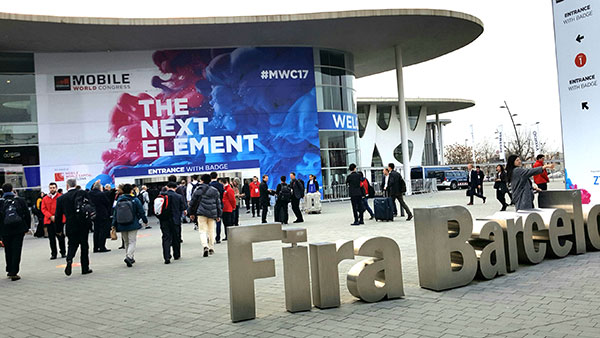 Location Big Component of Future 5G Rollouts
At least one major company at the GSMA Mobile World Congress in Barcelona said such location technology as GPS will be critical for future 5G rollouts.
In a keynote address, Christiano Amon, Qualcomm [QCOM] president and CEO-elect, spent several minutes talking about how 5G precision positioning will help improve connected and autonomous vehicles, V2X and high-precision 3D maps (see CNET video below at 12-minute mark).
Qualcomm also rolled out its Snapdragon 888 Plus 5G Mobile Platform, which builds on its  flagship Snapdragon 888.  The unit will power smartphones, in the second half of 2021, from ASUS, Honor, Motorola, vivo and Xiaomi in second half of 2021.  The unit supports GPS, Beidou, Galileo, GLONASS.
Qualcomm Mobile World Congress keynote (CNET)
While not a traditional auto show, MWC in the past few years has seen an increasing number of connected car and autonomous vehicle exhibitors and panels.  For example, 5G Automotive Association (5GAA) said the not only will 5G be the driver for broad-scale improvements that connect mobility, but global deployments of cellular vehicle to everything (C-2VX) will be pervasive.  The association believes C-V2X will help drive advanced safety and automated driving use cases from 2024 on.
"In the next two to three years, our association expects to see mass deployment of vehicle-to everything (V2X) use cases geared towards improving traffic efficiency and road safety around the world", said 5GAA director-general Johannes Springer, in a statement.
Another area that seemed to be big this year at MWC was an increased focus on 5G network infrastructure.  HERE Technologies said it would  integrate location data into M2Catalyst's Crowd SiteIntel (CSI) dashboard.  The CSI dashboard allows mobile network operators building 5G networks to M2Catalyst's data-as-a-service offering to identify and plan the optimal placements of network antennas, the company said.
The Mobile World Congress in Barcelona was toned down version with an expected 25,000 or so attendees, depending on who was estimating.  Many large companies decided not to exhibit—and those who did participate did so via video (Google (GOOGL), Facebook (FB), Samsung (SSNLF), Ericsson (ERIC) and Qualcomm are a few).
Pre-pandemic, the trade show topped 100,000 attendees and seemed to rival CES for the biggest transportation and lodging headache for companies.
Key Takeaways:
By just going to YouTube, you could watch just about every MWC keynote for free from your home or office.