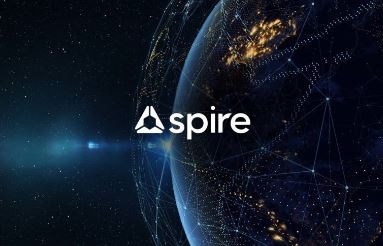 Spire's Receives $6.5 Million NASA Contract
Spire Global SPIR 0.00%↑ has announced it was awarded a $6.5 million, 12-month contract renewal to continue participation in NASA's Commercial Smallsat Data Acquisition (CSDA) Program.  The contract is a $500,000 increase from the previous award of $6 million in June 2022.
Besides Earth observation data, the company will provide NASA with GNSS radio occultation; GNSS reflectometry data; space weather measurements; satellite state vector, altitude and precise orbit determination; and magnetometer observations.  Spire has provided Earth observation data to NASA's CSDA Program since 2018.
Contact:  Sarah Freeman, Spire, sarah.freeman@spire.com, www.spire.com.
Sanborn Joins Overture Maps Foundation
Sanborn Map Co. has announced its membership in the Overture Maps Foundation as a Contributor Member.  The Overture Maps Foundation was founded by Amazon Web Services AMZN 0.00%↑, Meta META 0.00%↑, Microsoft MSFT 0.00%↑ and TomTom [TOM2] as part of the Linux Foundation to foster worldwide interoperable open map data. "Their presence on the team brings a new dimension that will help us reach our goal of providing open map data at a global scale for map services providers," said Marc Prioleau, Overture Maps Foundation executive director.
Contact:  Jason Caldwell, Sanborn, (719) 593-0093, jcaldwell@sanborn.com, www.sanborn.com.
Radar Joins MapLibre Sponsorship Program as a Silver Sponsor
Location infrastructure company Radar has joined MapLibre as a Silver Sponsor.  "Since we incorporated MapLibre into Radar Maps it was only natural to sponsor the project to support core development," Tim Julien, Radar CTO.
Radar's location SDKs run on hundreds of million devices across web and mobile platforms, the company said.  Radar launched its Radar Maps this year, which are powered with open-source maps.
Contact:  MapLibre, https://maplibre.org.
GPS Satellite Experiences Clock Anomaly
GPS satellite SVN-63, at D2A in the D plane, experienced a clock anomaly that caused the Space Force's 2d Space Operations Squadron to set the satellite as unhealthy to all users, the U.S. Coast Guard said.  SVN-63, a GPS-IIF satellite, was launched in July 2011 and has a design life of 12 years.  SVN-44 will now be reactivated out of a residual status and harvest PRN-22 from SVN-41.  The next GPS-III launch (SVN-80/GPSIII-07) is scheduled for no earlier than summer next year, the Coast Guard said.
Contact:  Rick Hamilton, U.S. Coast Guard Navigation Center, (703) 313-5930, www.navcen.uscg.gov.
---
Create a FREE ManyMe Account.
---
CMC Electronics Awarded PC-21 Avionics Contract
CMC Electronics has announce a multi-year contract with Swiss-based Pilatus Aircraft for avionics solutions for the PC-21 Next Generation Trainer.  The contract, of which financial details were not disclosed, includes the supply of the Head-Up Display (HUD) sub-system, the Flight Management System and GNSS receiver.
CMC's FMS complies with the latest required navigation performance (RNP) and satellite-based augmentation system (SBAS) approach standards.  The CMA-5024 GNSS receiver offers an ADS-B Out solution and a SBAS navigation sensor.
Contact:  CMC Electronics, www.cmcelectronics.ca.
Sewio Announces Company Summit in Prague
Sewio, a UWB-based real-time location system (RTLS) vendor, has announced its third annual Sewio Summit, which will be held Sept. 20- 21, 2023, at the Mama Shelter Hotel in Prague.  Titled "Digitization in Manufacturing: The Power of RTLS in Overcoming Industry Challenges," the summit will showcase RTLS technology and Sewio's partner ecosystem.
Contact:  Petr Passinger, Sewio Networks, 420 777 144 172, petr.passinger@sewio.net, www.sewio.net.
Nordic's GNSS SiP Achieves Certification
Nordic Semiconductor has announces that its nRF9160 low-power System-in-Package (SiP) with integrated LTE-M/NB-IoT modem and GNSS, has achieved Platform Security Architecture (PSA) Certified Level 2.  The certification provides Nordic customers with an assurance that the nRF9160 and nRF5340 offer a secure platform to build their IoT products, the company said.
Contact:  Nordic Semiconductor, www.nordicsemi.com.
CareBand Granted Patent
CareBand has been granted U.S. Patent No. 11,714,197 that covers context-aware wearables, edge computing, and data communication via LPWAN for use in healthcare, industrial and defense industries.  The patent features provisions for a safety solution for people with dementia or autism.  This includes dual-mode tracking inside a predefined proximity with beacons.
Contact: Adam Russek-Sobol, adam@careband.co, wwwcarebandremembers.com.
---
Compliantly hire anyone, anywhere, in 5 minutes with Deel
Deel is your one-stop shop for hiring, paying, and managing your remote team. We stay on top of local labor laws across the world to ensure compliance and mitigate risk so that you don't have to.
---
People
Ford Motor F

0.00%↑

named former Apple AAPL

0.00%↑

executive Peter Stern as the president of its newly formed Ford Integrated Services.
What3words has named Chris Marks as company chairman. Marks previously was CEO of Natwest Markets.
Sanborn Map Co. has hired Chris Ogier to be the vice president and general manager for its Mapping Division.
Teletrac Navman has named Shane Scoville as chief revenue officer. Scoville joins the company from Verizon Connect VZ

0.00%↑

, where he was vice president, global sales, customer success and support.
David Brothers was named senior director of global sales at CONTROLTEK.
Pointr has named Paul Drury as aviation practice leader.
Jobs
President and CEO. Open Geospatial Consortium.
Director Business Development, Enterprise North America. Parkopedia.
Customer Success Manager. Superfy.
---
Your partner in global employment
Over 1000 companies are hiring, paying, and taking care of their team members all over the world with Oyster's all-in-one global employment platform.
---
Click HERE to Join our growing Location Business News LinkedIn Group!