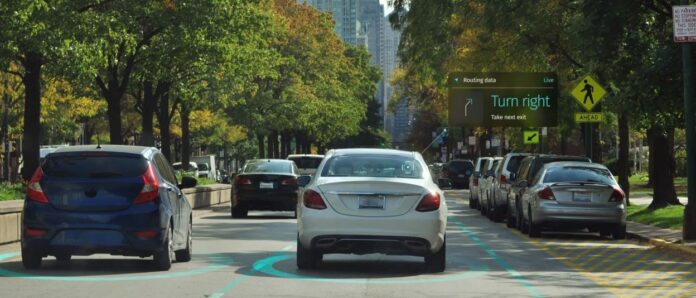 HAMBURG, Germany—While conference organizers say this week's 2021 ITS World Congress here is breaking attendance records with more than 13,000 attendees, some contend that the show lacks a focus as it is a gaggle of autonomous vehicles, tolls, drones, government traffic infrastructure and other technology.
In one of the few major announcements, HERE Technologies has partnered with Bridgestone to make make its Mobility Solutions Unit's connected vehicle data available on the HERE Marketplace.  Bridgestone Mobility Solutions, which services more than 1.2 million vehicles, is seeking to use connected vehicle data to improve smart city operations, road safety and traffic management, the company said.
HERE also made these announcements at ITS World Congress: Advanced Real-Time Traffic service and Probe Data, which includes lane-level information, expanding inner-city coverage and helps agencies understand mobility patterns, the company said.  HERE Probe Data comprises of billions of GPS data points from vehicles on the road that HERE gathers every day, leveraging over 150 different probe data providers.
The company also said it is a founding shareholder of the Mobility Data Space in Germany.  Mobility Data Space is a marketplace that allows companies to exchanged data to develop new products.  In HERE's case, they are partnering with Volkswagen Group for a vehicle sensor data-based hazard warning service.
Volkswagen Commercial Vehicles, MOIA and ARGO AI are currently testing autonomous ridesharing in Hamburg, which is planned to go into production in 2025.
In other ITS World Congress news:
Continental showed off its Autonomous Mobile Robot for both delivery and agriculture use.