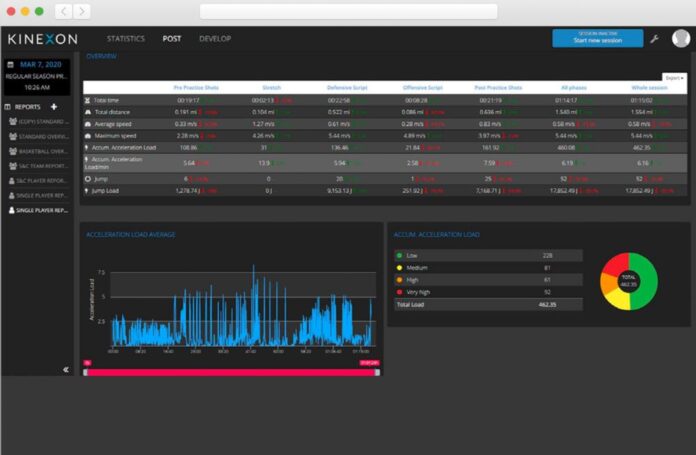 In a high-profile—and cool—use of location technology, KINEXON's ultra-wideband technology (UWB) was used by several college teams in this year's NCAA Basketball Tournament, also known as March Madness.  Each player wore a tag device to generate real-time data and actionable insight, said Oliver Trinchera, KINEXON co-founder and CEO.
The data includes movement, acceleration, speed, jump height, g-force, shocks and other metrics, Trinchera said.  "All metrics can be visualized using KINEXON's analytics platform, which is compatible with nearly any device or computer. Baseline reporting is implemented to provide an overview of both player and team performance," he said.
Measuring these metrics helps design practices and drills to prepare for game level demands, prevent overuse by monitoring seasonal workloads, inform return-to-play protocols for injured players based on baseline practice and game data, and enable long term data analysis on style-of-play to help develop players, the company said.
Schools using the technology in the men's tournament include Creighton, Iowa, Kansas, Memphis, Mississippi State, Missouri, Purdue, University of Miami, University of Tennessee and West Virginia.  In the woman's tournament, national champion LSU, Colorado, Creighton, Iowa, Mississippi State, Ole Miss, Purdue, Stanford, University of Miami, University of North Carolina, University of South Carolina, University of Tennessee and West Virginia each used KINEXON technology.
Other sports use KINEXON technology to monitor player and live ball tracking, including soccer, American football, hockey and handball, the company said.  "80 percent of NBA teams use the technology, Trinchera said. "We're FIFA's preferred provider for live player and ball tracking. Very small and lightweight sensors were embedded in each match ball during the World Cup last year."
Besides sports teams, the company's tracking technology is being used in the aerospace, automotive, manufacturing and other industries to capture real-time data.  "For automotive OEMs and their suppliers, this data helps identify bottlenecks and inefficiencies during production/assembly. The data also allows for automation of operations by providing real-time, highly accurate data from moving assets," Trinchera said.  "BMW uses KINEXON technology to let autonomous robots move goods efficiently and precisely around production and assembly sites.  Continental tracks over 3,200 carriers in real time across a space spanning the equivalent to four soccer fields, with zero interference."