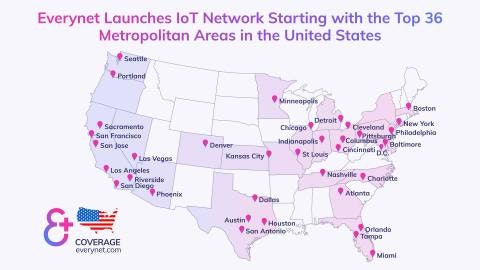 Everynet and Crown Castle [CCI] said they will launch a national LoRaWAN Internet of Things (IoT) network in the United States.  Everynet initially plans to roll out the network in the top 36 U.S. metropolitan areas.
The network, expected to be operational by the end of the year allows mobile network operators (MNOs), mobile virtual network operators (MVNOs), application service providers (ASPs), managed service providers (MSPs) and internet service providers (ISPs) to offer carrier grade Low-Power Wide-Area (LPWA) IoT services to their customers, the company said.
Some use cases include tracking and monitoring critical assets such as pallets, containers and goods.  By managing the geo-location, cold-chain monitoring, humidity and shock, enterprises can effectively receive real-time data on the movement, condition and arrival of assets through the complete supply chain, the company said.
Currently, the company has networks in Brazil, Indonesia, Spain, United Kingdom, Italy, Puerto Rico, Ireland and Iceland. Everynet also participates in the LoRa Alliance global association that offers roaming to more than 27 countries across the globe.
Contact: Allison DeLeo, for Everynet, (415) 694-6700, everynet@racepointglobal.com.