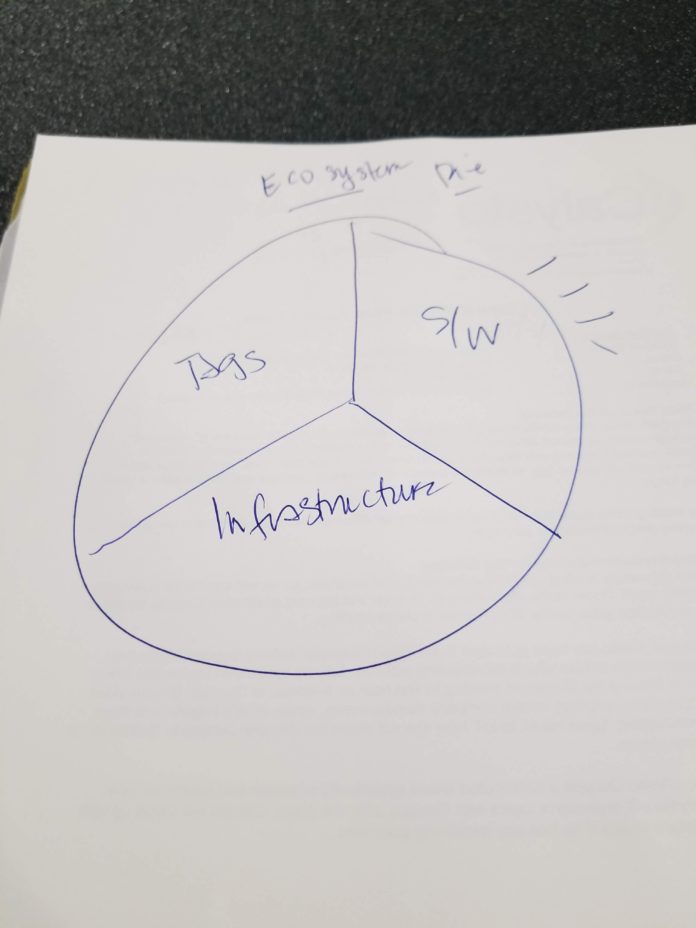 (Graphic courtesy of Quuppa)
LOS ANGELES–The dozen or so location vendors at the recent Mobile World Congress Americas (MWCA) focused on partnering and integrating their products into new IoT platforms and services.
At MWCA, Finland-based Quuppa, which offers a Bluetooth Low Energy (BLE) tag module for third-party manufacturers, said it has partnered with its 100th company—about 30 more than announced at the Mobile World Congress in Barcelona this spring.
"It seems like one of the big trends is companies we used to consider competitors are now joining our ecosystem," said Thomas Hasselman, Quuppa CMO.  "The biggest, Ubisense, has a core business in aerospace and automotive, but are using our [Bluetooth Low Energy] technology on their assembly lines."
Hasselman said that Ubisense's technology, ultra-wideband (UWB), is sometimes expensive to rollout, while the company's BLE tags are interoperable with many platforms—and are cheaper to use.  "We aren't replacing their technology, just complimenting it.  While UWB performs nicely, the price point is high when thousands of tags need to be deployed," he said.
The manufacturing-logistics space is a big growth area for Quuppa, Hasselman said.  "Companies are looking for efficiencies and quality assurance for the manufacturing process.  Companies want to know what tool was used for a certain job," he said.
Many of Quuppa's partners use their BLE tag to build devices with location capabilities. The tag is already being used by the company's partners for locatable keycards, ID badges, bracelets, asset tags and even hockey pucks, the company said.
Other big markets for Quuppa include safety and security, which means tracking inmates and prison personnel, Hasselman said.  The French Army also is using the company's tracking technology.
"Once you have an infrastructure in place, the first use case is safety.  Then a manufacturer may want to measure the amount and distance of vibrations in an engine, then they may want to add navigation services," Hasselman said.
Combain Uses Large Wi-Fi Database for Location…
Another company, Combain Positioning Solutions, exhibited its Thinxmate API at MWCA.  The company says it provides access to the largest cell-ID and Wi-Fi database for geolocation of connected devices. "We have a database, for indoor and outdoor tracking, of 2.4 billion Wi-Fi access points, to give latitude, longitude and altitude," said Bjorn Lindquist, company CEO.  "We are crowdsourcing some of our location data."
Lindquist said some of the company's customers, particularly those in government or large companies, would rather have their location data kept secure.  "We are working with entities that would like privacy and security on their own database to keep their location secure," he said.
In other MWCA news:
Such companies as NimbeLink are offering asset tracking devices that work with many connected devices. The company's asset tracker, in a rugged case, can be placed outside for years.  "What's really cool about it is, using a Verizon network, you can get once-a-day updates for 14 years outside," said Ven Dixit, NimbeLink market development manager.  "For unexpected alerts, this can drive the battery down to 6 years, 3 years or a year."
Stamford, Conn.-based Sonitor uses ultrasound as its core positioning technology. "Sound waves move slowly compared to radio waves, so not as much power is consumed," said Sandra Rasmussen, Sonitor senior vice president, global marketing & North American sales.  The company says ultrasound location, based on Fast Ultrasound Echo Location, or FUEL technology, is 100 times delivers nearly 100 times more location accuracy than BLE—to provide inch-level accuracy indoors.