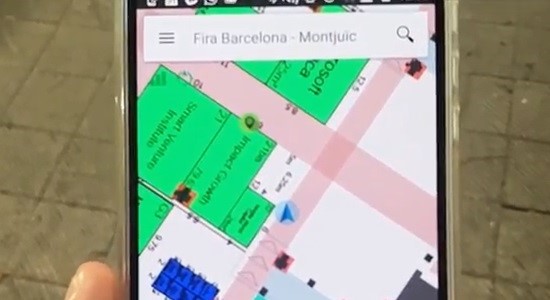 IBruce Krulwich, Grizzly Analytics
The 2019 Mobile World Congress Barcelona, with more than 2,400 exhibitors and a projected 107,000 attendees, opens this week. With phone industry headlines focusing on foldable phones from a few phone makers, the largest number of exhibitors and of the industry insiders who attend MWC will likely be focusing on next generation technologies, including indoor localization.
This year's Guide to Indoor Location Technologies at MWC, distributed for free by Grizzly Analytics, has a map of 26 indoor location related exhibitors at MWC and 4YFN 2019. These exhibitors include some veteran technology vendors who have been at many past MWC conferences, and some new exhibitors with cutting edge technologies.
One indoor location technology area which is gaining a lot of interest is inaudible sound. In 2017 and 2018 positioning based on inaudible sound was shown at MWC by MarvelMind Robotics (video here), but MarvelMind's solution does not operate on smartphones. This year ultrasonic sound-based localization is coming to smartphones, and will be exhibited by Forkbeard, which just spun out from Sonitor. Forkbeard will be exhibiting their highly accurate positioning solution in the Norway Pavilion at 7J61.
Another company with ultrasonic based localization is SONARAX, in the Israeli Pavilion at 5D81. Another company with highly accurate innovative technology for inaudible sound based localization on smartphones, TakeMeTuit, will not be attending MWC.
Another exciting technology area which is growing is infrastructure free localization. Infrastructure free is not as accurate as localization based on deployed infrastructure, but being infrastructure free enables a large set of applications and use-cases that cannot deploy dedicated infrastructure. You can see infrastructure-free localization at MWC from GipsTech (video here) at booth 8.0J1. Or you can head over to 4YFN and see infrastructure free localization from Situm (video here) at booth T3.13 or Navin at booth B1.8.
If you want to see more highly accurate localization in action, Quuppa is demonstrating their solution based on angle of arrival measurements (video here), at booth 3K10. Or you can see UWB-based localization by BeSpoon at 4YFN booth O1.2.
Moving from start-ups over to major companies, Cisco is exhibiting their network-based indoor localization at booth 3E10. Cisco has had localization for many years, but this year they have added a complete analytics and application support platform based on their acquisition of July Systems in 2018. (Cisco's acquisition of July System was one of 22 acquisitions detailed in a recent Grizzly Analytics report on indoor location related M&A.)
These are only eight out of at least 26 companies showing indoor location technology at MWC and 4YFN this year.