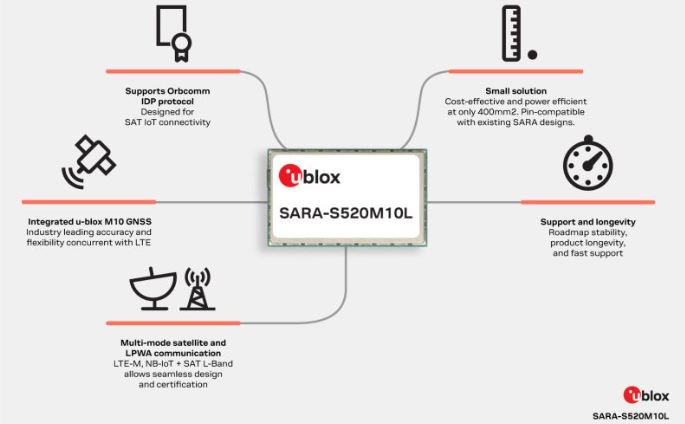 GLI Partners With Unerry
GroundLevel Insights (GLI) and unerry have partnered to offer Toyko-based unerry's Beacon Bank service in North America.  GLI has offered Analysis / Visualization Service and Behavior Change Service through Digital Advertising as the North American version of Beacon Bank service in the U.S. and Canada.
GLI will collaborate with unerry to process more than 240 million location data IDs of North America and over 15 million POI data locations.  Unerry has cultivated 150 million IDs of location data in Japan, the company said.
Beacon Bank uses GPS and beacon technology to analyze more than 40 billion monthly data points and about 150 million IDs obtained from smartphone applications, the company said.
Contact:  Beacon Bank, information@unerry.co.jp, www.beaconbank.jp.
U-blox Rolls Out Chipset for ORBCOMM Connectivity
Thalwil, Switzerland-based u-blox has launched the UBX-S52 chipset for ORBCOMM satellite connectivity and cellular terrestrial networks.  The chipset, with GNSS positioning, is the first u-blox cellular module compliant with the ORBCOMM IDP protocol, the company said.
The company said that UBX-S52 is the smallest multi-mode IoT module in the SARA form factor.  In addition, the company's M10 GNSS offers positioning concurrently with LTE.
Contact:  Natacha Seitz, u-blox, 41 76 436 0788, natacha.seitz@u-blox.com, www.u-blox.com.
EtherWhere Partners with Xona Space Systems to Develop Low Power PULSAR + GNSS Receiver
EtherWhere has partnered with Xona Space Systems to develop a receiver capable of tracking multi-frequency PULSAR signals.  EtherWhere's PULSAR + dual-band GNSS receiver will be a one chip, low power solution that integrates all four GNSS constellations, the company said.  The single chip solution, with single digit mW power consumption, is intended to further enable IoT, asset tracking, mobile, precise timing, and secure geolocation applications, the company said.
Contact:  Xona Space Systems, info@xonaspace.com, www.xonaspace.com.
Haltian Launches Inventory Tracking Solution
Oulu, Finland-based Haltian has launched its Inventory Tracking Solution (HITS), a scalable asset tracking system to allow businesses manage and oversee their assets and inventory, the company said.  HITS features real-time location data for assets across various sectors, including warehouses, manufacturing and logistics facilities, data centers, and hospitals, the company said.
The tracking system works by attaching a small tag to items, devices, and other assets. The Haltian NANO Tag, comparable in size to a piece of chewing gum, provides detailed information regarding the asset and its exact location within a range of 1–5 meters, the company said.  The solution can be scaled using the Wirepas Mesh network, compatible with any tag with Wirepas' connectivity.
Contact:  Pasi Leipälä, Haltian, pasi.leipala@haltian.com, www.haltian.com.
Smart Eye's AIS Driver Monitoring System Integrated with Geotab
Smart Eye has announced the integration of AIS, the company's hardware and software driver monitoring system for fleets, with Geotab's fleet management platform.  The integration makes Smart Eye's AIS available on the Geotab Marketplace.  Geotab's platform allows fleet managers to gain real-time vehicle data, in-vehicle driver coaching, fuel efficiency monitoring, predictive maintenance, fleet compliance tools and more, the company said.
Geotab also partnered with Greater Than, a provider of driver crash probability and climate impact intelligence, to deliver AI-generated crash probability insights to fleet customers.
Contact:  Gabi Zijderveld, Smart Eye, gabi.zijderveld@smarteye.ai.
Hyundai Introduces In-Vehicle Payment Service with Parkopedia
Hyundai has partnered with Parkopedia to launch Hyundai Pay's first service, a new parking payment system.  The system enables U.S. drivers to locate, reserve and pay for parking at 6,000 locations—from their vehicles, the company said.
Hyundai Pay launches with the new 2024 Hyundai Kona.  An additional nine Hyundai models will get Hyundai Pay in the future.  Hyundai Pay offers customers features via the vehicle's touchscreen and the Bluelink connected car system.
Conact:  Adam Calland, Parkopedia, 44(0)7838219129, adam.calland@parkopedia.com.
---
Create a FREE ManyMe Account.
---
Hexagon-NovAtel Releases Version 9.0 of Waypoint Post-Processing Software
Hexagon-NovAtel has released its version 9.00 of its Waypoint post-processing software.  This includes Inertial Explorer, Inertial Explorer Xpress and GrafNav/GrafNav Static.
Waypoint 9.00 also includes BeiDou Phase III support and a refreshed, streamlined GUI for users to import, process and export their data faster and more efficiently.  The software includes built-in environment and application profiles that support NovAtel products and third-party GNSS receivers, the company said.
Contact:  Hexagon-NovAtel, www.novatel.com/products/waypoint-post-processing-software.
ITS America and Cambridge Consultants Partner
ITS America and Cambridge Consultants (CC) have partnered to promote transportation technologies.  ITS America and CC hosted a Digital Infrastructure Workshop at the 2023 ITS America Annual Conference and Expo, to gather feedback on what a U.S. strategy for digital infrastructure could look like, the association said.  Cross-industry consensus strategies will be shared with the U.S. Department of Transportation to inform their policy and research on digital transformation, the association said.
Contact:  The Intelligent Transportation Society of America, www.itsa.org.
MiX Telematics Announces DVS & FORS Partnership with Parksafe Group in the UK
MiX Telematics MIXT 0.44%↑ has partnered with Parksafe Group to equip their United Kingdom fleets with Direct Vision Standard (DVS) and Fleet Operator Recognition Scheme (FORS) solutions in order to meet compliance regulations.  MiX Telematics, founded in 1996, has 1 million global subscribers from more than 120 countries.
Contact:  MiX Telematics, www.mixtelematics.com.
InfiniDome to Showcase First Live Demo of GPS Anti-Jamming Solutions Tailored for UAV Protection
InfiniDome will be performing a live demo of their solutions at DSEI London 2023, Sept. 12-14, at Stand H1-160 in Hall 1 at the Israeli pavilion.  The live demo will enable visitors to participate in an immersive hands-on demonstration of their C-SWaP (Cost, Size, Weight and Power) optimized anti-jamming solutions, the company said.
Attendees will be able to see infiniDome's anti-jamming solutions protecting a GNSS receiver from jammers, using real (emulated) GNSS signals and real jamming signals—all in a first-of-its-kind Faraday, the company said.
Contact:  infiniDome, 972-4-7707700, info@infiniDome.com.
---
Compliantly hire anyone, anywhere, in 5 minutes with Deel
Deel is your one-stop shop for hiring, paying, and managing your remote team. We stay on top of local labor laws across the world to ensure compliance and mitigate risk so that you don't have to.
---
People
Jumpei Nishihara has joined UnaBiz Japan as sales director. Prior to joining UnaBiz, Nishihara served as the regional channel sales manager at Akamai Technologies.
Shawn Smith has been named implementation specialist at GPS Insight.
Pete Costello has been named an advisor at Ohmio. Costello is also in a new position in business development at Drive Engineering.
Stefan Hauser has been named senior account executive at HERE Technologies. Marco Maas has been named senior project manager at HERE in Eindhoven.
Anthony Landamia was named senior director, product management – connected car at Xperi.
MapLibre has named Birk Skyum, Harel Mazor, Luke Seelenbinder, Petr Pridal and Yuri Astrakhan to its governing board. MapLibre also said there are 93 voting members.
Jobs
Sales Manager GNSS/INS Benelux. Septentrio.
Governance Program Manager I. HERE Technologies.
Business Development for ODM, APAC. Quectel.
Senior Transportation Planner. Michael Baker International.
Transportation Planner. AECOM.
---
Your partner in global employment
Over 1000 companies are hiring, paying, and taking care of their team members all over the world with Oyster's all-in-one global employment platform.
---
Click HERE to Join our growing Location Business News LinkedIn Group!