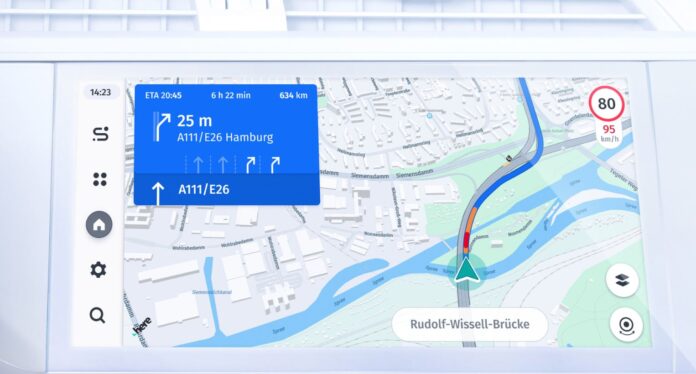 HERE Technologies said that its Intelligent Speed Assistant Map location data is being used by more than 50 brands from 21 global automakers to comply with the European Union's ISA regulation.  HERE, in an announcement at IAA Mobility in Munich this week, said the company has signed contracts with such brands as BMW, Jaguar Land Rover, VinFast, IVECO, Scania and more.
ISA is an in-vehicle system that leverages speed limit data to inform, warn and discourage drivers from exceeding the statutory limit on any given EU roadway, the company said.   "Many automakers are combining ISA with other ADAS such as adaptive cruise control.  A particular strength of ISA Map layers is their ability to effectively see over the horizon and around corners, allowing the ACC to proactively adjust driving speed in anticipation of a change in the speed limit," said James Hodgson, research director at ABI Research, in a statement.
At IAA Mobility, Qualcomm QCOM -6.82%↓ and Amazon Web Services (AWS) have partnered to provide development infrastructure and tools to accelerate autonomous driving and software-defined vehicle (SDV) transformation, the companies said.  Qualcomm's software stack powers a vehicle's computer vision system for advanced safety functions like automatic braking and lane assist, the company said.  Through AWS, developers can use the cloud to simulate, test, validate, and verify their new features and functions before moving to more traditional testing on hardware, the company said.
At the conference, BMW announced it would use AWS' cloud software technology to power its semi-autonomous driver assistance system.  BMW said its next generation ADAS will be featured in its 2025 Neue Klasse electric cars that it announced this week.
Also at the conference, Deeproute.ai said it would open an operations center in Germany in 2024, according to TechCrunch.  Deeproute.ai, which has raised $350 million in funding and has 500 employees, says its Drive 3.0 works without HD maps, but also has valet park assist and costs $2,000.
Google Cloud, Continental Partner
Google Cloud GOOG 0.65%↑ and Continental [CTTAY] have partnered to combine Continental's expertise in automotive technology with Google's data and AI technologies to create new automotive solutions. Continental will integrate Google Cloud's Conversational AI technologies directly into its Smart Cockpit High-Performance Computer (HPC) solution, running on Android Automotive OS (AAOS).
In the United States, General Motors GM -1.40%↓ and Google Cloud said they will bring conversational AI technology into millions of GM vehicles.  GM's OnStar already has an Interactive Virtual Assistant (IVA) that has powered by advanced, intent-recognition algorithms that use Google Cloud's conversational AI technologies to routing and navigation assistance.
In other IAA Mobility news:
Mobileye $MBLY and Valeo partnered to deliver software-defined imaging radars for next-generation driver assist and automated driving features.  Mobileye believes that imaging radar will be an enabling element for more advanced hands-off ADAS solutions and eyes-off automated driving features on highways and urban streets.  Valeo also launched anSWer at the conference, which features software stacks that serve as building blocks for connected car applications, the company said.
Carteav has announced that the company has achieved 10,000 kilometers of driverless service in managed areas in Israel and Turkey and more than 10,000 trips.
In-vehicle data provider CARUSO has signed an agreement with Renault Group that allows customers to access the vehicle's data such as mileage or geoposition without the need to install any additional device.  The CARUSO data marketplace is currently one of the leading platforms for real-time in-vehicle data in Europe, the company said.