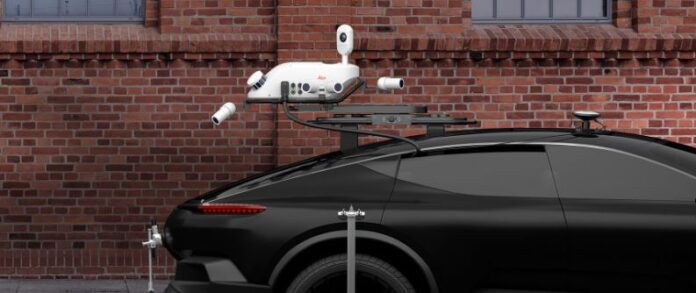 Tive and Freightflow Announce Partnership
Tive has announced a strategic partnership with Freightflow for its real-time visibility solution on all shipments.  The sensors in Tive Solo 5G trackers provide real-time location, temperature, humidity, and light exposure data, the company said.  By combining Tive's real-time sensor data with Freightflow's transportation metrics on carriers, lanes, and commodities, customers are able to provide higher-quality services through better decision making, the company said.
Contact:  Tive, www.tive.com.
Leica Geosystems Rolls Out Pegasus TRK100
Hexagon's Leica Geosystems has launched its Pegasus TRK portfolio of mobile mapping solutions.  Designed for GIS professionals, the new mobile mapping system is a geospatial solution built for large-scale infrastructure measurement and digital twin creation, the company said.
With its mapping capabilities, the Pegasus TRK100 enables GIS professionals to visualize and understand the location of assets, to help make the right decisions, improve asset management, and support infrastructure building and maintenance, the company said. Applications include telecommunications, utilities and road maintenance.
Contact:  Leica Geosystems, www.leica-geosystems.com/products/leica-pegasus-trk.
Kyocera, Hot Pepper Mobile Integrate NextNav's Pinnacle Technology
Kyocera International has announced the integration of NextNav NN -0.98%↓ Pinnacle vertical location technology into Kyocera's DuraXV Extreme+ feature phone.  The DuraXV Extreme+ includes a Barometric Pressure Sensor, enabling the use of NextNav Pinnacle's Z-axis capabilities for 911 calls.
NextNav also said that Hot Pepper Mobile has debuted its Tabasco flip feature phone, that integrates the company's vertical location technology.  The announcement stems from Hot Pepper Mobile's 2022 agreement with NextNav.
Contact:  Leasa Ireland, for Kyocera, leasa@lpicommunications.com, www.nextnav.com.
Hesai Technology Partners With Inertial Labs
Hesai Technology has announced a multi-year lidar sensors partnership with Inertial Labs, which selected the company to provide perception and navigation capabilities for its autonomous marine, land and aerial-based robotics systems.  Hesai's lidar sensor solutions provide real-time 3D point cloud data for localization, obstacle detection, and path planning, the company said.  Inertial Labs' navigation and Inertial Measurement Units provide integrated heading and ego-motion data to the lidar data stream.
Contact:  Leo Liu, Inertial Labs, leo.liu@inertiallabs.com, https://inertiallabs.com.
STEER Tech and Lightning eMotors Partner
Lightning eMotors and STEER Tech have announced a collaboration to offer autonomous functionality to Lightning's customers.  STEER's autonomous vehicle technology will be integrated into Lightning's medium-duty commercial electric vehicle product line.
The company uses a sensor suite coupled with GPS and stereoscopic camera vision to navigate vehicles within geofenced areas.  STEER-enabled vehicles can be either remotely controlled from a singular central command or launched on a singular basis, the company said.
Contact:  STEER Tech, (240) 787-8000, media@steer-tech.com, www.steer-tech.com.
Duck Creek and Novo Insurance Partner
Duck Creek Technologies has announced today that it has been selected by telematics startup Novo Insurance for policy, billing, insights and data hub solutions.  Duck Creek OnDemand enables Novo Insurance, a subsidiary of Telenav, to bring its auto insurance products to market more quickly using its configurable open architecture platform, the company said.  Based on its LBS capabilities, Novo is currently looking to launch in multiple states in 2023, the company said.
Contact: Carley Bunch, Duck Creek Technologies, (201) 962-6091, carley.bunch@duckcreek.com, www.duckcreek.com.
Semtech and Connected Development Launch IoT Board
Semtech Corp. SMTC 0.16%↑and Connected Development have launched the XCVR Development Board and Reference Design integrating the LoRa Sub-GHz Radio Transceiver.  Based on Semtech's LoRa SX126x Series, the Development Board and Reference Design reduces time-to-market for customers.
Some markets include building management, agriculture, supply chain, logistics and industrial control.
Contact:  Ron Vener, Connected Development, (781) 910-3869, ron.vener@connecteddev.com, www.connecteddev.com.
Descartes Expands BLE Tags on ULD/Pallets
Descartes Systems Group has expanded its IoT network to include Bluetooth Low Energy-powered tags placed on Unit Load Devices or pallets.  This expansion allows air carriers and ground handling agents with real-time visibility into the location and condition of air cargo shipments in transit, the company said.  The company has reported a 20 percent in active readers worldwide, with 1,300 at 200 airports.
Contact:  Descartes, www.descartes.com.
Driver Technologies Solution on Geotab Marketplace
Driver Technologies has announced the availability of its Driver Enterprise Solution on the Geotab Marketplace.  The Driver Enterprise Solution provides customers access to its dash cam app and its mobility safety features, the company said.  Through integration with Geotab, fleet managers can access their driver's dash cam videos in the Driver Cloud on the MyGeotab platform.
Contact:  Maddie Hirsch, for Driver Technologies, driver@calibercorporateadvisers.com.
---
Create a FREE ManyMe Account.
---
Trimble Technology Lab Established at Swiss University
Trimble TRMB 2.40%↑ and the University of Applied Sciences and Arts Northwestern Switzerland have established a Trimble Technology Lab at FHNW's School of Architecture, Civil Engineering and Geomatics program in Muttenz, Switzerland.
The lab brings a range of professionals, including future experts in virtual design and construction, geomatics and architecture, direct access to state-of-the-art technologies for the entire construction process, the company said.  The lab will include technologies such as the Trimble XR10 with HoloLens 2; GNSS receivers, controllers and tablets; robotic, universal and scanning total stations as well as laser scanners.
Contact:  Trimble, www.trimble.com.
Sanborn Launches Digital Twin Base Map
Sanborn Map Co. has released its Digital Twin Base Map for city and county governments.  Digital Twin Base Map is a high-resolution 3D map providing mapping information with the complexity of an entire city or region's infrastructure and environment in a single, integrated data set, the company said.  Sanborn created its Digital Twin Base Maps using a combination of remote sensing data, high-quality aerial photography, and advanced machine learning algorithms.
Contact:  Jason Caldwell, Sanborn Map Co., (719) 593-0093, jcaldwell@sanborn.com
Aerometrex Lands $2.65 Million Licensing Agreement
Aerometrex Limited [AMX] has announced a $2.65 million MetroMap license agreement with Landchecker.  MetroMap's aerial imagery is used on Landchecker's online platform and is subscribed to by customers who use integrated products through the platform, the company said.
This new agreement requires Landchecker purchasing a fixed number of tailored MetroMap licences.  Overall, Landchecker provides property information to more than 90,000 property professionals, the company said.
Contact: Aermetrex, https://aerometrex.com.au.
Sonitor Introduces SonitorBLU and SonitorMOBILE
Sonitor Technologies has launched its SonitorBLU Bluetooth Low Energy solution and SonitorMOBILE, a location visibility platform for positioning smart devices.  The products combine Sonitor's ultrasound technology with BLE, effectively turning a smart phone into an RTLS tag, the company said.
Contact:  Teresa Brasac, Sonitor, (305) 776-4501, teresa.brasac@sonitor.com, www.sonitor.com.
Innoviz To Deliver Lidar for CARIAD
Innoviz Technologies INVZ 5.19%↑ is set to deliver lidar for CARIAD's future advanced driver assistance systems (ADAS) and automated driving functions.  CARIAD and Innoviz are evaluating concepts to accelerate the integration of lidar systems to improve time to market, the company said.
Contact:  Maya Lustig, Innoviz Technologies, 972 54 677 8100, media@innoviz-tech.com, www.innoviz-tech.com.
MocPOGO Changes Location For Games and Apps
MocPOGO Studio has released its location spoofer for location-based games, social and dating apps.  MocPOGO V6.1.2 allows users to change GPS location on iOS or Android devices.
MocPOGO supports GPS joysticks, simulates movement at customized speeds and teleport location.  The software can spoof location on multiple devices, the company said.
Contact:  MocPOGO, www.mocpogo.com.
People
Sandra MacQuillan, an industry executive and Trimble TRMB 

2.40%↑

 board member since 2018, has died following a long battle with cancer.
CARIAD has announced the appointment of Scott Runner as U.S. CEO. Runner will lead a team of 250 software and engineering experts in Santa Clara and Redmond, Calif.
KORE named Scott Barnes as vice president, sales, fleet and mobility.
Parkopedia has appointed Gary Bull as the new CFO. Bull was COO at software company Condeco.
Torc Robotics named CJ King as chief engineering officer.
---
Your partner in global employment
Over 1000 companies are hiring, paying, and taking care of their team members all over the world with Oyster's all-in-one global employment platform.
---
Jobs
Senior Director / VP, Public Sector Sales. RapidSOS.
Open Positions. Mappedin.
Director of Product Marketing. Swift Navigation.
Regional Sales Director – Americas. Swift Navigation.
GNSS Sales Executive – DACH. Swift Navigation.
Senior Account Executive – Japan.  Swift Navigation.
Senior Consulting Specialist. SBD Automotive.
Sr. Manager, Partnerships. Maxar Technologies.
Senior Program Officer. Transportation Research Board.
Senior Product Manager, Automotive. TechInsights.
WiFi/BT Sales Manager-EMEA. Quectel.
---
Click HERE to Join our growing Location Business News LinkedIn Group!