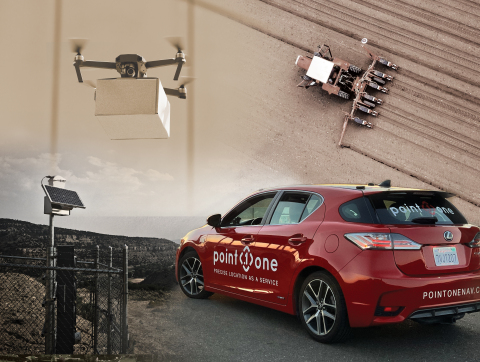 Point One Navigation Launches ASIL Positioning Engine for Autonomous Vehicles
Point One Navigation has announced that its FusionEngine software is now compatible with STMicroelectronics' TeseoAPP GNSS Chipset.  The company says that the combined solution allows functional safety at ASIL-B, a requirement for Level 3+ advanced driver assistance systems (ADAS).
Fusion Engine can be integrated into a variety of host processors that are used for enabling Level 3+ ADAS and autonomous driving systems.  FusionEngine combines data from multiple sensors, including ST's TeseoAPP multi-band GNSS receiver.
Contact: Point One Navigation, press@pointonenav.com, www.pointonenav.com.
See next week's issue for full CES coverage. Go to our website, www.locationbusinessnews.com, for breaking CES news.
Eurowag Acquires Remainder of Sygic for 14.4 Million Euro
Eurowag has announced that it will acquire the remaining 30 percent equity interest in Slovak Republic-based Sygic for 14.4 million euro, payable in April 2024, the company said.  In April 2019, Eurowag acquired a 70 percent of Sygic.
Sygic GPS Navigation has recently grown in popularity with such features as camera alerts, offline maps and other navigation capabilities.
Contact:  Zuzana Kacanova, Sygic, zkacanova@sygic.com, www.sygic.com.
Comtech Awarded 5G Location Services Contract with Canadian Tier-1 MNO
Comtech $CMTL was recently awarded a contract to install a 5G virtual Mobile Location Center (vMLC) production site and deliver location-based services for "a tier-1 mobile network operator (MNO) in Canada."  The company's vMLC system is used to help pinpoint the location of mobile devices connected to 5G networks.  The contract allows the mobile carrier to benefit from a cloud-native platform to provide public safety agencies with accurate location, the company said.
Contact:  Jamie Clegg, Comtech, (480) 532-2523, jamie.clegg@comtech.com, www.comtech.com.
Wialon Launches LeaseControl Telematics Solution
Gurtam's Wialon subsidiary recently launched LeaseControl, a telematics solution for the vehicle leasing market that includes car finance, auto loans, vehicle leasing and high-risk auto deals.  The vehicle leasing market grew from 8 million to 12 million cars between 2019 and 2021, the company said.
LeaseControl is a car loan GPS tracking product that features 24/7 technical support.  LeaseControl also has in-built features for real-time vehicle tracking and turning off an engine remotely, the company said.
Contact:  Kristina Kruchkova, Gurtam, kris@gurtam.com, https://gurtam.com/en/blog.
Fixposition Gets New Investors
Switzerland-based Fixposition AG has announced that transportation robot device manufacturer Segway-Ninebot invested in the company.  Financial details were not disclosed. The GNSS company previously received funding from Serpentine Ventures, Amino Capital and MAX Electron as part of a $5.95 million seed round.
Contact: Fixposition, marketing@fixposition.com, www.fixposition.com.
Goertek Microelectronics Gets NextNav Certified Status
NextNav NN -0.32%↓ has announced that the Goertek Microelectronics SPL07-003 digital barometric pressure sensor's test results have achieved NextNav Certified status.  The process provides an independent verification of a barometric sensor's performance to improve quality and consistency of digital pressure sensor products, the company said.
NextNav's Pinnacle technology leverages barometric pressure data with its nationwide network to determine altitude with floor-level accuracy in multi-story buildings, the company said.
Contact:  NextNav, media@nextnav.com, www.nextnav.com.
Skydel 22.12 GNSS Simulation Software Now Available
The Orolia GNSS simulation platform now features updated Skydel 22.12 software to offer full Galileo E6 HAS signal support.  Skydel's software-defined architecture allows the ability to be integrated, re-use hardware and be immediately upgraded, the company said.
The new updated feature extends to all Skydel-powered solutions — including the GSG-7, GSG-8, and Broadsim platforms.  Skydel version 22.12 is currently available on the user site.
Contact:  Charles Jones, Orolia, (585) 450-2889, charles.jones@orolia.com, www.orolia.com.
---
---
Immervision Partners With ModalAI for Drone Vision Solution
Immervision has partnered with ModalAI, a manufacturer of autonomous drone and robot technology to develop a 'ready-to-fly' vision system for drone manufacturers, the company said.  The solution incorporates the Immervision Imvisio-ML and the VOXL 2 platform to provide an image pipeline, from the optics to the hardware platform running the autonomous navigation software, the company said.
Contact:  Paige McEachren, Immervision, paige.mceachren@immervision.com, www.immervision.com.
TraceSafe Announces Name and Symbol Change
TraceSafe has changed its name to ShiftCarbon and will change its ticker symbol to SHFT on the Canadian Securities Exchange.  The company will continue using the TraceSafe brand for its suite of IoT and Real Time Location Services cloud platform products.  Along with the name change, the company said it will adopt a new logo and has launched a new website.
Contact:  Wayne Lloyd, ShiftCarbon, (604) 629-9975, wayne@shiftcarbon.io, www.shiftcarbon.io.
People
HERE Technologies has named Stuart Ryan as general manager of the Americas region. Stuart joined HERE in June of 2003 as a product manager, supporting the company's Content Products. The company also named Sanjay Brahmawar and Robert Siegel to its Supervisory Board as independent members.
Daniel Jablonsky, president and CEO, Maxar Technologies MAXR 

0.51%↑

 has been named to the National Space Council's Users Advisory Group (UAG).
Arity has hired Ted Babitz as business development executive. Babitz held management positions at GroundTruth, xAd and MapQuest.
RoboSense LiDAR has named Jamie Retterath as director of business development, automotive.  Retterath was CTO of Vergence Automation.
Quuppa named Marko Kuhta as director of finance and operations. Kuhta joins the company from OP Bank.