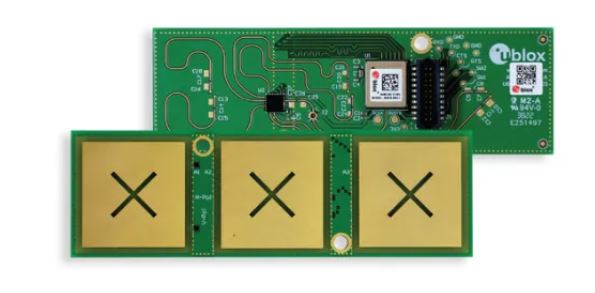 Location Business News at CES
Location Business News will be onsite at CES in Las Vegas from Jan. 3 to Jan. 7, 2023. Interview requests are filling up. Contact Kevin Dennehy at kdennehy@driverlessreport.com to schedule an interview/product demonstration.
Globalstar Signs Commercial Agreement with Wiagro
Globalstar GSAT 0.00is supplying Argentina-based Wiagro with 2,500 ST100 IoT satellite modem transmitters for their Smart Silobag remote ag monitoring solution.  Financial details were not disclosed.  The Smart Silobag is used during the post-harvest process to increase efficiency during storage and transport, the company said.
Contact:  Denise Davila, Globalstar, investorrelations@globalstar.com
U-blox's ANT-B11 Is Smallest Bluetooth Direction Finding Antenna Board
Thalwil, Switzerland-based u-blox [UBXN] has the introduced ANT-B11, the smallest Bluetooth Direction Finding Angle-of-Arrival (AoA) antenna board in production, the company said. The board delivers direction finding and 2D indoor positioning.
ANT‑B11 can be integrated into commercial tracking solutions for direction-finding applications and indoor positioning in mid-size spaces, the company said.  First samples of the ANT-B11 antenna board will be available early 2023.
Contact:  Natacha Seitz, u-blox, 41 76 436 0788, natacha.seitz@u-blox.com, www.u-blox.com.
PTV Group Integrates Planning Software Into Logistics Portfolio
PTV Group has announced the integration of Conundra's route planning software into its global logistics portfolio.  The integration includes Conundra's SAAS product with PTV's software solutions for route planning and optimization.
PTV Group is focusing on two markets–one in intelligent traffic simulation and management and one in logistics route optimization.  Financial details were not disclosed.
Contact:  Stefanie Schmidt, PTV Group, 49-721-9651-7451, stefanie.schmidt@ptvgroup.com, www.ptvgroup.com.
Verizon Achieves Canadian ELD Certification
Verizon Business today announced that the Verizon Connect Fleet Platform has obtained Canadian Electronic Logging Device (ELD) certification from a third-party organization.  Integrated with the Verizon Connect fleet management system, the ELD solution now provides customers with compliance with the new hours of service (HOS) regulations in Canada.
Contact:  Erin Cheever, erin.dowling@verizon.com, www.verizon.com.
---
News Without Motives.
1440 is the daily newsletter helping 2M+ Americans stay informed—it's news without motives, edited to be unbiased as humanly possible. The team at 1440 scours over 100+ sources so you don't have to. Culture, science, sports, politics, business, and everything in between – in a five-minute read each morning, 100% free.
---
Xona Issued Patent on LEO PNT Technology
Xona Space Systems has announced the issuance of US Patent No. 11,513,232, entitled, "Satellite for Broadcasting High Precision Data."  This patent describes a high-performance, space-based position, navigation, and timing (PNT) system enabled by a constellation of low-Earth-orbiting (LEO) satellites.
This architecture is the backbone of Xona PULSAR – a navigation and timing service that offers PNT accuracy, security, and availability for end users, the company said.
Contact: Xona Space Systems, info@xonaspacesystems.com, www.xonaspacesystems.com.
IPVideo Acquires Fleet Tracking Company Vuro Technologies
IPVideo Corp. has acquired the assets of Vuro Technologies, an AI-enabled driver and fleet vehicle monitoring and safety company.  The technology will be rebranded as VuroAI and complements IPVideo Corporation's product portfolio, the company said.  VuroAI employs IoT and AI technology to monitor driver behavior, in-vehicle performance and real-time GPS tracking.
Contact: Rick Cadiz, IPVideo, (631) 675.2213, rcadiz@ipvideocorp.com.
ESMART Installs Solution in 400 Schuster Trucks
E-SMART has partnered with Schuster Co. to bring E-SMART's technology to Schuster's fleet of more than 400 trucks.  E-SMART's technology decreases speeding events by up to 88 percent, the company said.
The deployment was achieved in three months, the company said. The E-SMART solution uses GPS technology to determine vehicle and identify known hazard areas such as low clearance bridges.
Contact: Callie Myers, cmyers@esmartcontrol.com, www.esmartcontrol.com.
OCTO Opens Japan Subsidiary
Rome-based OCTO Telematics has announced the opening of a new office in Tokyo, Japan.  The company was already present in Japan with a commercial partnership with insurance company Tokio Marine.  The company has offices in Boston, London, Paris, Madrid, Stuttgart, Sao Paulo, Hong Kong and Shanghai.
Contact: Adriana Zambon, OCTO Telematics, 39 339.3995640.
Axim Partners With Maptelligent Indoor Map Applications
Axim Geospatial has partnered with Maptelligent GIS services to offer indoor map applications, as part of its building information solution set. Axim Geospatial will manage building data and provide customized services using Esri products, scanning, building information modeling (BIM), photogrammetry, project management applications, and asset management applications.
Contact:  Rich Ziccardi, Maptelligent, (516) 317-2699, info@maptelligent.com, www.maptelligent.com.