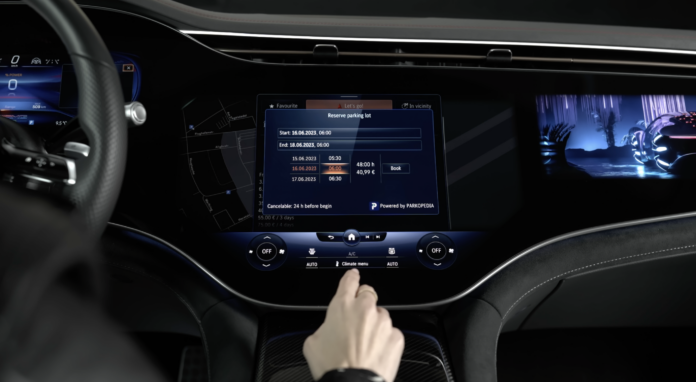 Parkopedia has expanded its partnership with Mercedes-Benz to include in-car parking reservations in the automaker's latest MBUX infotainment systems for 5,000 locations in the United States.  In addition, the company said that on-demand parking payments are available in 14 European countries.
The companies, which first partnered in 2018, offer Parkopedia's in-car payment technology that allows users to find, reserve and pay for parking.  The company's parking information also includes garage opening times, costs and height restrictions.
In Europe, Mercedes-Benz drivers can make on-demand payments in Germany, France, Italy, Spain, Netherlands, Belgium, Sweden, Portugal, Austria, Switzerland, Denmark, Finland, Norway and Slovenia.  However, parking reservations can only be made in Germany, France, Italy and Belgium, the company said.
Location technology is integrated in the infotainment system to allow drivers to find, reserve, navigate to and pay for the desired parking.  Drivers can also pre-book parking before a trip by selecting applicable parking locations and reserving a space via the infotainment system, the company said.
Contact:  Adam Calland, Parkopedia, 44(0)7838219129, adam.calland@parkopedia.com.