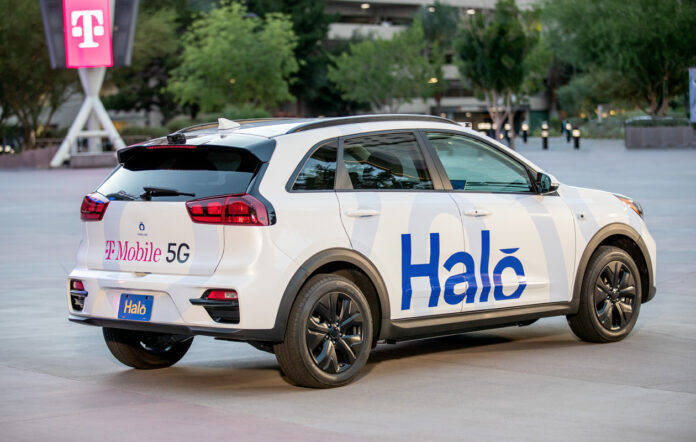 5G Rapidly Becoming Mainstream for Location, Autonomous Vehicle Services
Halo has launched a commercial driverless car service using the T-Mobile [TMUS] 5G network in Las Vegas.  The company, which has operated on the T-Mobile 5G network since the beginning of the year, is working with local government to accelerate electric vehicles integration with public transit systems to on-demand driverless cars.
The company says it will begin offering rides to customers later this year with service initially available in urban parts of the Las Vegas area.  The company said customers can summon the vehicles through a mobile app, take them to a location, then drive to the next pick-up.
Industry experts would argue that the company's use of the "driverless" term is too early as Halo said it would achieve Level 3 capabilities "over time."  In a recent TechCrunch article, Halo said the service will start with five vehicles, with a remote operator driving the car to the customer.  The user then can drive the car for the duration of the trip.
This process is part of the company's RemotePilot technology, in which Halo trains in-house drivers to remotely operate the driverless car over T-Mobile's 5G network.  "Full autonomy is a massive challenge from both a technical and social trust perspective that won't be solved for years to come," said Anand Nandakumar, the founder and CEO of Halo, in a statement.
Key Takeaways:
5G networks have tremendous implications for autonomous vehicles, emergency services, indoor positioning and industrial IoT applications, where localization will be critical.
T-Mobile is touting this announcement, saying its 5G program is a strong platform for autonomous car innovation because of its network that has more coverage than AT&T or Verizon.
Halo was founded by executives from Uber, Cruise Robotics, Proterra, Amazon, and other companies.
Contact: Halo, press@halo.car,  http://halo.car; T-Mobile, MediaRelations@t-mobile.com, http://investor.t-mobile.com.