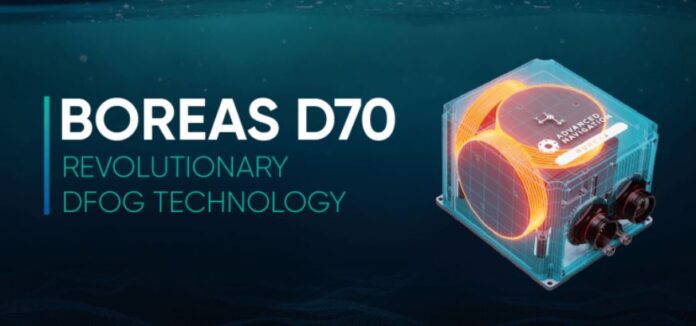 Geo Week 2023 Offers New Industry Products and Applications
Geo Week 2023 in Denver this week offered several industry panels on drones, survey, lidar, mapping and other topics.
Geo Week press releases:
Advanced Navigation Launches Boreas D70
Advanced Navigation has announced the Boreas D70, a fiber-optic gyroscope (FOG) inertial navigation system (INS).  D70, part of the digital FOG product line, is tailored for surveying, mapping, and navigation across subsea, marine, land and air applications, the company said.
Boreas D70 combines closed-loop DFOG and accelerometer technologies, with a dual antenna RTK GNSS receiver.  While D70 does contain a GNSS receiver, it's not required for gyrocompass operation, the company said.
Contact:  Laura Hayward, Advanced Navigation, laura.hayward@advancednavigation.com, www.advancednavigation.com.
GEODNET Announces GNSS Corrections Service
GEODNET has announced a Real-Time Kinematic (RTK) GNSS corrections service for OEMs and systems integrators.  GEODNET is compatible with thousands of fielded GNSS receivers from all major brands, on-vehicle automated steering and spraying kits, as well as the latest drones and robots, the company said.  The GEODNET data stream is a full constellation corrections service that includes more than 1,700 reference stations, RTCM 3.2 data format and GPS, GLONASS, Galileo, and BDS signal tracking.
Contact:  GEODNET, info@geodnet.com, https://geodnet.com/ntrip.
Teledyne Geospatial Releases Galaxy Onboard
Teledyne Geospatial has released Galaxy Onboard, a workflow-focused solution that enables airborne surveyors to deliver quality-controlled processed data in real time.  The company says that Galaxy Onboard allows companies entry into airborne mapping without months of expertise or training.
Galaxy Onboard features a rugged onboard computer, real-time processing engine and quality control system.  Galaxy Onboard extends the lidar sensor into a full solution that accelerates workflow from airplane to office, the company said.
Contact:  Jennifer Parham, Teledyne Geospatial, Jennifer.Parham@teledyne.com, www.teledyne.com.
---
Create a FREE ManyMe Account.
---
UK Competition Seeks Quantum-Enabled Systems for PNT
Innovate UK is launching a Small Business Research Initiative (SBRI) competition that seeks to deliver quantum-enabled systems for positioning, navigation and timing, and quantum-enabled sensors for navigation applications, such as magnetic or gravity field.  Companies can apply for a share of a 25-million pound award.  The competition closes on April 12, 2023.
Contact: Innovate UK, 0300 321 4357, support@iuk.ukri.org.
Sewio Releases On-Premises Version of myRTLS
UWB-based real-time location system (RTLS) vendor Sewio has announced the availability of an on-premises version of their set of subscription services and software, myRTLS Care. The myRTLS Care package consists of software that monitors the system and provides alerts with proactive support services, the company said.
The Sewio system is built on ultra-wideband technology (UWB) and delivered with RTLS Studio remote management and visualization software.  Sewio customers include Volkswagen, Toyota, Budweiser Budvar, TPCA, Škoda and ENEL.
Contact:  Sewio, www.sewio.net.
POND Mobile Transitions U.S. Division to POND IoT
POND Mobile has transitioned its U.S. division to POND IoT.  The new POND IoT brand represents the company's focus on the Internet of Things.  POND IoT's capabilities include asset tracking and management.
Contact:  POND IoT, www.pondiot.com.
People
Jobs
Multiple Positions. Topcon Positioning.
Open Jobs. u-blox.
Multiple Positions. PreAct Technologies.