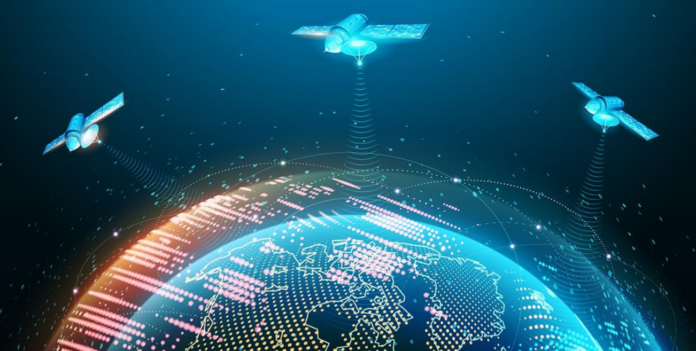 Send your news releases to kdennehy@driverlessreport.com. Go to www.locationbusinessnews.com for more news and an archive of stories.
Fugro Signs Agreement With Septentrio, Meinberg for Atomichron
Fugro has signed a cooperation agreement with GNSS receiver company Septentrio and equipment manufacturer Meinberg to launch its AtomiChron real-time synchronization and authentication service.  Fugro says the technology eliminates time drift caused by clocks counting time at slightly different rates and provides extreme stability that surpasses current precision frequency standards.
Fugro AtomiChron includes Navigation Message Authentication (NMA) to ensure reception of genuine GNSS signals and time synchronization improvements, the company said.  The service will be available in new Septentrio mosaic-T GNSS receivers, as well as a selection of Meinberg GNSS clocks.
Contact: Serge van de Ven, Fugro, 31 (0) 70 31 11129, www.fugro.com.
RadioIP Partners With NextNav
RadioIP has selected NextNav NN 0.00 to power its VPN solutions with z-axis location intelligence.  Through the NextNav Pinnacle network, RadioIP will provide end users with a location-intelligent network node that allows precise tracking without the screen presence of a traditional mobile app, the company said.  RadioIP's Armada VPN mobile app, which has x/y location capability, will integrate NextNav's Pinnacle z-axis service to allow public safety leaders to discreetly locate personnel in complex urban environments.
Contact: NextNav, www.nextnav.com.
NXP Semiconductors Integrates U-blox Positioning Modules for OrangeBox
Thalwil, Switzerland-based u-blox [UBXN] has announced that NXP Semiconductors NXPI 0.00 will integrate its positioning and wireless communications modules in their new OrangeBox connectivity domain controller (CDC) development platform.  OrangeBox simplifies in-car architectures by unifying current and emerging wireless interfaces into a single, security-enhanced connectivity domain controller, the company said.
The OrangeBox solution integrates the u-blox JODY-W3 module to provide Wi-Fi 6 and dual-mode Bluetooth 5.3 technologies, and the ZED-F9K GNSS receiver to deliver decimeter-level positioning accuracy, the company said.  The module also provides dual-mode Bluetooth 5.3, and targets the automotive market, both first mount in vehicles and aftermarket telematics, the company said.
Contact:  Natacha Seitz, u-blox, 41 76 436 0788, natacha.seitz@u-blox.com, www.u-blox.com.
SFL Supports Geolocation Microsatellite Constellation
Space Flight Laboratory (SFL) has been contracted to support development of Clusters 7 through 11 in the HawkEye 360 radio frequency (RF) geolocation microsatellite constellation.  SFL is designing, assembling, and integrating Cluster 9 at its Toronto headquarters, the company said.
The HawkEye 360 Constellation detects and geolocates RF signals for maritime situational awareness, emergency response, national security, and spectrum analysis applications. The first five clusters are now operating successfully in orbit with Cluster 6 expected to launch on Rocket Lab's inaugural Electron mission from Wallops Island, Va., as early as December 2022.
Contact:  Robert Zee, SFL, (416) 667-7400, info@utias-sfl.net, www.utias-sfl.net.
New RTK Rover Click Features Quectel GNSS Module
RTK Rover Click features Quectel's LG69TAMMD, a dual-band multi-constellation GNSS module powered by Point One Navigation's hardware.  The module offers fast GNSS positioning, with centimeter-level accuracy, featuring the fifth generation of STMicroelectronics positioning receiver platform.
The Click board is suitable for PVT (Position, Velocity, and Time) applications such as drones, delivery robots, precision agriculture, mining/marine management, and automotive telematics, the company said.
Contact: MikroElektronika, www.mikroe.com.
Quuppa and Progility Partner in Australia
Quuppa and Australian tech integrator Progility Technologies have partnered to market Real-Time Location Services (RTLS) in Australia.  Some of the markets include industry 4.0, retail, healthcare, sports and others.  The use of RTLS, the companies say, will enable process and workflow optimization, inventory management and worker safety.
Contact:  Sari Arjamo-Tuominen, Quuppa, sari.arjamo-tuominen@quuppa.com, www.quuppa.com.
Quectel Launches C-V2X Module
Quectel Wireless Solutions has launched the AG18 module, a Cellular Vehicle-to-Everything (C-V2X) module.  AG18 supports vehicle-to-vehicle (V2V), vehicle-to-infrastructure (V2I) and vehicle-to-pedestrian (V2P) communications on the unified 5.9GHz intelligent transportation system (ITS) band, the company said.
AG18 features flexible positioning service options including L1+L5 dual frequency GNSS, Qualcomm Dead Reckoning (QDR3) and high-precision PPE (RTK) technologies, the company said.
Contact: Quectel, marketing@quectel.com, www.quectel.com.
Telit Announces New Smart Module
Telit [TTCNF] has announced the SE250B4 smart module. Evolving from the existing SE150A4, the SE250B4 is a full-featured "system on a module" that supports touch displays, advanced cameras and audio and digital sensor interfaces, the company said.
SE250B4 supports multimedia features and multiple wireless technologies to include LTE Category 4, Wi-Fi 5, Bluetooth 5.0 and GNSS.
Contact: Leslie Hart, Telit, (919) 415-1510, Leslie.Hart@Telit.com, www.telit.com.
FourKites and Sony Network Communications Partner
FourKites has announced a partnership with Sony Network Communications Europe.  The partnership will integrate data from Visilion, Sony's real-time cargo and asset tracking solution, with FourKites' end-to-end supply chain visibility platform.  Customers will be able to view FourKites' real-time data for shipments with Visilion's data on cargo location and condition, the company said.
Contact:  Marianna Vyridi, for FourKites, (650) 468-3263
mvyridi@bigvalley.co, www.fourkites.com.
---
News Without Motives.
1440 is the daily newsletter helping 2M+ Americans stay informed—it's news without motives, edited to be unbiased as humanly possible. The team at 1440 scours over 100+ sources so you don't have to. Culture, science, sports, politics, business, and everything in between – in a five-minute read each morning, 100% free.
---
Parkopedia Releases Global Parking Index
Parkopedia has released its 2022 Global Parking Index, which is based on the company's data covering more than 90 million parking spaces across 20,000 cities in 90 countries.  New York remains the most expensive city for 2-hour off-street parking, with an average of $43.10 ($52.65 daily).  Parkopedia has identified three key trends driving parking price changes: supply and demand, green initiatives and rising inflation.  Click here to access the full report..
Contact:  Adam Calland, Parkopedia, 44(0)7838219129, adam.calland@parkopedia.com, www.busineness.parkopedia.com.
Coencorp Grabs Fleet Management Contract
Pipeline construction company Keystone Energy Services has placed an order for a fleet management solution from Coencorp.  The award, worth 200,000 Canadian dollars, is for Coencorp's SM2-FUEL fully automated fleet fuel system, SM2-MAINTAIN maintenance management solution, SM2-LOCATE fleet telematics and real-time GPS asset tracking.
Contact: Coencorp, www.coencorp.com.
Semtech Partners With Exeger
Semtech Corporation SMTC 0.00 has announced a collaboration with Swedish solar cell company Exeger to combine the company's LoRa Edge asset management platform with Exeger's Powerfoyle solar cell technology.  Semtech's LoRa Edge scans GNSS satellites as well as Wi-Fi SSIDs and partitions the processing between IoT devices and the LoRa Cloud to determine location, the company said.  The solar cell technology will extend battery life for asset trackers, the company said.
Contact:  Tam Nguyen, Semtech, pr@semtech.com, www.semtech.com.
Xcite Locate and Cox 2M Partner
Xcite Locate has partnered with Cox 2M to offer LotVision, a real-time GPS vehicle location product for dealerships.  Xcite Locate allows dealers to optimize lot throughput, which increases staff productivity, reduces vehicle days to photos, and gets vehicles ready to sell faster, the company said.
Dealers, vendors, and Xcite's 500-plus team of photographers will now have access to real-time GPS data from vehicles, powered by LotVision from Cox 2M, allowing them track down cars that are missing photos, the company said.
Contact:  Xcite Automotive, (800) 898-5161, sales@xciteauto.com, www.xciteauto.com.
New Company Develops Anti-Jamming GPS Monitoring System
Canada-based SJAWS Technologies has developed a GPS monitoring system to address spoofing and jamming issues.  "The GPS navigation signals that maritime, terrestrial and aviation industries rely on are all vulnerable to interference and manipulation," says said SJAWS CEO Peter Mueller, co-founder of RX Networks, whose company offers a service called Skysweeper.
Contact:  SJAWS, https://sjaws.com/sp.