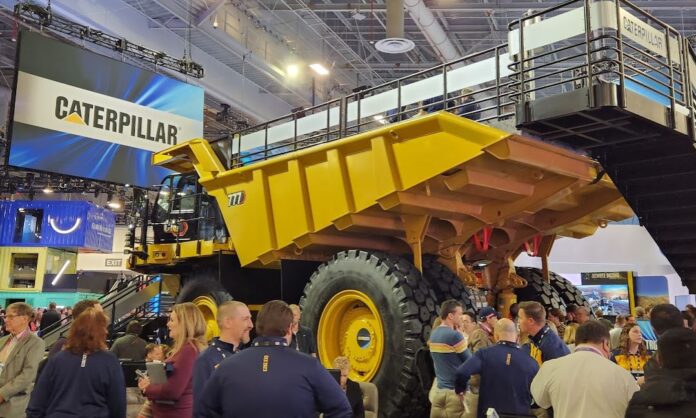 LAS VEGAS—HERE Technologies said, at CES 2023, it is working with Amazon Web Services (AWS) to deliver developers with improved performance for indoor/outdoor positioning capabilities to track and manage any number of internet-of-things (IoT) devices.
AWS recently introduced the AWS IoT Core Device Location to track and manage IoT devices without relying on GNSS hardware.  The company said that not all IoT devices can be equipped with GPS due to its high-power requirements, larger device footprint and higher integration costs.
HERE Positioning, supported by AWS IoT Core Device Location, will use such technologies as Wi-Fi and cellular networks instead of GNSS technologies.
In other company news, HERE was named the No. 1 location platform for the sixth consecutive year by industry analyst firm Omdia.  The research company assessed core data, mapping and platform capabilities, platform services and monetization strategy.
HERE obtained an overall score of 7.88 points, while Google $GOOG received 7.47 points and TomTom [TOM2] had 6.76 points.  Mapbox was fourth with 6.03 points.
In other CES news, Qualcomm QCOM 1.39%↑ rolled out Snapdragon Satellite, which allows global, two-way messaging capabilities for smartphones. The solution is supported by Snapdragon 5G Modem-RF Systems and L-band spectrum provided by the Iridium satellite constellation.
The new satellite solution is supported by Garmin's GRMN 0.89%↑ emergency response service, Garmin Response.
In other CES news:
🚗 Qualcomm Reveals New Connected Vehicle Platform. "Semiconductor giant Qualcomm QCOM 1.39%↑ has unveiled a concept car featuring its new connected vehicle platform, which it says will support a digital cockpit and advanced driver assistance systems (ADAS) on a single chip."
🙂 Giles Rhys Jones, CMO of what3words, said that VinFast is the first electric car manufacturer to have the company's location technology integrated. He said that the company has partnerships with 13 OEMs. "We are also seeing a huge uptake from emergency services in Los Angeles and Dallas," he said. "We are also seeing such delivery and logistics companies as DPD and DHL use our service."
✔ Sheeva.AI and AeonCharge announced a strategic partnership that will bring in-vehicle activation and payment of more than 50,000 public EV chargers in North America.
👍 Mercedes Is The First Automaker To Offer Level 3 Self-Driving In The US. "The German luxury brand will receive its certificate of compliance from the state of Nevada soon."
🚎 Tewksbury, Mass.-based inertial sensing company Aceinna has focused on electrification and autonomous driving the past year, said Teoman Ustun, company vice president of marketing.  "Our sensors provide accuracy and speed to focus on high-power applications.  On the automization side, we are focusing on [SAE] Level 2 and a half and Level 3 and higher for our INS turnkey navigation systems," he said.
😮 At a CES keynote, Intel's INTC 1.19%↑ autonomous driving unit Mobileye CEO said that is has more than $17 billion in bookings through 2030.
✔ Hyundai Mobis Partners With Qualcomm for Autonomous Driving. "Under the agreement, announced at CES, Hyundai Mobis will work on developing an integrated autonomous driving controller that can scale up to level 3 based on Qualcomm's Snapdragon Ride Platforms."
👍 AirBolt launched its Airbolt GPS tracker at CES for consumer and enterprise markets.  The company said it is growing in several consumer markets, including pets, bikes and travel.
😣 Nothing at CES 2023 Can Solve the Nightmare of Getting Around Las Vegas. "The great irony of coming to CES to witness the future of mobility has always been the fact that Las Vegas is so irredeemably hard to get around. Just to get from one rosy-hued keynote about a "frictionless" future of mobility to the next, one must battle the inhuman scale, perpetual congestion, and incoherent infrastructure of this neon Babylon."
🚘YoGoKo and Geoflex are partnering to offer V2X and precise positioning.
🙁 Kagan: Ces 2023 Shows Difficulty Companies Face Getting Noticed. "This year's CES illustrated how difficult it is for companies to be seen and heard trying to shout above all the noise created by other companies."
🏎 The Indy Autonomous Challenge (IAC) team PoliMOVE from Politecnico di Milano and the University of Alabama won the second annual Autonomous Challenge @ CES at Las Vegas Motor Speedway, reaching max speeds of 180 mph. TUM Autonomous Motorsport from Technische Universität München took second place.