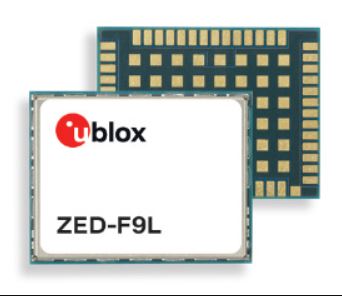 AGCO and Hexagon to Expand Distribution of Hexagon's Ag Guidance Systems
AGCO AGCO 0.48%↑ has signed an agreement with Hexagon to expand its factory-fit and aftermarket guidance offering. The new guidance system will be sold as Fuse Guide on Massey Ferguson and Valtra tractors.  The new arrangement expands upon the current agreement between AGCO and Hexagon to distribute Hexagon | NovAtel GNSS receivers and TerraStar Correction Services both from factory-fit and through AGCO dealers.  Fuse Guide will also use the NovAtel SMART7 receiver.
Contact:  Julie Ulbrich, AGCO, (770) 235-2943, julie.ulbrich@AGCOCorp.com, www.agcocorp.com.
CCTA and Beep Partner To Deliver AV Projects
Beep has partnered with Contra Costa Transportation Authority (CCTA) to rollout autonomous vehicle projects at Bishop Ranch in San Ramon, Calif.  This program provides employees, visitors and residents of Bishop Ranch an opportunity to experience autonomous mobility in Beep's autonomous and electric shuttles, the company said.
Beep and CCTA will partner on delivering autonomous mobility at an additional site early next year, the company said.  Both projects will provide CCTA with insight in developing services with autonomous vehicles that will underpin mobility networks in campuses, communities and city centers throughout the county, the company said.
Contact:  Beep, www.ridebeep.com.
U-blox Launches New Telematics Module
Thalwil, Switzerland-based u-blox [UBXN] has rolled out the ZED-F9L module for telematics, V2X and navigation applications.  The module provides multiple GNSS and IMU outputs and includes a 50 Hz sensor-fused solution, the company said.
ZED-F9L uses L1/L5 band signals and six GNSS constellations, including NavIC, simultaneously to provide sub-meter-level positioning accuracy.  The ZED-F9L module incorporates the latest security features, including sensor-based anti-spoofing and anti-jamming techniques, the company said.
Contact:  Natacha Seitz, u-blox, 41 76 436 0788, natacha.seitz@u-blox.com, www.u-blox.com.
Ricoh Partners With MapsPeople
Ricoh has partnered with MapsPeople to offer the company's Advanced Mapping as part of its relaunched RICOH Spaces.  Built on the mapping platform, MapsIndoors, Advanced Mapping enables wayfinding and gives users full control of their office maps, the company said.
Users will be able to visualize their office data on a dynamic and interactive map of their spaces, the company said.  Advanced Mapping allows users to track IoT devices on their map in real time to find what they are looking for – increasing efficiency, the company said.
Contact:  Morten Brøgger, MapsPeople,  45 31 23 48 72, mobr@mapspeople.com.
BlueSpace.ai Grabs $1.6 Million Army Contract
BlueSpace.ai has won a $1.6 million contract to enhance the perception sensing for future U.S. Army unmanned ground vehicles led by the U.S. Army's Robotic Combat Vehicle (RCV) program.  This effort will be in support of vehicles designed for reconnaissance, surveillance, and other high-risk missions, the company said.  BlueSpace will leverage its commercial self-driving software to develop, test and deploy unmanned ground vehicles for off-road applications.
Contact:  Christine Moon, Bluespace.ai, (650) 392-4782, christine@bluespace.ai.
HERE Announces Third Annual Sustainability Report
HERE Technologies has announced its third annual Sustainability Report and the company's commitment to reaching a net-zero emissions target by 2035.  The report showcases how HERE is making progress each year toward its Environment, Social and Governance (ESG) objectives, the company said.
The company completed its multi-year greenhouse gas audit for net-zero benchmarking. HERE Technologies says it wants net-zero emissions by 2035 with a science-based emissions reductions goal as defined by the Science Based Target initiative (SBTi).
Contact:  Jordan Stark, HERE Technologies, (312) 316-4537, jordan.stark@here.com.
---
Create a FREE ManyMe Account.
---
Bodytrak Partners With NextNav
Bodytrak has partnered with NextNav NN -0.69%↓ to bring z-axis location intelligence capabilities to its products.  With real-time automated alerts for key markers of heat stress, fatigue, and unconsciousness, Bodytrak provides command centers with critical data to assess personnel needs, the company said. The integration of NextNav's Pinnacle technology will allow for indoor vertical positioning to supplement indoor and outdoor geolocation, the company said.
Contact:  NextNav, media@nextnav.com.
Link Labs Launches Ultra for UWB + XLE Asset Tracking
Link Labs has launched Ultra, a new asset tracking solution that combines UWB with the patented Xtreme Low Energy technology for greater precision for indoor location tracking at the same low cost.  With the new technology, Link Labs says it has achieved location accuracy of up to 30 centimeters.  This accuracy allows manufacturing operations to distinguish work stations for applications as WIP and tool tracking, the company said.
Contact: Link Labs, marketing-tools@link-labs.com, www.link-labs.com.
Teledyne Introduces Marine Lidar Sensor
Teledyne Geospatial has introduced the CL-360 for marine applications.  CL-360 combines a lidar sensor that can be integrated with multibeam systems and the CARIS Ping-To-Chart workflow.  The sensor's 360-degree scanner, and up to 2 million points/second collection rate, provides a solid solution for mapping coastal infrastructure, the company said.
Contact:  Jennifer Parham, Teledyne Geospatial, Jennifer.Parham@teledyne.com, www.teledyneimaging.com/geospatial.
Ryken Introduces Asset Tracker
Ryken Asset Management has rolled out its Ryken 5000 advanced self-powered satellite asset tracker. Ryken 5000 is designed to locate, monitor and safeguard valuable equipment whether it is stationary or mobile, the company said.  One feature is the company's third-generation internal battery pack with extended lifespan.
Contact:  Ryken Asset Management, RykenGPS.com.
ION's Joint Navigation Conference Features Early Registration Rate
The Institute of Navigation's Joint Navigation Conference 2023 early bird registration deadline is Friday, May 3. The JNC, sponsored by the Military Division of the ION, will be held June 12–15 at the Town and Country Hotel in San Diego, California. Register to attend JNC 2023 by Friday, May 3 to take advantage of early registration rates. Save $200 by registering to attend JNC before May 3.
3Dtracking and Trak Integrate Smart Fuel Cap
3Dtracking and Trak have recently completed the integration of the TRAK Smart Fuel Cap with the 3Dtracking telematics service platform.  The TRAK Smart Fuel Cap communicates the fuel cap status to the 3Dtracking platform through a Bluetooth connection to a tracking device installed on a vehicle, the company said.
Contact:  Tony Miller, 3Dtracking, 972 544 870 808, tony@3dtracking.com, www.3dtracking.com.
People
The FAA's Acting Administrator Billy Nolen will leave the agency this summer, according to the Associated Press. President Biden's first pick, Denver International Airport CEO Phillip Washington, withdrew in March.
EVERYWHERE Communications has named Monique Bouffard as vice president of products. Bouffard was head of product for a global InsurTech startup. The company also named Skip Owens, director of government sales. Owens was a U.S. Army Special Forces officer.
NextNav NN 

-0.69%↓

 has named Gillian Smith chief marketing officer.
Comtech CMTL 

-2.29%↓

 appointed technology and aerospace industry veteran Donald Walther as the company's new chief legal officer .
Link Labs named Joseph Soliz as senior regional business development director.

---

Your partner in global employment

Over 1000 companies are hiring, paying, and taking care of their team members all over the world with Oyster's all-in-one global employment platform.

---
Jobs
Business Development Manager. JAVAD GNSS.
Director of Product Management. Azuga Telematics.
Senior Customer Solution Manager – Digital Cockpit. TomTom.
Customer Success Manager. HERE Technologies.
Marketing Director. MapTiler.
Sales Development Manager. HERE Technologies.
Senior Business Development Manager – Smart City, East US. Commsignia.
Connectivity Infrastructure Pre-Sales Leader. HARMAN International.
Staff Data Scientist (m/f/d) Autonomous, Data Analytics. Torc Robotics.