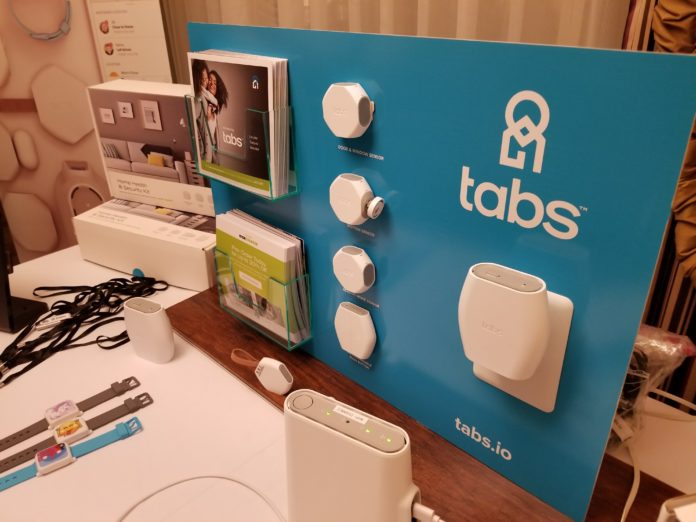 LAS VEGAS—While connected and autonomous vehicles seemed to be the rage at this year's CES, a growing number of location companies exhibited new products.
Not all of the technology, much of it exhibited in IoT sections at the Westgate and Sands Convention Center, centered on GPS and other Global Navigation Satellite Systems (GNSS). A number of companies are integrating GNSS, but relying solely on such terrestrial-based technology as low-power, wide-area network protocols (LoRaWAN).
One company, TrackNet, is leveraging these wide-area networks for smart home products, and from this technology, spinning off location-based applications. The company recently launched a Kickstarter campaign to promote its technology and new products.
"[LoRaWAN] enables many more applications out of the home. The challenges with [current] smart home technology are the coverage challenges in a garage, basement, barn, boathouse and front gate. This technology overcomes these challenges and add more use cases like locating kids, pets and elderly people," said Hardy Schmidbauer, TrackNet CEO and co-founder.
TrackNet, which exhibited at the Pepcom media event during CES, launched its Tabs smart home monitoring product that monitors children's activities and pinpoints their location through a smartphone app. The company said Tabs includes several sensors: motion sensor, door and window sensor and healthy home sensor that monitors carbon dioxide levels.
Tabs, which works with IFTTT, Amazon Alexa and Google Home, includes Wi-Fi parental controls.  The company demonstrated the system at CES with Senet, an IoT provider of cloud-based software.
"You can set up a geofence and adjust the size of it. The system will push alerts as devices go in and out of that zone," Schmidbauer said.
In terms of location uses, Tabs includes a wearable wristband locator, which can send predefined messages, and an object locator, which keeps track of valuables.
"We use GPS, but our first goal was package tracking and we needed a dense network where it doesn't work," Schmidbauer said. "Location technology based on towers also is expensive and not dense enough. It comes down to low-cost tags, but you have to get a network up for location products to move forward."
Another company, Silent Beacon, showed off its wearable safety technology that lets users contact emergency personnel and family members. The Bluetooth-enabled gadget sends an alert signal, allowing recipients to instantly locate, track and communicate with those who require immediate assistance, the company said.
GPS alerts are delivered in real-time, with the Silent Beacon pinpointing the wearer's location in less than 5 seconds.
"Rather than fumbling with a locked phone or complicated buttons, we intentionally designed the Silent Beacon with large buttons and speakers with noise cancellation technology so users can quickly and easily call for help," said Kenneth Kelley, CEO and founder.
Antennas Needed for Drones, Autonomous Vehicles, Indoor Positioning…
Taoglas showed off its Terrablast 2.4 GHz embedded antenna, made out of glass-reinforced epoxy laminate, at CES. The antenna is 30 percent lighter than ceramic and durable, said Landon Garner, Taoglas chief marketing officer.
"In a show like CES where you have a lot of drones, this antenna is ideal as it is impact-resistant," he said.
Taoglas' antennas are in the Sky Viper drone toys that are sold on Amazon, Target and Toys R Us, Garner said. "It's a top seller that's less than $150–with a good GPS," he said.
At CES, Taoglas demonstrated antennas in anchor points for indoor positioning.  The ultra wide band system can be used in warehouses, athletic fields, concert venues, grocery stores and other retail shops, Garner said.
"We are starting to see more applications for indoor location. These require the ability to set up a lot of anchor points in a fairly large area," he said.
Garner said 2017 was good for Taoglas as it launched more than 80 products. "Some were incremental, some specific to automotive OEMs," he said. "We expect 100 product launches in 2018."
The company grew to more than 300 employees in 2017 and opened an office in China, Garner said. "We hope to do more marketing in Asia this coming year," he said.
Garner believes connected and autonomous vehicles will be a solid market in 2018.  "I think it is going to happen this year," he said.
Garner said that future vehicles are going to combine AM-FM, WiFi, 4G and 5G, GPS and other systems into one antenna housing. "It's going to be a low-profile solution that may be embedded in a trunk or on a car's roof. Even the shark fins you see on newer cars will have to be compressed," he said.
In other CES location news:
In a new way to use location technology, Sports Performance Tracking rolled out its SPT2 GPS device which analyzes sports performance for amateur athletes. The company said SPT2 gives starting athletes the same data pros have: accumulative algorithms to factor frequency, magnitude, speed, acceleration and more. SPT2 fits in an undergarment chest piece to analyze how hard players and teams are working in training and games, the company said.
PoLTE introduced its Lite-Touch Architecture to calculate positions in the cloud, not on the device, the company said. The architecture is designed to enable location services for small, inexpensive and power-constrained mobile devices as they seamlessly move indoors and outdoors. This includes IoT-based applications that relied on GPS, with its high rate of power consumption, as well as Wi-Fi and Bluetooth with their added, size, cost and network complexity, PoLTE said.
How can we talk about CES without sneaking autonomous vehicle news in? TomTom announced the launch of TomTom AutoStream, a map delivery service for autonomous driving and advanced driver assistance systems (ADAS).  TomTom, which is partnering with Baidu and Zenuity on the technology, said AutoStream enables vehicles to build a horizon for the road ahead by streaming the latest map data from the company's cloud.