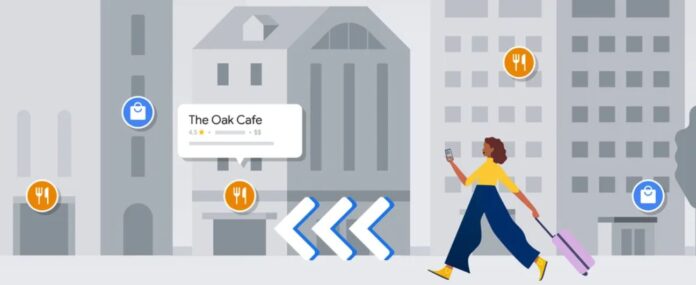 Immersive view starts working this week in five cities…
Google Maps added several new features this week, including the launch of immersive view in London, Los Angeles, New York, San Francisco and Tokyo.  The announcement, made at Google's GOOG -4.56%↓ Live From Paris event, also included the new glanceable directions feature, which allows a user see their journey from a route overview or lock screen.
Glanceable features (Image: Google):
The previously announced immersive view, which will launch later in Amsterdam, Dublin, Florence and Venice, integrates billions of the company's Street View and aerial images to create a digital model of the world, the company said.  "Say you're planning a visit to the Rijksmuseum in Amsterdam. You can virtually soar over the building and see where things like the entrances are. With the time slider, you can see what the area looks like at different times of day and what the weather will be like," the company said in a blog.
Google also said it is expanding its Search with Live View feature to Barcelona, Madrid and Dublin.  The feature allows users to find shops, ATMs and restaurants with their smartphone cameras.  It works by lifting your camera to search and to find the feature. The Indoor Live View version, first launched in 2021, is expanding to more than 1,000 airports, train stations and malls worldwide.
The last announcement centered on Google Maps for electric vehicles.  Namely, a new feature allows users to find charging stations with 150 kilowatts or more of power or higher.  Google Maps will also show businesses with onsite charging stations—and the best routes, traffic conditions and energy use to get to the charging site.