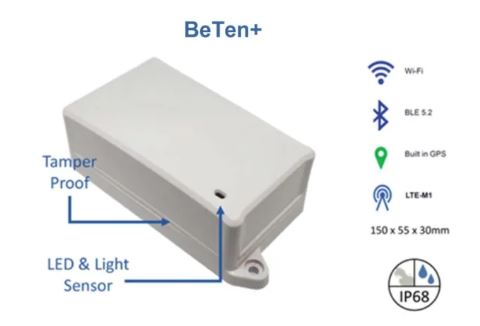 BeWhere Launches Asset Trackers
BeWhere [BEWFF] has launched its next generation of asset trackers, the BeSol+ and BeTen+.  BeSol+ incorporates solar recharging, Low-Power 5G and 2G communications and GPS/GLONASS/ GNSS/Wi-Fi/BLE indoor and outdoor location technologies.
The BeTen+ is the evolution of the company's original asset tracker, the BeTen, and is designed for un-powered containers and equipment tracking, the company said.  The BeTen+ also incorporates the same capabilities as BeSol+.
Contact:  Margaux Berry, BeWhere, (844) 229-4373 ext. 107, info@bewhere.com, www.bewhere.com.
u-blox Rolls Out Bluetooth LE Automotive Module
Saying it has entered the stand-alone automotive module segment, u-blox [UBXN] has rolled out its NINA-B5 series as part of its Bluetooth LE portfolio.  NINA-B5 series features a multicore wireless MCU with Arm Cortex-M33 and Bluetooth LE 5.3.
NINA-B5 is suited for such automotive applications as keyless entry, battery management, LED-light control, sensor hub, or tachograph.  Other uses home automation (lighting, access control) as well as micro-mobility (e-bikes), power tools, or mobile robotics (lawn mowers), the company said.
Contact: u-blox, www.u-blox.com.
Geotab Selects Sequans' Chipsets
Sequans Communications SQNS 0.00 has announced that Geotab is using its Calliope 2 Cat 1bis chipsets as a part of its product strategy.  The Calliope 2 GC02S1 modules consists of the Calliope 2 platform for a complete modem system, including an LTE-optimized transceiver, RF front end and key interfaces, the company said.
Contact:  Kimberly Tassin, Sequans Communications, (425) 736-0569, kimberly@sequans.com, www.sequans.com.
JAVAD GNSS Partners With EPFL Racing Team
JAVAD GNSS is providing EPFL Racing Team a GPS system with centimeter-level accuracy, the company said. The unit features a duo of antennas offering 100 Hz RTK positioning and navigation for the company's new driverless vehicle.
In other company news, JAVAD GNSS rolled out its TRIUMPH-3NR, a GNSS network rover with integrated MEMS IMU for fieldwork.  The unit is capable of 25 hours of run time on a single charge, the company said.
Contact: JAVAD GNSS, www.javadgnss.com.
---
Create a FREE ManyMe Account.
---
Quectel Says 5G RG620T Modules Receive Certification
Quectel Wireless Solutions has announced that its 5G New Radio modules series, the RG620T, has received FCC/IC/CE and RCM certifications.  The RG620T series is the first 5G module based on the MediaTek T830 System-on-Chip to receive all these certifications, the company said.
The certifications will allow customers to deploy their 5G fixed wireless access (FWA) devices worldwide, the company said. In addition, the company said that IoT developers can bundle the RG620T 5G modules with Quectel's antennas and pre-certification services for their 5G IoT devices.
Contact: Quectel, www.quectel.com.
KINEXON Joins SAP Supply Chain Solution Portfolio
KINEXON Industries has announced its partnership with SAP SAP 0.00 to bring the Order Tracking and Process Management solution into the SAP supply chain solution portfolio.  Order Tracking and Process Management's focus, which is a cloud-based software, is real-time tracking of all moving assets and the management of logistics and production orders, the company said.  KINEXON OS is now available on the SAP Store.
Contact:  Stefan Biermeier, KINEXON Industries, stefan.​biermeier@​kinexon.​com, www.kinexon.com.
Sixents and Fixposition Offer RTK Positioning in China
‍Sixents Technology and Fixposition AG are partnering in China to offer customers the Vision-RTK 2 for RTK centimeter-level positioning.  Sixents Technologies has constructed 3,000 Continuous Operational Reference System stations nationwide in China.
A RTK positioning service is delivered to Fixposition's Vision-RTK 2 users, enabling them to attain centimeter-level positioning initialization in open landscapes.  The companies say the positioning enables autonomous lawnmowers, sweeping robots and agricultural robots.
Contact:  Fixposition, www.fixposition.com.
MiX Telematics Passes 1 Million Active Subscribers
MiX Telematics MIXT 0.00 said it passed one million subscribers across its combined fleet and consumer customer base.  MiX Telematics has customers in more than 120 countries worldwide.  The company said total revenue for the year was $145 million, with recurring revenue making up 87 percent of that figure.
Contact:  MiX Telematics, www.mixtelematics.com.
Satelles' STL Wins Award
Satelles has been named a winner in this year's Small Cell Forum Industry Awards. Satellite Time and Location took the top spot in the Small Cell Forum's "Outstanding Innovation in Chips or Components to Enable Small Cell Networks" category.  STL is implemented as a redundant source of time by companies concerned about the vulnerabilities and cybersecurity threats related to GPS/GNSS, the company said.
Contact:  Satelles, www.satelles.com.
Ridecell Named Frost & Sullivan Company of the Year
Ridecell has been named Frost & Sullivan Company of the Year.  Specifically, the award recognizes the Ridecell Fleet Automation and Mobility platform as a tool to power fleet-based businesses, the company said.  The Ridecell platform uses fleet insights as triggers for automated workflows, allowing workers to be more efficient, reducing risk and saving costs, the company said.
Contact:  Ridecell, www.ridecell.com.
People
Parkopedia has named Benjamin Xuan as managing director for its China operations. He will be based in the company's Shanghai office.
Pointr has appointed Talha Ahmed as technical project manager.
---
Your partner in global employment
Over 1000 companies are hiring, paying, and taking care of their team members all over the world with Oyster's all-in-one global employment platform.
---
Jobs
Openings. PreAct Technologies.
Open Positions. Advanced Navigation.
Technical Sales Specialist, Heavy Construction – Southeast US. Leica Geosystems.
Channel Development Manager. CrisisGo.
---
Click HERE to Join our growing Location Business News LinkedIn Group!