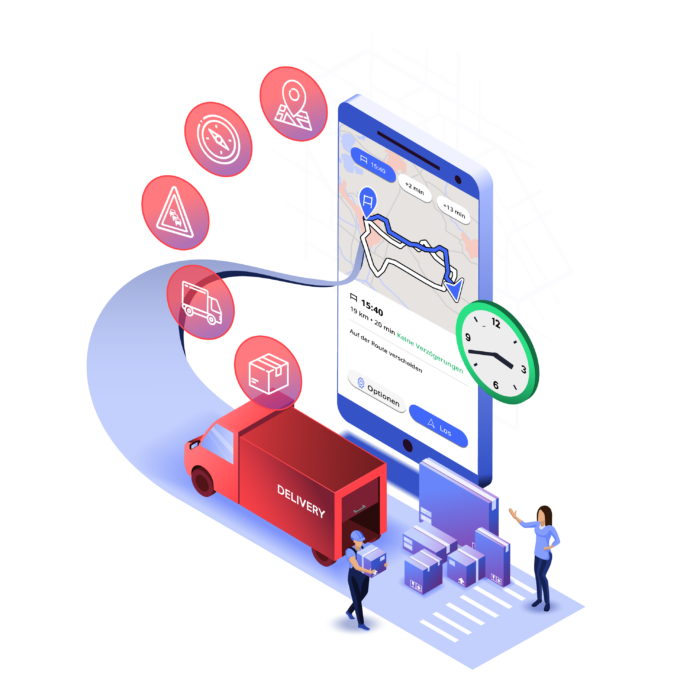 Send your news releases to kdennehy@driverlessreport.com. Go to www.locationbusinessnews.com for more news and an archive of stories.
PTV Group Enters U.S. Market With Truck Navigation App
PTV Group has launched the next generation of its professional truck navigation app, PTV Truck Navigator G2.  The app, which uses the TomTom Navigation SDK, includes up-to-date maps, custom truck routing and is available globally and for the first time in the U.S. market, the company said.
"A professional truck navigation app is key to achieving transport efficiency especially in the US where challenges like driver shortages, supply chain disruptions and growing regulatory pressures to decarbonize persist," says Christian Haas, PTV Group CEO.  An SDK to embed PTV Navigator G2 into third party mobile solutions is planned for Android and iOS in 2023, the company said.
Contact:  Stefanie Schmidt, PTV Group, 49 721-9651-7451, stefanie.schmidt@ptvgroup.com, www.ptvgroup.com.
Li Auto Smart Driving System Has u-blox ZED-F9K GNSS Module
Thalwil, Switzerland-based u-blox [UBXN] has announced that its dead reckoning module will provide  lane-level accurate positioning data for Li Auto's Li L9 SUV's assisted smart driving system.  Launched in June, the Li L9 comes equipped with a Li AD MAX smart driving system with Navigation on ADAS functionality, the company said.
Designed to serve mass market industrial and automotive applications, the u-blox F9 platform combines multi-band GNSS technology with dead reckoning and high precision algorithms.  It is compatible with a variety of GNSS correction data services to achieve accuracy down to the centimeter level, the company said.
In other company news, u-blox introduced the NORA-W3 series modules. NORA-W3 is a compact dual-band Wi-Fi 4 and Bluetooth LE 5 module featuring u-connectXpress for easy integration, the company said.
Contact:  Natacha Seitz, u-blox, 41 76 436 0788, natacha.seitz@u-blox.com, www.u-blox.com.
ON!Track Asset Management Solution Integrates Trimble Viewpoint Vista
Trimble TRMB 0.72%↑ and the Hilti Group announced that Hilti ON!Track asset management system will integrate Trimble's Viewpoint Vista.  The enterprise resource planning solution was announced at the Trimble Dimensions+ Conference.
In other company news, Trimble and Exyn Technologies have partnered on the Autonomous Surveying Solution for Construction. The solution will integrate Boston Dynamics' Spot robot, the ExynPakÔ and Trimble X7 total station.
Contact: LeaAnn McNabb, Trimble: (408) 481-7808, www.trimble.com.
Phunware Extends LBS Contract With Hospital Chain
Phunware PHUN 4.42%↑ has announced a three-year contract renewal and expansion win to license its patented location-based services to Parkview Health.  The health system, with 10 hospitals and 100 clinics, will also use Phunware's wayfinding solution on its Fort Wayne, Ind.-based campus.
Contact:  Matt Glover, for Phunware, (949) 574-3860, phun@gatewayir.com, www.phunware.com/solutions/healthcare.
ORBCOMM Rolls Out CT 1000
ORBCOMM's new CT 1000 solution, expected to be commercially available in early 2023, digitalizes global container shipping, to provide visibility and traceability for shipping lines and their customers.  CT 1000  allows shippers and operators to track the location and status of their dry marine containers at every point in the asset's journey, the company said.
Shipping line Hapag-Lloyd is the first in the industry to leverage ORBCOMM's latest dry container IoT technology, the company said.  The shipping line will begin installing a unique CT 1000 device, built specifically for the company, for their dry containers in December.
Contact:  Michelle Ferris, ORBCOMM, (703) 462-3894, ferris.michelle@orbcomm.com, www.orbcomm.com.
Advanced Navigation Rolls Out New FOG INS
Advanced Navigation has launched the Boreas D70, a fibre-optic gyroscope (FOG) inertial navigation system (INS).  The D70 is the latest release in the Boreas digital FOG (DFOG) series.
Boreas D70 combines closed-loop DFOG and accelerometer technologies, with a dual antenna RTK GNSS receiver.  These are coupled with Advanced Navigation's AI based fusion algorithm to deliver accurate and precise navigation, the company said.
Contact: Advanced Navigation, 61 2 9099 3800, www.advancednavigation.com.
Spireon to Track U.S. Capitol's Christmas Tree
Spireon, a division of Solera, in partnership with Choose Outdoors, is launching its annual real-time tracking of the U.S. Capitol Christmas tree. The tree, harvested from the National Forests in North Carolina, will end its journey on the West Lawn of the United States Capitol in Washington, D.C.  Spireon's FleetLocate  trailer management solution will track the tree's GPS location.  Follow it at  www.capitoltreetracker.com.
Contact:  Priti Sharma, Solera, Priti.Sharma@Solera.com, www.spireon.com.