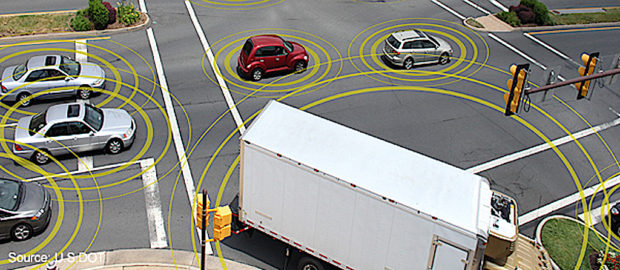 No widespread use of V2V technology on the road today…
A U.S. appeals court last week rejected a petition from two trade associations that challenged a 2020 Federal Communications Commission decision to reallocate a major portion of the 5.9 GHz spectrum block that was set aside for automotive safety decades ago.
Last year, Washington, D.C.-based Intelligent Transportation Society of America and the American Association of State Highway and Transportation Officials legally challenged the FCC's move to shift 30 megahertz of spectrum, out of 75 megahertz reserved for Dedicated Short-Range Communications, to Cellular Vehicle-to-Everything.  In addition, the other 45 megahertz was allocated for Wi-Fi use.
In 1999, the FCC set aside the 75 megahertz of spectrum in the 5.9 gigahertz band for DRSC that was meant to improve road safety through connected technologies.  However, Judge Justin Walker, in his opinion last week, said that by 2020, were "no commercially-marketed vehicles" use the 5.9 gigahertz band to provide safety features.
"Several groups that want to retain their old use of the reallocated spectrum argue that the FCC's reallocation was arbitrary and capricious. It was not," Walker said in his opinion.
While a number of automakers and their suppliers have decided to support Cellular Vehicle-to-Everything initiatives, DRSC hardliners are continuing to champion the technology.
"[I]t is time for the DSRC crowd to dismount from the barricades and accept reality and, really, fundamentally, stop standing in the path of progress," said Roger Lanctot, an auto industry analyst, in a recent LinkedIn column.
Despite the ruling, ITS America said it would continue efforts to ensure the remaining 30 megahertz of spectrum is free from interference and advances transportation safety.  "Today's court decision rejecting ITS America and AASHTO's appeal to the [FCC] decision reallocating a majority of the 5.9 GHz spectrum is a blow to transportation safety for all Americans.  At a time when roadway deaths are at an all-time high, our efforts to preserve the entire 75 MHz spectrum for connected vehicle safety solutions demonstrate the industry's commitment to saving lives," ITS America said in a statement.