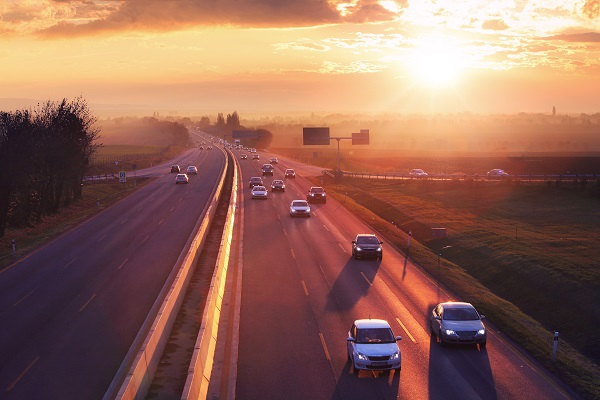 Geotab Reports 200,000 Subscribers in Latin America
Telematics giant Geotab has announced that it exceeded 200,000 connected vehicle subscribers in Latin America.  The company said, despite economic challenges, growth continues to accelerate in the region as it now has one of the largest telematics footprints there.
Contact:  Geotab, geotabmx@edelman.com, www.geotab.com.
Topcon Provides GNSS Correction Services for California Emergency Response
Topcon Positioning Systems is offering free access to its GNSS correction services network to emergency response agencies and personnel in designated California disaster areas.  "During major disaster response and recovery, local utilities and municipalities, local FEMA and Army Corps of Engineers, essential emergency services such as utility and construction companies have to go out and find out what's broken, what's been wiped out, and they need the ability to utilize positioning technology," said Jason Killpack, director, business development, emerging business, Topcon Positioning Systems, in a statement.
Contact:  Staci Fitzgerald, Topcon Positioning Group, (925) 245-8610, corpcomm@topcon.com.
Inertial Labs Launches Upgraded INS-U GPS INS
Inertial Labs has announced the release of an upgraded version of its INS-U GPS-Aided Inertial Navigation System to include an extended version of the Differential Pressure Sensor & Embedded Air Data Computer.  This allows the unit to measure airspeed up to 600 knots.
The INS-U is a fully integrated, combined Inertial Navigation System (INS) + Attitude & Heading Reference System (AHRS) + Air Data Computer (ADC) high-performance strapdown system that determines position, velocity and orientation, the company said.
Contact:  Inertial Labs, https://inertiallabs.com.
STMicroelectronics Joins NextNav Certified Barometer Program
NextNav NN 4.68%↑ has announced that semiconductor giant STMicroelectronics will join its NextNav Certified barometer program.  NextNav Certified validates the performance of sensors in real-world operating scenarios, the company said.  ST's sensors use MEMS technology to ensure accurate pressure resolution in ultra-compact and thin packages, enabling accurate floor detection, enhanced location-based services, precise dead-reckoning calculations, advanced weather monitoring, and accurate water-depth sensing, the company said.
Contact:  NextNav, media@nextnav.com, www.nextnav.com.
The deadline for submitting abstracts for the Institute of Navigation (ION) Joint Navigation Conference (JNC) 2023 is Friday, February 3. Submit your abstract at ion.org/jnc.
Navigine Partners With Noccela
Navigine has partnered with Finland-based Noccela in the global industrial market. Navigine software will be integrated with Noccela UWB's positioning capabilities in challenging industrial sites, the company said.  Real-time location services built on Ultra-Wideband (UWB), and offered by Noccela, enable a higher level of sports analytics, modernize industrial operations and alert people of COVID-19 exposure through accurate contact tracing, the company said.
Contact:  Noccela, 358 2 0735 1180, info@noccela.com, www.noccela.com.
---
Create a FREE ManyMe Account.
---
TNEDICCA and Archenia Partner
TNEDICCA has partnered with Archenia to offer insurers with location information.  The partnership combines Archenia's leads with TNEDICCA's Location Risk Score.  TNEDICCA uses its crash database of more than 30 million crashes to generate the Location Risk Score.  The database is created from police reports and includes accurate crash location data using geolocation, the company said.
Contact:  Travis Fairchild, Archenia, tfairchild@archenia.com.
Phunware Launches Experience Optimizer
Phunware PHUN -1.94%↓ has launched its Experience Optimizer to allow customers to contextually engage users based on location, persona or brand.  Phunware's Experience Optimizer enables a single mobile application to autonomously deliver experiences by configuring and launching a unique JavaScript Object Notation (JSON).
Experience Optimizer also gives customers additional features such as its location-based services.
Contact:  Phunware, (512) 693-4199, press@phunware.com.
PACCAR and Platform Integrate Telematics Solution in Big Rigs
PACCAR and Platform Science have announced that they will integrate Platform Science's Virtual Vehicle in Kenworth and Peterbilt trucks.  Virtual Vehicle is an OEM platform that enables fleets to access telematics, software solutions, real-time vehicle data and third-party applications, the company said.  The Virtual Vehicle platform will deploy in Kenworth and Peterbilt trucks beginning in 2024.
Contact:  Platform Science, www.virtualvehicle.io.
Webfleet Named 2022 European Commercial Telematics Company of the Year
Frost & Sullivan has recognized Webfleet, as part of Bridgestone Mobility Solutions, with its 2022 European Commercial Fleet Telematics Company of the Year Award.  Frost highlighted the company's electric vehicle solutions as well as new apps for professional drivers.   were specifically highlighted, as well as new app solutions that support professional drivers.
Contact:  Webfleet, press@webfleet.com, www.webfleet.com.
People
Jobs
Senior Vice President Operations. GeoComm.
Multiple Openings. Advanced Navigation.
Marketing Specialist. NavInfo Europe.
Internet of Things Consultant. UnaBiz.