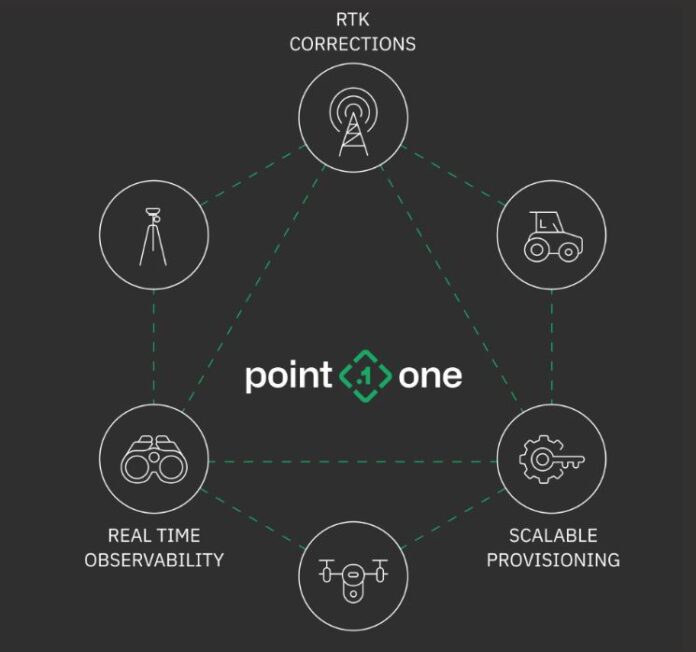 Yaletown Partners Invests in oneNav
Yaletown Partners have invested in Sunnyvale, Calif.-based oneNav, which recently rolled out its pureL5 Acquisition Receiver Core (pARC) GNSS augmentation product.  Financial details were not disclosed.  OneNav recently closed a $17 million Series C funding round that was spearheaded by MVP Ventures, along with Google Ventures, GSR Ventures, Norwest Venture Partners and In-Q-Tel.
Contact:  Ellen Kirk, oneNav, (650) 678-0240, info@onenav.ai, www.onenav.ai.
Caruso and Toyota Partner for Fleet Management Solutions
CARUSO has announced a partnership with Toyota to optimize connected car data for fleet management solutions.  Toyota will provide telematics data, while CARUSO said it will provide standardization, specialized consultancy, along with complementary services, to Toyota's fleet customers.
Some of the offerings will include connected car data, tracking vehicle mileage, maintaining detailed logbooks and others, the company said.
Contact:  Tina Rauschenbach, CARUSO, customerexperience@caruso-dataplace.com, www.caruso-dataplace.com.
HERE Partners With Eco-Movement for Charging Solutions
HERE Technologies has partnered with Eco-Movement to create charging solutions for EV drivers globally.  HERE and Eco-Movement will deliver charge point data to the automotive industry that leverages testing, artificial intelligence, vehicle sensor data, and charging station user feedback, the companies say.
HERE and Eco-Movement have incorporated eMobility Service Provider support to allow EV drivers to locate charge points supported by their specific charging service, the companies say.  HERE also offers EV OEMs a bring-your-own-data option to support custom eMSP listings in their branded navigation solutions, the company said.
Contact:  Sebastian Kurme, HERE, 49 173 515 3549, sebastian.kurme@here.com.
Point One Navigation's GraphQL API Enables Seamless Integration of Precision Location
Point One Navigation has launched GraphQL API, which delivers integration and observability into precision location for GNSS-powered devices.  GraphQL API simplifies development, eliminating the need for vendor libraries, intermediate data stores or working with convoluted networks of REST endpoints, the company said.
Developers building RTK-enabled products can seamlessly integrate precise location into their products and services, the company said.  Using Point One's GraphQL API, developers can now send a single HTTPS request and receive plain, well-formed JSON data that can be used natively without an intermediate datastore or application, the company said.
Contact:  Mark Shapiro, for Point One Navigation, (619) 249-7742, mshapiro@srs-techpr.com, www.pointonenav.com/graphql-API.
Skydell 23.8 Has Launched
Safran, in its third major release this year, says it has added more power and features to Skydel, its flagship GNSS simulation engine.  Skydel 23.8 can now generate 1.5 more signals from a base configuration on a single workstation, the company said.
Users can bring added realism to their scenarios and simulate all GNSS constellations, multipath echoes, interference, and LEO signals at the same time, the company said.  The new version simulation can now support simulation of 63 satellites in the GPS constellation, the company said.
Contact:  Charles Jones, Safran, (585) 450-2889, charles.jones@nav-timing.safrangroup.com.
---
Create a FREE ManyMe Account.
---
Mojio and Skybell To Offer Telematics Service
Mojio and SkyBell are partnering to develop a new integrated video telematics solution.  Powered by the Mojio Platform, the video telematics service combines 4G LTE connected hardware with cloud-based services and front-end software for consumers and fleets, the company said.
The solution can be integrated with existing telematics programs, used to build new products and services, or deployed via one of Mojio's connected mobility services.  Customers can view their vehicles on maps with live GPS tracking, use custom geofences for contextual status updates, and get safety scores and detailed insights from each trip taken, the company said.
Contact:  Mojio, www.moj.io.
Enlighted Adds AI and Partners to Location Intelligence
Enlighted, owned by Siemens, has announced the expanded use of artificial intelligence (AI) in its Location Intelligence solution and new additions its partner ecosystem.  The company said the new AI integration allows its Real Time Location Services (RTLS) system to have 98 percent accuracy for its assets and personnel finding capability. Enlighted's AI solutions are part of the Siemens Xcelerator Marketplace.
Contact:  Ellen Gustafson, Enlighted, (415) 505-6783, ellen.gustafson@siemens.com, enlightedinc.com.
Truvami Launches B2B Asset Tracking Solution
Zürich-based truvami has launched a tracking solution for multi-purpose B2B use at The Things Conference last week in Amsterdam.  The tiny trackers work indoors and outdoors, integrating IoT, wireless communications and cloud networking domains, the company said.  Truvami started as a joint project between Swisscom Broadcast AG and Miromico AG.
"When trackers have to be attached to assets, like boxes, crates and pallets as used in transport-logistics, the usual GPS-trackers are too large to be attached to such assets," said Chiara Koopmans, truvami managing director.
Contact:  Chiara Koopmans, truvami, press@truvami.com, www.truvami.com.
Parkopedia and Blink Charging Partner
Parkopedia has partnered with Blink Charging to allow its users to access nearly 12,000 Blink public chargers at 4,000 U.S. locations.  The agreement increases Parkopedia's presence in the North American market, with the company expanding its Park and Charge EV service, the company said.
As cited in the 2023 Global Driver Survey, including nearly 60 percent of U.S. EV drivers, are concerned about finding charging away from home and more than 1 in 3 drivers struggling to find EV public charging locations "all the time" or "very frequently."
Contact:  Adam Calland, Parkopedia, 44(0)7838219129, adam.calland@parkopedia.com.
Octo Telematics Launches Digital Driver Try Before You Buy
OCTO Telematics has launched of the Digital Driver Try Before You Buy solution. The monitoring features of Try Before You Buy allows an insurance company to define customer pricing based on actual driving behavior data, the company said. With the app, insurance companies can pre-select potential customers with a high willingness to use telematics, streamline the onboarding process and better manage policy holders, the company said.
Contact:  Adriana Zambon, Octo Telematics, 9 339 399 56 40
adriana.zambon@octotelematics.com, www.octotelematics.com.
KP Rolls Out Vehicle GPS Antennas
Infinite Electronics' KP Performance Antennas has launched its vehicle GPS antennas designed to redefine accuracy and reliability in automotive applications.  These vehicle GPS antennas come equipped with a high gain of 28 dB, allowing them to capture weak signals, the company said.
Setting these antennas apart from conventional GPS antennas is their high out-of-band rejection, the company said.
Contact:  KP Performance Antennas, (855) 276-5772, www.kpperformance.com.
ITM/PTTI 2024 Abstract Deadline is October 4, 2023
Submit your abstract today for the ION's International Technical Meeting (ITM) that is being co-located with the Precise Time and Time Interval Systems and Applications Meeting (PTTI), to be held January 22-25, 2024, at the Hyatt Regency in Long Beach, CA.
Contact: ION, (703) 366-2723, membership@ion.org, www.ion.org.
STOPit Launches Panic Alert System
STOPit Solutions has launched its Panic Alert System to help members in a crisis or non-life-threatening situation.  The system, powered by the acquisition of PunchAlert, features Echo for Indoor Location to offer indoor location tracking for emergency response.  Another features is a Utilizing cutting-edge technology, this feature offers precise indoor location tracking for swift and accurate emergency response within 911+ Concierge to monitor emergencies in real-time, the company said.
Contact:  STOPit, www.stopitsolutions.com.
---
Chat with your enterprise databases using secure generative AI and empower business users in your team to do their own data analyses in seconds.
---
People
David Smith has been named principal, autonomous site system architect at Hexagon's Autonomy & Positioning division.
Rapid Applications Group has appointed Tim Curran as CEO. Co-founder Matthew Bullis will remain on the executive team as the Chief Strategy Officer.
CEVA CEVA 

1.29%↑

 has named Iri Trashanski as Chief Strategy Officer.
Jobs
Senior Product Marketing Manager. RapidDeploy.
Job Openings. u-blox.
Careers. Mojio.
Current Opportunities. Airspace Link.
---
Click HERE to Join our growing Location Business News LinkedIn Group!