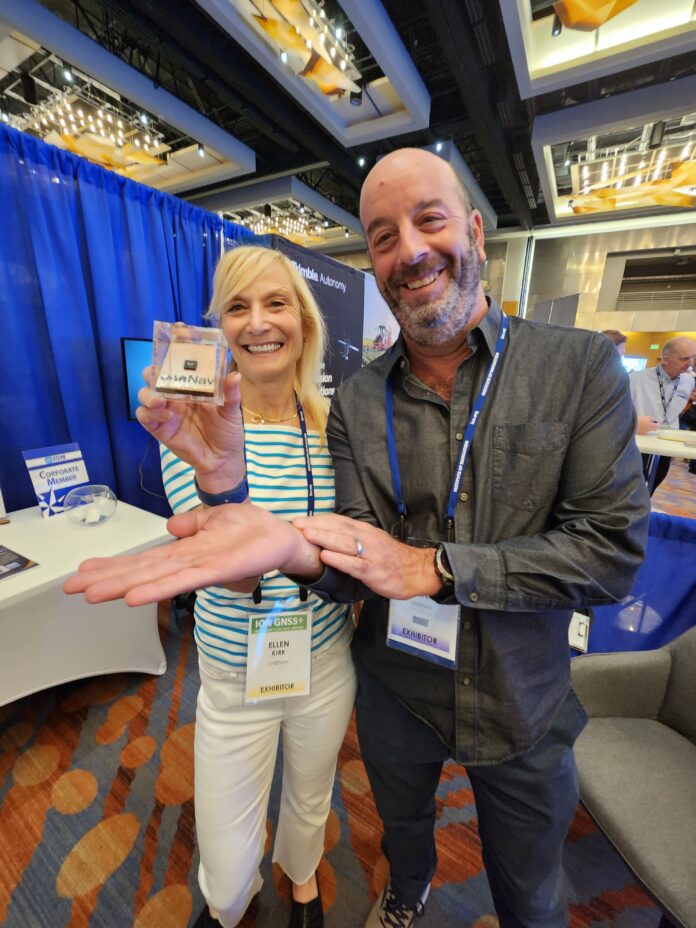 DENVER—While known as a technical meeting, the
Institute of Navigation
's 
ION GNSS+2023
 had several product launches and company execs making business deals here.
One company, StarNav, revealed the first PNT results using Xona's PULSAR signals.  "We created the radio front end specifically for the Xona signal.  We've achieved 20-centimeter accuracy," said Joshua Morales, StarNav co-founder and CEO.  "We were able to acquire and track the signal, with a cold start, with signals produced by a Safran simulator.  In this example, that was 13 satellites simultaneously."
Xona is developing PULSAR, a PNT service built on low Earth orbit (LEO) small satellites. The company said it will provide resilience and accuracy by augmenting GNSS, while operating with an independent navigation and timing system architecture.
Spirent said it has concluded a review of PULSAR production signals for integration into its SimXona product line.  Spirent that the signal integration will be a part of the SimXona platform for existing and new customers throughout 2024.
Morales also said his company is working with both the U.S. Army and U.S. Air Force to test GNSS receivers.  A StarNav receiver was recently bolted onto an Air Force T-38 trainer to achieve 5-foot accuracy during "dynamic maneuvers," he said.
Another company, Silicon Valley-based oneNav, demonstrated its L5 GPS signal technology at its booth.  The company's pureL5 GNSS receiver system is an RTL core that acquires and tracks satellites via L5, E5a, E5b, B2a.  OneNav says it's the first company to develop a commercial GNSS acquisition and tracking solution that uses only L5-band signals.
Racelogic rolled out its SatGen GNSS simulation software at the conference.  The software, which is an update of previous solutions, allows companies to create custom scenarios with position, route, speed, data and time, said Racelogic's Jen Edis.
In other ION GNSS+ news:
NextNav NN 

1.57%↑

 announced it is a member of TCCA-Critical Communications association.  NextNav is building a ecosystem of location-based applications through a terrestrial network to enhance the work of first responders, the company said.
Syntony announced that it has developed a GNSS receiver embedded in a CRPA solution called CERBER.  The unit's tech relies on the integration of CRPA treatment, with a 4-array antenna, and the GNSS receiver embedded, the company said.  CERBER, developed to meet the growing demand for civil infrastructure, also has anti-jamming and anti-spoofing resilience.
RX Networks demonstrated its TruePoint.io GNSS service.  TruePoint.io is designed to offer a correction stream with a 99.9 percent Service Level Agreement, the company said.