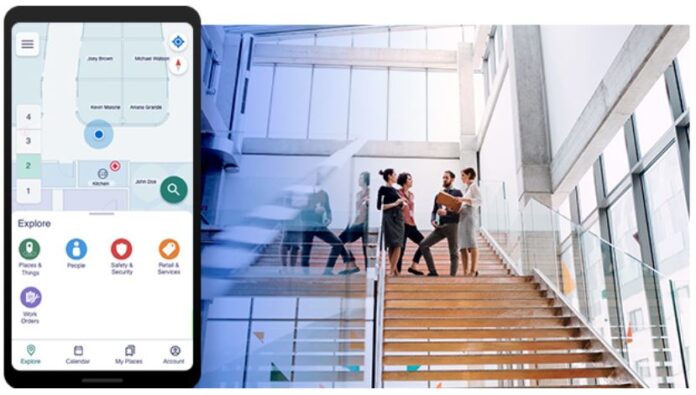 Says Indoor Positioning Market Will Grow…
Saying that its new indoor positioning software will improve operational efficiency and safety, Esri, has launched ArcGIS IPS—a product that it says will enable organizations to add indoor location services across their facilities and campuses.
Esri says that while smartphone navigation apps have given people personal freedom, that all fades when they have to go into airport, corporate campus, or medical center complex.  The company said that indoor positioning systems help find a doctor's suite or help medics locate an apartment inside a building—something that GPS can't do.
Indoor Location Market Growing…
Esri, citing a United Nation's report that indoor square footage will double by 2060, said that indoor positioning systems will spur smart city efficiency and convenience, bundling features for managing facilities and monitoring them for conditions that might affect safety and security.  The company said indoor positioning will continue to be critical for first responders and other public safety departments to quickly navigate indoors.
"Indoor positioning systems solve the 'last mile' navigation challenge, bridging the gap between outdoor and indoor worlds," said Jack Dangermond, Esri founder and president, in a statement. "We are pleased to offer this important capability that is another piece in completing holistic mapping systems for organizations that aspire to the digital transformation that geospatial technology provides."
ArcGIS IPS, which can be turned on or opted out from on a mobile device, enables real-time indoor location services through Esri's ArcGIS Indoors mobile application and in custom apps built with ArcGIS Runtime SDKs, the company said.  However, to implement the system, Bluetooth beacons, namely iBeacons, have to be installed inside buildings.
Contact:  Jo Ann Pruchniewski, Esri, (301) 693-2643, jpruchniewski@esri.com, www.esri.com.