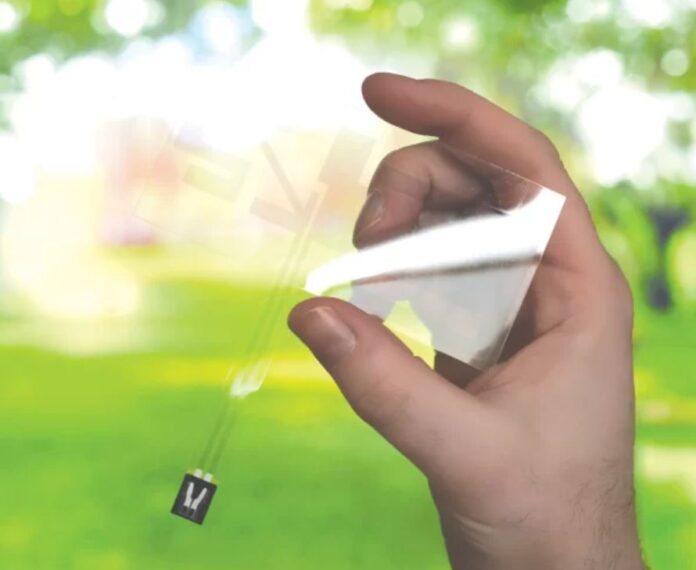 Cambridge Mobile Telematics Acquires Amodo
Cambridge Mobile Telematics has acquired Amodo, a European telematics company.  The acquisition gives Amodo's customers access to such telematics services driver risk measurement, proactive crash and claims services, and behavioral modification to reduce driving risk, the company said.  Amodo will adopt the CMT name.  CMT now powers nine telematics programs in Europe.
Contact:  Mike Fiorentino, CMT, mfiorentino@cmtelematics.com, www.cmteletmatics.com.
Taoglas Rolls Out Transparent Antennas
Taoglas has introduced three transparent (invisible) antennas for cellular, Wi-Fi, and GNSS technologies.  The antennas come with simple "peel and stick" mounting to any nonmetal surface, the company said.
The TFX62.A, TFX257.A, and TFX125.A can be used standalone or in a custom combination to enhance cellular, Wi-Fi, and GNSS antenna installations, respectively, the company said.  Example use-cases include EV chargers and parking meters, smart buildings, and transportation vehicles.
Contact: Taoglas, www.taoglas.com.
United Rentals Surpasses 335,000 Telematics-Enabled Assets
United Rentals URI -2.28%↓ has announced that it surpassed 335,000 pieces of equipment outfitted with telematics technology in its rental fleet.  The equipment includes aerial work platforms, earthmoving equipment, generators, all-electric trucks, compressors, e-dumpsters, light towers and more.  United Rentals' Total Control is a cloud-based worksite management solution that provides customers with visibility into both rented and owned telematics-enabled equipment, the company said.
Contact:  Ted Grace, United Rentals, (203) 618-7122, tgrace@ur.com, www.unitedrentals.com.
Skydel Becomes First GNSS Simulator to Break High-Capacity Barrier
Orolia, a Safran Electronics & Defense company, has announced today that its Skydel GNSS simulation engine software can generate more than 500 signals from a single platform.  Markets include GNSS users, experts, manufacturers and those looking for a LEO-capable simulation system.
Skydel features multi-constellation/multi-frequency signal generation, remote control from user-defined scripts and integrated interference generation.  Skydel can also produce navwar signals without any additional hardware, the company said.
Contact:  Charles Jones, Safran, (585) 450-2889, charles.jones@nav-timing.safrangroup.com, www.safran-group.com.
---
Create a FREE ManyMe Account.
---
Inpixon Named Gartner Indoor Location Services Leader
Inpixon INPX -1.28%↓ has been named a leader in the 2023 Gartner Magic Quadrant for Indoor Location Services evaluation.  The evaluation was based on a company's overall completeness of vision and ability to execute.  Gartner projects the indoor location services market to reach $55 billion revenue by 2030, up from $1.9 billion in 2021.
Contact:  Inpixon, marketing@inpixon.com, inpixon.com/contact-us.
TCarta Expands Role in Seabed 2030 Ocean Survey Project
TCarta Marine has expanded its role in the Seabed 2030 project that seeks to map the entire ocean floor by 2030.  TCarta has developed capacity building initiatives to train international hydrographic offices in creating their own SDB data sets for Seabed 2030 and other applications, the company said.
As a Seabed 2030 partner, TCarta has contributed 150,000 square kilometers of 10-meter resolution seafloor depth measurements from its Global Satellite Derived Bathymetry (G-SDB) product line, the company said.
Contact:  TCarta Marine, info@tcarta.com, www.tcarta.com.
Four Companies Develop Indoor/Outdoor Tracker
NGK Insulators, Exeger Operations, Tachibana Electronic Solutions and Semtech SMTC -0.36%↓ have developed a maintenance-free indoor/outdoor position tracker.  The position tracker features LoRa connectivity, solar cell to generate electricity indoors and outdoors and a lithium-ion rechargeable battery, the companies said.
The companies plan to look at such markets as child and elderly protection, office management, and logistics and industrial.  In addition, the tracker can not only record location, but temperature and humidity for goods and containers, the company said.
Contact:  Aki Sawfuji, NGK Insulators, ngk-cc@ngk.co.jp.
Mapxus and NOIZChain to Develop Indoor Location Game
Indoor mapping technology platform Mapxus has announced a joint venture with NOIZChain to co-create Honio, the first indoor location-based Game-Fi metaverse.  Mapxus has partnered with NOIZChain to build spatial digital twins of shopping malls and landmarks in the Honio metaverse, using indoor maps and positioning technology, the company said.  Honio, focusing on the Japanese market, will target 5,000 landmarks and buildings by 2024.
Contact:  Mapxus, info@mapxus.com, www.mapxus.com.
Ituran Issues Cash Dividend
Ituran Location and Control ITRN 0.04%↑ has announced a cash dividend in the amount of 14 cents per share, totaling $3 million.  The dividend will be paid to shareholders of record as of March 21, 2023.  The company said its location-based services subscriber base has been growing, particularly in Israel and Latin America.
Contact:  Udi Mizrahi, Ituran, 972 3 557 1348, udi_m@ituran.com, www.ituran.com.
People
Theo-Han Jansen has been named as WirelessCar's new vice president, strategy and product management. Jansen has 30 years of experience at such OEMS as FCA Fiat Chrysler Automobiles/Stellantis, Maserati and Ferrari, where he was responsible for implementing global connected vehicle programs.
Tracy Cozzens is retiring after 17 years at GPS World. Cozzens, a former newspaper reporter, was the magazine's managing editor and senior editor, covering the worldwide GNSS industry.
Jobs
Senior Product Manager II, Mapping. Axon.
Multiple Positions. European Space Agency.
105 Open Positions. Thales.
Open Positions. PreAct Technologies.