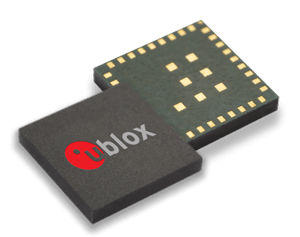 MWC Americas Features Location Technology
By Kevin Dennehy
Global navigation satellite system (GNSS) technology found its way into products ranging from autonomous vehicles to wearables at last week's Mobile World Congress Americas in San Francisco.              
Thalwil, Switzerland-based u-blox rolled out its ZOE-M8B system-in-package (SiP) for small consumer devices. The low-power GNSS SiP is tailored for such markets as wearable devices for fitness, health monitoring and personal tracking, said Florian Bousquet, u-blox market development manager.
"We have been known as an industrial and automotive manufacturer. That being said, there is an uptake in consumer applications, mostly wearables, trackers, cameras and glasses," he said. "Companies have complained that existing solutions consume way too much power and the battery is too big. We believe there is no other product that is as small and integrated on the market."
Bousquet says that ZOE's samples will be available in October and will be manufactured in volume at the end of January 2018.
IoT Continues to be Growing Location Market
Comtech Telecommunications showed off its Location Studio platform at MWC Americas that allows customers to build, or enhance, cloud-based embedded and hybrid applications. Location Studio is made up of modular suites that feature indoor and outdoor positioning, geolocation, location fraud detection, maps, search, routing, navigation, real-time messaging and analytics, the company said.
Comtech and Intertrust Technologies recently announced a data-sharing partnership centered around Personagraph, Intertrust's secure consumer data platform. Comtech will use Personagraph to provide access to its mobile consumer location data.
"We have embarked on a location strategy more than five years ago and have announced several partnerships," said Sameer Vuyyuru, Comtech senior vice president. "Location is based on WiFI or GNSS. [Artificial Intelligence] has been overused lately, but we have several use cases."
The company is building its accuracy requirements in response to the FCC's mandated performance standards that surround indoor accuracy for 9-1-1. "It's the anchor driving the technologies, though this goes beyond emergency services," said Jay Whitehurst, Comtech president of enterprise technologies.
Company Analyzing Location Data from Mobile Apps
Another unique location market is the data generated from smartphone's mobile apps. Reveal Mobile has software embedded in 600 mobile apps to gather location-related data for its customers, said Brian Handly, company CEO.
"We listen for location signals. This is not only latitude and longitude, but from beacons," he said. "Good thing about beacons is that they provide a precise signal and latitude and longitude get fuzzy in different places. With beacons, we can tell if a customers is at the Starbucks on Market Street and what they are doing and their dwell time."
Handly said the company isn't a proximity marketing company, they do not push out alerts to customers. "We leverage the information for historic relevance. To see if a golfer is at a golf course, a traveler at an airport," he said. "Then our app partners can tailor content based on their audience. This is based on where those users are going in the physical world. We have 50 million monthly active users across a network of apps that gives us statistical relevance."
Some types of markets Reveal Mobile markets could be financial institutions who want to see, for instance, how many customers are going into a restaurant chain prior to earnings, Handly said. "Retailers can use the location data to see how many people are going to a certain area to put in another location. Or say that 32 percent of users go into a Macys and also go to a Harris Teeter," he said. "That may be useful for potential cooperative marketing."
Handly said that privacy is critical to consumers and his company. "We have seen the backlash when companies do not have a correct privacy policy in place," he said. "It's not trivial to produce and app, they are expensive. There is no such thing as a free lunch and consumer data helps to monetize the app."
Location Company Completes Operator Testing
Another location company, Dallas-based PoLTE, said it recently completed success testing with an undisclosed wireless carrier. 
"We focused on, 'let's prove the theory that you can generate in location in a real-live network that is already deployed.' The requirements were for both outdoors and indoors, in large retail environments and restaurants," said John Dow, PoLTE president and chief operating officer.
PoLTE says that while WiFi, Bluetooth and GPS have deficiencies when tracking LTE devices, its system leverages native cellular signals to geolocate 4G and 5G devices. The company said it uses an advanced radar location technique to transform reference signals in LTE transmissions into precise location. "We use about 20 times less power consumption than GPS," Dow said.  
The company started focusing on LTE positioning nearly 7 years ago, said Russ Markhovsky, PoLTE founder at the MWC in Barcelona earlier this year. "Customers are going to be able to embed the available service into platforms and devices next year. We are undergoing trials and proofs of concepts and are connected to wireless operator's network test platforms," he said.   
The location information derived from PoLTE's network is valuable to retailers and others who track a consumer's spending habits, Dow said. In addition, he said the technology can be used on drones, where operations are difficult in urban canyons with traditional GNSS.