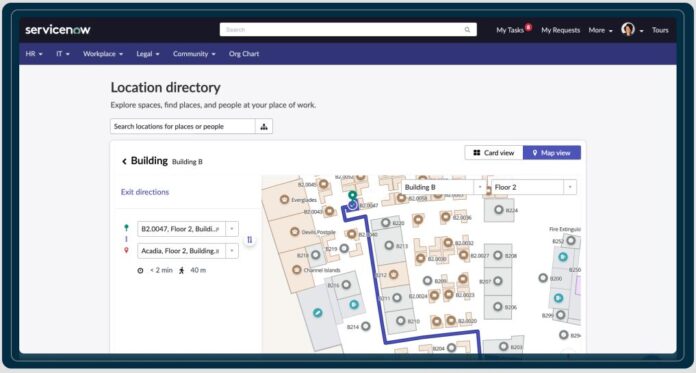 To serve industries that are challenged by a shift to permanent hybrid work, ServiceNow [NOW] has announced that it has re-platformed Mapwize indoor mapping technology into the Now Platform.
As part of the transformation, ServiceNow Indoor Mapping uses Workplace Indoor Mapping, an app available in the company's Workplace Service Delivery solution for desk hoteling and wayfinding, the company said.
ServiceNow last year closed the acquisition of France-based Mapwize. "When I joined the ServiceNow team less than a year ago, I was excited about the potential to help global organizations navigate hybrid work environments," says Mederic Morel, director of product management at ServiceNow and former CEO and co-founder of Mapwize, in a statement.
Workplace Indoor Mapping also offers multi-building wayfinding, which makes it easy and efficient for employees to go from building to building, the company said.
"But wayfinding technology is only effective when floor plans are accurately captured and kept up to date," said Kevin Nanney, ServiceNow's Workplace Service Delivery vice president and GM, in a statement.
ServiceNow quoted IDC estimates that, globally, 20 percent of organizations with 500 or more employees have either already invested in wayfinding technology or are planning to do so.
Other Indoor Mapping Studio features include the ability to create, edit and deploy maps; identify points of interest (restaurants, train stations, government buildings); customize map design; and automate the map creation process.