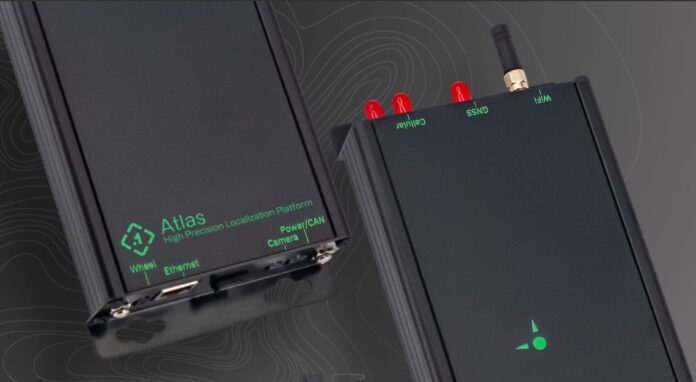 TomTom and Bridgestone Partner for Enhanced Fleet Electrification
TomTom [TOM2] has signed a multi-year contract with Bridgestone Mobility Solutions to support businesses in optimizing their fleets and accelerating the transition to electric vehicles (EVs).  Bridgestone Mobility Solutions' fleet management software Webfleet leverages TomTom's navigation, maps, and live traffic data from more than 600 million connected devices worldwide, the company said.
The companies said they will offer an integrated fleet management solution that allows businesses to manage all their vehicles on a single platform. As part of this deal, Webfleet incorporates TomTom's latest EV data and routing products.
Contact:  TomTom, mediarelations@tomtom.com, www.tomtom.com.
Woolpert and Allvision Partner to Enhance Geospatial AI Capabilities
Woolpert has partnered with geospatial analytics and asset management company Allvision to enhance geospatial artificial intelligence capabilities and applications.  The agreement will combine the AI, machine learning, and deep learning technologies of Allvision with Woolpert's lidar and imagery collection and processing expertise to develop new and enhanced geospatial solutions for clients worldwide, the company said.  As part of the deal, Woolpert receives exclusive rights to Allvision's AI technology.
Contact:  Woolpert, woolpert.com.
Point One Navigation Launches Atlas INS
Point One Navigation has introduced the Atlas Inertial Navigation System (INS).  Atlas offers accuracy and affordability for autonomous vehicles, mapping, and other applications, the company said.
Atlas, which is less expensive than legacy INS solutions at a starting price of $6,500, is designed for deployment in large fleets, the company said.  Atlas features a low-cost GNSS receiver and IMU with the Polaris RTK corrections network and Sensor Fusion algorithms, the company said.
Contact:  Mark Shapiro, for Point One Navigation, (619) 249-7742, mshapiro@srs-techpr.com, https://pointonenav.com/atlas.
PreAct Technologies' Mojave Lidar Available Through Arrow Electronics
PreAct Technologies has announced that its Mojave flash lidar sensor will be available through Arrow Electronics.  Mojave is a sensor solution that addresses a variety of applications including smart cities, robotics, cargo monitoring, education & university research, building monitoring, patient monitoring, agriculture and others, the company said.
The $350 Mojave is currently available for pre-order through Brevan Electronics.  It will also be available through DigiKey and Amazon.
Contact:  Angela Simoes, for PreAct Technologies, (415) 302-2934, angela@mpublicrelations.com,  www.preact-tech.com.
Spire Global Launched 11 Satellites on SpaceX's Transporter-9 Mission
Spire Global SPIR 0.00%↑ has successfully launched eleven satellites on the SpaceX Transporter-9 mission from Vandenberg Space Force Base.  Four launched satellites were for the Vindlér satellite constellation that carry radio frequency (RF) technology.  Vindlér can be used to locate emitters of interest throughout the world and can be used to track dark vessels, GPS jammers and more in support of national security efforts, the company said.
Contact:  Sarah Freeman, Spire, sarah.freeman@spire.com, www.spire.com.
---
Create a FREE ManyMe Account.
---
HAAS Alert Joins the AWS Public Sector Partner Program
HAAS Alert has joined the Amazon Web Services (AWS) Public Sector Partner (PSP) program.  HAAS Alert's Safety Cloud V2X allows agencies to digitize their safety programs.  More than 3,000 agencies are using Safety Cloud to send real-time safety messages to nearly 2 million connected Jeep, Dodge, Chrysler, and RAM vehicles and tens of millions of mobile navigation apps.
Contact:  HAAS Alert, (833) 433-4227, info@haasalert.com, www.haasalert.com.
AutoFlight Launches High-Payload Drone
Global eVTOL company AutoFlight has launched a high-payload firefighting program and released a fully functional prototype. With a maximum takeoff weight of two metric tons (MTOW), the firefighting model is designed to lift a 400-kilogram payload over a distance of up to 200 kilometers and can reach speeds in excess of 200 kilometers per hour, the company said.
It can transport four fire-extinguishing canisters, each weighing 100 kilograms, with the capacity to extinguish fires covering up to 200 square miles.
Contact:  Peter Goff, for AutoFlight, (353) 87 4680866, peter@nexusvista.com, www.autoflight.com.
Smith Micro Software Enhanced Location-Based Child Safety Offering
Smith Micro Software SMSI 0.00%↑has enhanced its flagship SafePath platform for 2024. These upgrades will provide mobile network operators (MNO) tools, with a go-to-market strategy, for rapid deployment and launch, the company said.  Changes to the SafePath Premium product include enhanced AI/machine learning to optimize and customize families' online experience to preclude cyberbullying, the company said..
Contact:  Paula Yurkovich, Smith Micro Software, (412) 260-1259,
pr2@smithmicro.com, www.smithmicro.com.
---
Chat with your enterprise databases using secure generative AI and empower business users in your team to do their own data analyses in seconds.
---
People
Exyn Technologies, a manufacturer of multi-platform robotic autonomy for GPS-denied environments, has appointed Brandon Torres Declet as CEO.
VisionTrack has appointed Ben Pickard as CEO.
NOAA's Office of Space Commerce named Janice Starzyk as deputy director and Gabriel Swiney as head of the Space Advocacy Division.
Outsight has named David Wurtz as aviation regional director of sales.
Jobs
Careers. HERE Technologies.
Job Openings. U-blox.
Careers. FleetResponse.
WIFI/BT Sales Manager-EMEA. Quectel.
---
Click HERE to Join our growing Location Business News LinkedIn Group!