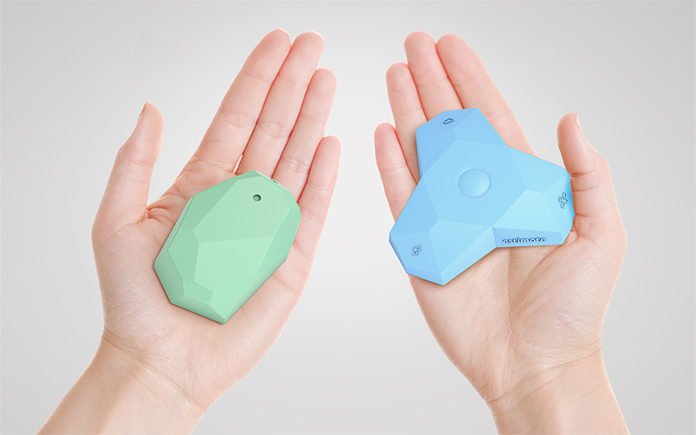 By Estimote
At Estimote we believe apps of the future won't be downloaded to phones, computers or tablets. Developers of tomorrow will use the physical world as their canvas. Precise location of people and objects will be accessed programmatically and apps will be "installed" on places.
To make this happen we are working on an Operating System for the physical world: a software environment where developers will be able to quickly build apps for one location and run the same experience on many.
Our first product, Estimote Bluetooth Beacons launched in 2013, enabled us to locate people and their phones inside buildings. To do that, we used Bluetooth Low Energy (BLE), an emerging technology at the time. Our iconic design, easy-to-use software and simple APIs made them the most popular beacons for developers. Since then, more than 150,000 innovators, startups, agencies, and Fortune 500 companies have used them to create context-aware apps. They've built mobile solutions to increase workplace productivity, comply with safety regulations, and deliver other magical experiences at scale, something that simply can't be accomplished without accurate microlocation.
New product from Estimote
Today we are proud to announce another revolutionary IoT device. Once again, we chose to leverage emerging IoT technologies (LTE M1 and NB-IoT) and have designed and productized a new device we call the "Estimote LTE Beacon."
It's a small, wireless beacon that can compute both its precise indoor and outdoor position. It can talk directly to the cloud and last multiple years on a battery.
Estimote LTE Beacons are designed primarily to seamlessly locate assets and vehicles when they move between indoor and outdoor environments. Their secure firmware/cloud software is crafted to provide true "proof of location" and "proof of delivery."
Since the device is fully programmable using JavaScript, it can also support other creative use-cases — for example, it can act as a remotely managed iBeacon or a gateway used to configure other Bluetooth beacons.
Smartphone without a screen
The best way to think of this new IoT device is to imagine it as a small smartphone, but without a screen. It can last years between charges and the cost is similar to a beacon. It has cellular LTE connectivity, built-in GPS, and Bluetooth radio. And it is also possible to create and download apps that run on the LTE beacon.
LTE Beacon specification
To create this new device from Estimote we have integrated the best Internet of Things components, designing the most robust beacon the industry has ever seen. Below, you can find the full specification and tech details of the radio and other IoT components we have used.
PROCESSOR AND MEMORY
It has a low-power 32-bit ARM Cortex-M4 CPU with floating point unit (FPU) running at 64 MHz. There is 1MB flash with cache onboard and 256KB RAM supporting over-the-air (OTA) firmware updates. There is an additional ARM CryptoCell co-processor with a full AES 128-bit suite as well as a true random number generator for full entropy and asymmetric/symmetric hashing cryptographic services.
BLUETOOTH RADIO
We have integrated one of the newest 2.4 GHz radios. It fully supports the latest Bluetooth 5.0 standard including mesh networking, long range, and high data throughput. The radio could also support 802.15.4-based protocols such as Thread and ANT. There is an additional amplifier (+20 dB) for extended range of packet advertising (200m).
SATELLITE POSITIONING
The device has a low-power satellite signal receiver supporting American GPS, European Galileo, Russian GLONASS, Chinese BeiDou, and Japanese QZSS. It uses multi-constellation algorithms for fast and accurate fixes using all visible satellites.
LTE CONNECTIVITY
Cloud connectivity is possible using a low-power LTE IoT modem equipped with an ARM Cortex A7 (1.3 GHz) and supporting 5G-ready protocols such as LTE Cat-M1 and Cat-NB1. The peak data upload speed to the cloud is 375 KBps for LTE-M and 60 KBps for NB-IoT. The modem supports eDRX and PSM sleep cycles to reduce power consumption while enabling cloud-invoked communication with the device. Modem and GSM antenna supports 15 bands (B1/B2/B3/B4/B5/B8/B12/B13/B18/B19/B20/B26/B28/B39) that cover virtually the entire world.