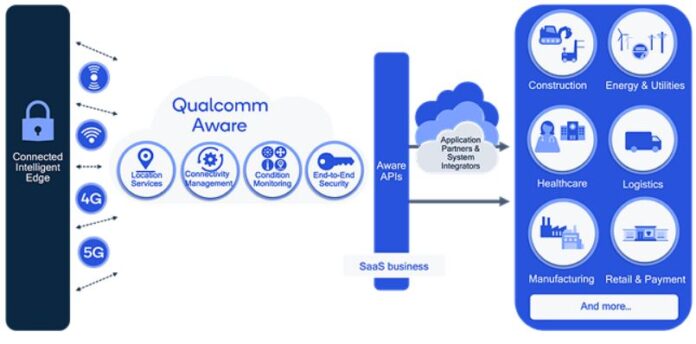 Chip giant offers platform with several location industry ecosystem partners
To combat fragmentation in the IoT industry, Qualcomm QCOM 0.49%↑ has launched its Aware platform that allows developers and enterprises to create custom products.  A big part of Aware is its location capability, which gives customers real-time information and data insights.
Aware, which provides global connectivity with location technology and sensor alerts, is targeted to cold chain distribution, utility asset monitoring, cargo shipment tracking, warehouse and inventory management, the company said.
For the first time since purchasing the companies last year, Qualcomm said it is using technology from Skyhook Wireless and PoLTE Corp. to add proprietary positioning techniques and a global signal database to the platform.  Skyhook and PoLTE, once bitter rivals, will combine their technology with Qualcomm's existing low-power location offerings.  The Aware announcement is the first time that Qualcomm has admitted to buying the assets of PoLTE, which went out of business last fall.
Other location industry companies are part of Aware's ecosystem of hardware and software partners:
Because the pandemic exposed supply chain disruptions, Qualcomm said that the initial Aware launch will focus on logistics businesses.  The platform allows Qualcomm to monetize services beyond chip sales, including recurring subscription-based revenues, the company said.
"Qualcomm Aware is designed to support organizations across industries with a scalable, cost-effective, capital efficient investment solution that delivers an accelerated time to market, simplifies digital transformation, and delivers transformative insights needed to mitigate risk, make more informed business decisions, and navigate challenges across industries," said Jeff Torrance, Qualcomm senior vice president and general manager, connected smart systems, in a statement.