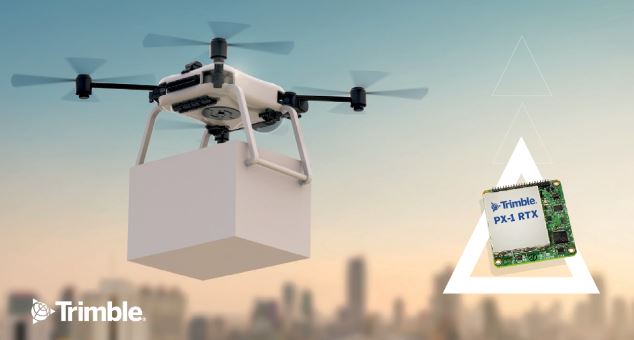 Location Industry Briefs
Send your news releases to kdennehy@driverlessreport.com. Go to www.locationbusinessnews.com for more news and an archive of stories.
Geotab Selected as Telematics Provider for the State of Minnesota
Geotab has been awarded a contract to sell telematics solutions to the state of Minnesota. Under the contract, state and local government agencies across Minnesota can purchase Geotab's telematics technology, the company said.  Financial details were not disclosed.
Geotab's government fleet management customers include those who have public works, winter operations and electrification capabilities. The telematics solution offers mixed fleet data management, salt and plow tracking, and access to the Electric Vehicle Suitability Assessment (EVSA), the company said.
Contact:  Geotab, www.geotab.com.
Trimble Rolls Out Drone Delivery Solution at Xponential Conference
Trimble TRMB -0.38%↓ rolled out its PX-1 RTX solution for positioning and heading of commercial drone delivery applications.  PX-1 RTX allows drone integration companies to add positioning capabilities to allow operators to efficiently plan and execute takeoff, navigation and landing, the company said.
PX-1 RTX, launched at the AUVSI Xponential Conference in Denver, leverages Trimble's CenterPoint RTX corrections and GNSS-inertial hardware to provide real-time, centimeter-level positioning, the company said.
Contact:  Trimble, http://advancedairmobility.trimble.com.
FCC Waiver Enables HARMAN to Deploy C-V2X Tech
HARMAN International says it was "one of the select few companies recently approved by the FCC to operate roadside and on-board cellular-vehicle-to-everything (C-V2X) technologies within the 5.9 GHz band in the United States."  The company says road users, city planners and highway administrators can benefit from its C-V2X solutions.  These include the HARMAN Savari StreetWAVE roadside unit and Savari MobiWAVE wireless vehicular on-board unit.
Contact:  Dawn Geary, HARMAN, (248) 463-0921, dawn.geary@harman.com. www.harman.com.
HERE powers HERNAV Navigaton and Routing Solution
HERE Technologies has announced that it powers HERNAV navigation and vehicle routing solution from Hermes Germany.  Introduced in late 2022, HERNAV features automotive-grade maps, real-time traffic, geocoding and navigation software through the HERE Software Development Kit (SDK).
HERNAV is used by more than 10,500 delivery drivers working for Hermes Germany.  With HERE's maps and services, HERNAV  offers drivers a navigation solution with vehicle-specific routing, the company said.
In other HERE news, the company partnered with Neusoft to offer a "more competitive navigation product" by leveraging Neusoft's product solutions and HERE's maps.
Contact:  Sebastian Kurme, HERE Technologies, 49 173 515 3549, sebastian.kurme@here.com.
Advantix and Azuga Partner
Advantix and Azuga have formed a strategic partnership to roll out SmartSIM-enabled GPS fleet tracking and dashcam solutions that connect to such carriers as AT&T T -0.23%↓ Verizon VZ -0.46%↓ and T-Mobile TMUS 0.00 in the U.S., and 475 providers worldwide.
By shipping the gear with Advantix SmartSIMs, Azuga eliminates the time-consuming need for fleet operators – or their IT equipment providers – to manually configure Advantix Access Point Names (APNs) in each device, the company said.
Contact:  Azuga, www.azuga.com.
Septentrio Signs Distribution Partnership With Braemac
Septentrio has signed a distribution partnership with Braemac for North America and Mexico. Braemac will distribute the full Septentrio portfolio, including the compact mosaic module family, the company said.
Both companies, which will exhibit at Xponential in Denver this week, say that Braemac will offer GNSS antennas, wireless connectivity solutions  and other products that are complimentary to the Septentrio product line.   Septentrio said the deal will expand its market share in North America.
Contact:  Septentrio, www.septentrio.com.
BlackBerry Radar Partners With McLeod
BlackBerry BB 1.75%↑ has announced a partnership with McLeod Software to integrate its Radar asset tracking into McLeod's Loadmaster trucking dispatch management system.  The deal, of which financial details were not disclosed, allow McLeod customers to obtain real-time information on the status of their assets.  Radar is targeted to trailers, chassis and containers to provide information about location, cargo status, trip events, mileage and door open/close status.
Contact:  BlackBerry, (519) 597-7273, mediarelations@BlackBerry.com, www.blackberry.com/us/en/products/asset-tracking/partners/mcleod.
CANCOM Partners With Quuppa
IT service provider CANCOM has partnered with Quuppa to offer its customers a RTLS (Real-Time Location System) that features asset location.  By adding location capability via Quuppa's Intelligent Locating System, CANCOM said its customers can quickly gain visibility into their operational processes.
The CANCOM and Quuppa offering will be marketed to logistics, manufacturing, retail, healthcare and other industries.  Some use cases include real-time monitoring of the supply chain, efficient management of inventory and load carriers, tracking of goods, people, tools and transport routes indoors, or in-store analytics, the company said.
Contact:  Sari Arjamo-Tuominen, Quuppa, sari.arjamo-tuominen@quuppa.com, www.quuppa.com.
Nokia Unveils 5G Drone-In-A-Box Solution
Nokia NOK -0.98%↓ has launched the first CE-certified, turnkey drone-in-a-box solution  for  public safety agencies, smart cities, construction, energy and defense.  CE-certified for European Union requirements, the Nokia Drone Networks solution connects over public and private 4G/LTE and 5G networks to enhance situational awareness for first responders and other professionals, the company said.
The solution includes Nokia drones, docking station, dual gimbal camera and edge cloud processing using Nokia MX Industrial Edge (MXIE).  Beyond visual line of sight (BVLOS) operations with real-time kinetic (RTK) positioning improves situational awareness, the company said.
Contact:  Nokia, press.services@nokia.com.
---
Create a FREE ManyMe Account.
---
VicOne Partners With TomTom
VicOne has partnered with TomTom [Tom2] to combine its xCarbon ECU intrusion detection and prevention systems with the TomTom Digital Cockpit.  Working with TomTom, VicOne enables OEMs to protect their users' data privacy in-vehicle through its smart cockpit cybersecurity software, the company said.
VicOne enables OEMs to provide multi-layered cybersecurity for their offerings and help car owners feel safe from cyberattacks before and after purchasing their cars, the company said.
Contact:  Vivian Kelly, for VicOne, (703) 509.5412,viviankelly@interprosepr.com, www.vicone.com.
Spire Grabs CSA Contract for Wildfire Monitoring
The Canadian Space Agency (CSA) has awarded a contract to Spire Global SPIR 35.43%↑ to deliver preparatory work for implementation phases of a wildfire monitoring satellite.  The contract is part of CSA's planned WildFireSat mission to monitor active wildfires in Canada.  Spire will partner with OroraTech for the contract.
Contact:  Kristina Spychalski, Spire, Kristina.Spychalski@spire.com, www.spire.com.
Sheeva.AI Wins Location Analytics Solution of the Year
Sheeva.AI was awarded the 2023 Location Analytics Solution of the Year award in this year's RetailTech Breakthrough Awards.  The competition included  1,200 companies being nominated across all categories.  Sheeva.AI's technology can identify the location of a vehicle at a designated gas pump, parking space, EV charging station, or drive-through lane and activate the service point from inside the car, the company said. Israel-based Oriient also won the Indoor Mapping Solution of the Year in the same competition.
Contact:  Trevor Curwin, Sheeva.AI, (415) 646-6063, tcurwin@sheeva.ai, www.sheeva.ai.
Ermewa Selects Nexxiot for Asset Management
Ermewa has selected Nexxiot to integrate asset monitoring technology for its fleet of more than 45,000 railcars.  Nexxiot's asset monitoring technology allows for railcar availability, service flexibility, cargo quality, and safety, through real-time data and predictive analytics, the company said.
Ermewa will integrate Nexxiot's Asset Intelligence technology to its existing telematics portfolio, the company said.
Contact:  Nexxiot, www.nexxiot.com.
Vantis Launches Surveillance Service Via Airspace Link Integration
The Northern Plains UAS Test Site (NPUASTS), Thales USA, and Airspace Link have announced the availability of localized surveillance data to registered UAS operators on Vantis, North Dakota's statewide uncrewed aircraft system (UAS) beyond visual line of site (BVLOS) network.  Vantis is making it easier for all operators to fly in North Dakota through the surveillance supplemental data service, the company said.  Registered UAS operators can access the service to display surveillance tracks of crewed traffic while planning and operating UAS flights within a Vantis service volume, the company said.
Contact:  Casie Ocana, Airspace Link, casie.ocana@airspacelink.com, https://airspacelink.com.
ModalAI Launches VOXL 2 Mini
ModalAI rolled out its VOXL 2 Mini that features autonomy, communications, and power management.  VOXL 2 Mini features the Qualcomm QCOM 0.03%↑ QRB5165 with 8 cores up to 3.091GHz, four MIPI-CSI image sensor inputs, pre-configured accessories,  the company said.
The power from VOXL 2, coupled with perception sensors and a power management system, delivers obstacle avoidance, obstacle detection, and GPS-denied navigation.  In addition, the company's VOXL SDK enables developers looking to create, validate, test, and integrate their autonomous flight software into their small UAV solutions, the company said.
Contact:  Lauren Young, ModalAI, lauren.young@modalai.com, www.modalai.com
ARway Integrates Platform with Microsoft HoloLens
ARway Corp. [ARWY] said it has started integrating its platform with the Microsoft HoloLens, with completion of the integration expected within the next 60 days.  The company recently partnered with Magic Leap Glasses for the IPIN (Indoor Positioning and Indoor Navigation Market ) market.
Microsoft HoloLens is a mixed-reality headset that enables users to interact with virtual objects and holograms in a natural way using hand gestures, voice commands, and eye movements, the company said.
Contact: ARway, support@arway.ai, www.arway.ai
ATrack Launches In-Vehicle AI Solutions
ATrack Technology rolled out several new products including the AK500 multifunctional telematics gateway and AW500 smart AI camera that supports Advanced Driver Assistance Systems (ADAS).  Other new products include the AS700 solar-powered asset tracker.
Contact:  Chloe Wang, ATrack, chloe.wang@atrack.com.tw.
People
---
Your partner in global employment
Over 1000 companies are hiring, paying, and taking care of their team members all over the world with Oyster's all-in-one global employment platform.
---
Jobs
Sales Director. Septentrio.
Business Analyst. TomTom.
Senior Consulting Specialist. SBD Automotive.
Product Planning Director. SBD Automotive.
Open Roles. Taoglas.
---
Click HERE to Join our growing Location Business News LinkedIn Group!