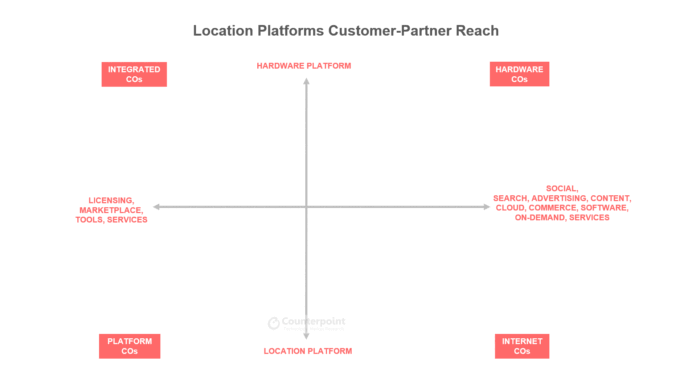 Study says HERE Technologies maintains the location platform leadership ahead of Google and TomTom in 2021
A new location industry study said HERE Technologies has moved ahead of Google Maps as the top mapping platform in automotive, enterprise and other market segments.  The study, Counterpoint Research's Location Platform Vendor Scorecard, analyzed 25 mapping and location platform companies.
The company used these criteria for the evaluation:  maps data, location intelligence, location services, data platform, developer ecosystem, partners, and 'customer rolodex' growth.
"In the last 18 months, HERE has expanded its portfolio, platform capabilities partnerships and customer base," the study said.
Google, which the study says is the second largest location and mapping platform, scored well in  "comprehensiveness, coverage, POIs, and freshness of the map data and adding newer capabilities such as Augmented Reality in the consumer space leveraging with 3.5 billion Android users globally."
However, the study said that Google "lags when it comes to automotive, enterprise sectors behind HERE, TomTom and regional champions in key markets."  In addition, the study said that Google has been "relatively slow to transform into a full-blown platform model despite in mapping usage."
The study said that TomTom is the third largest player in its rankings "with growth in the mapping and location intelligence capabilities mainly targeting the automotive industry and other maps data licensing opportunities."
Overall, the top three companies led in these areas:
HERE "led in more than 40 capabilities including Maps Data depth, freshness, indoor maps, HD Maps, navigation, routing, EV services, tracking and positioning, developer support, platform privacy, security."
Google "led in overall maps data reach, coverage, depth, POIs, AR, Infotainment and so forth."
Tom Tom "led in navigation, offline maps coverage, navigation and other areas."
The study said that Mapbox, which it rates as one of the top five location platforms globally, is finding success based on its "developer traction, advanced visualization, analytics tools and partnership roster."