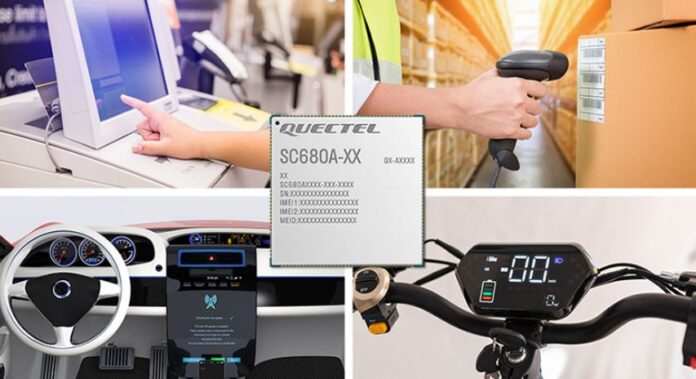 LAS VEGAS—The Mobile World Congress Americas conference here highlighted connectivity solutions and even several location product introductions.  Quectel Wireless Solutions released its new SC680A smart module that features LTE Cat 6, Wi-Fi 802.11ac and Bluetooth 5.0.
The company said the module is marketed to "mid-tier IoT devices including POS and payment terminals, industrial handhelds for logistics and warehousing, in-vehicle infotainment and dashcam solutions, small electric cars and micro-mobility applications.  The L1+L5 dual-band multi-constellation and high-precision GNSS receiver is also embedded for positioning services, the company said.
Taoglas launched a new series of multi-band GNSS front ends for autonomous vehicles, precision agriculture, automotive, unmanned aerial vehicles (UAV) and robotics at MWC Americas. The new TFM.110A, when used between the device's GNSS receiver and antenna, features a two-stage amplifier that saves designers months to years of engineering hours by eliminating the need for complex and challenging onboard filter and amplifier circuits, the company said.
The TFM.110A offers a fully integrated external RF circuit in a 15.5 x 15.5 x 2.76 mm package for use between GNSS receivers and Taoglas' range of high precision multi-band antennas, the company said.  The amplifier solution supports L1, L2, and L5 bands.
In other MWC news:
JimiIoT displayed its systems and solutions for GPS asset tracking and video telematics.  These include VL02, a vehicle tracker that uses the Cat-M1/NB-IoT networks for data transmission and features multiple I/Os for function expansion, the company said.
Combain has developed a new indoor positioning system using deep learning.  The company tested the new system indoors and received 1.5-meter, and some cases, 80-centimeter accuracy. The company offers its positioning solution, called Combain Indoor, as as cloud-based and on premises product.