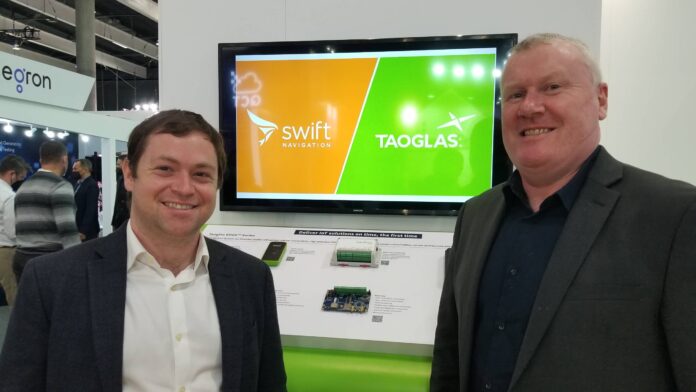 BARCELONA—Swift Navigation and Taoglas have partnered at the Mobile World Congress to deliver GNSS solutions to mass markets, including autonomous vehicles, automotive, smart mobility and other applications.  The Taoglas EDGE Locate IoT platform and EDGE RTK Starter Kit will be pre-integrated with Swift's Skylark precise positioning service.
Some of the applications for the new product will include such micromobility (scooters), delivery, robotic and industrial customers.
"No one company can delivery this centimeter-level accuracy.  Some of the systems provide just regional coverage, or were survey-based, so we looked for two years for the right partner," said Ronan Quinlan, co-founder and joint CEO of Taoglas.  "This is a big deal as we see it going into the Cowboy e-bike, lawn mowers and other customers."
The integrated solution will make it easier for customers to acquire accurate positioning for IoT-based products, said Swift CEO Timothy Harris.
Harris said the European market has been important for Swift.  "We have worked with Deutsche Telecom on precise positioning.  Europe, along with the U.S., is developing the next generation of vehicles, and devices, which include premium automotive and construction equipment," he said.