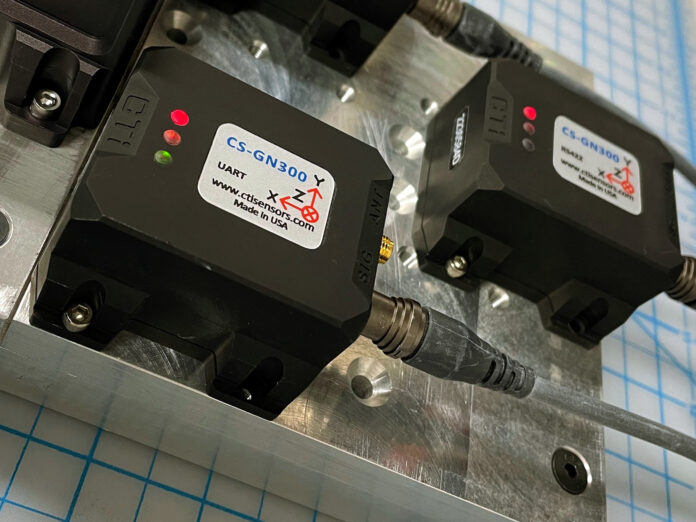 CTi Sensors has released a high-performance Inertial Navigation System aided with multi-constellation GNSS measurements (INS/GNSS).  The CS-GN300 combines the latest in inertial sensors and GNSS modules with an advanced fusion algorithm, all packaged into a beautifully compact form factor.
3D position, velocity, and orientation are supplied at 200 Hz as are measurements from 3-axis accelerometer, gyroscope, and mangetometer.  The GNSS receiver is multi-constellation and supports GPS, GLONASS, BeiDou, Galileo, SBAS, and QZSS constellations.
The CS-GN300 is configured for easy setup and includes all that is needed to hit the ground running. Use the included CTi Sensor Connect GUI software to begin testing within minutes or integrate the sensor into your own data acquisition workflow.
Other Applications:
Mapping and surveying
Automotive and ground-vehicle testing
Off-road vehicle testing
Marine applications
Unmanned Autonomous Vehicles (UAVs)
Simulation Localization And Mapping (SLAM)
Beyond Visual Line Of Sight navigation (BVLOS)
Precision agricultural
Construction applications
Machine control and automation
Robotics application
For more information, click here.
Contact: CTi Sensors, (440) 264-2370, info@ctisensors.com, www.ctisensors.com.