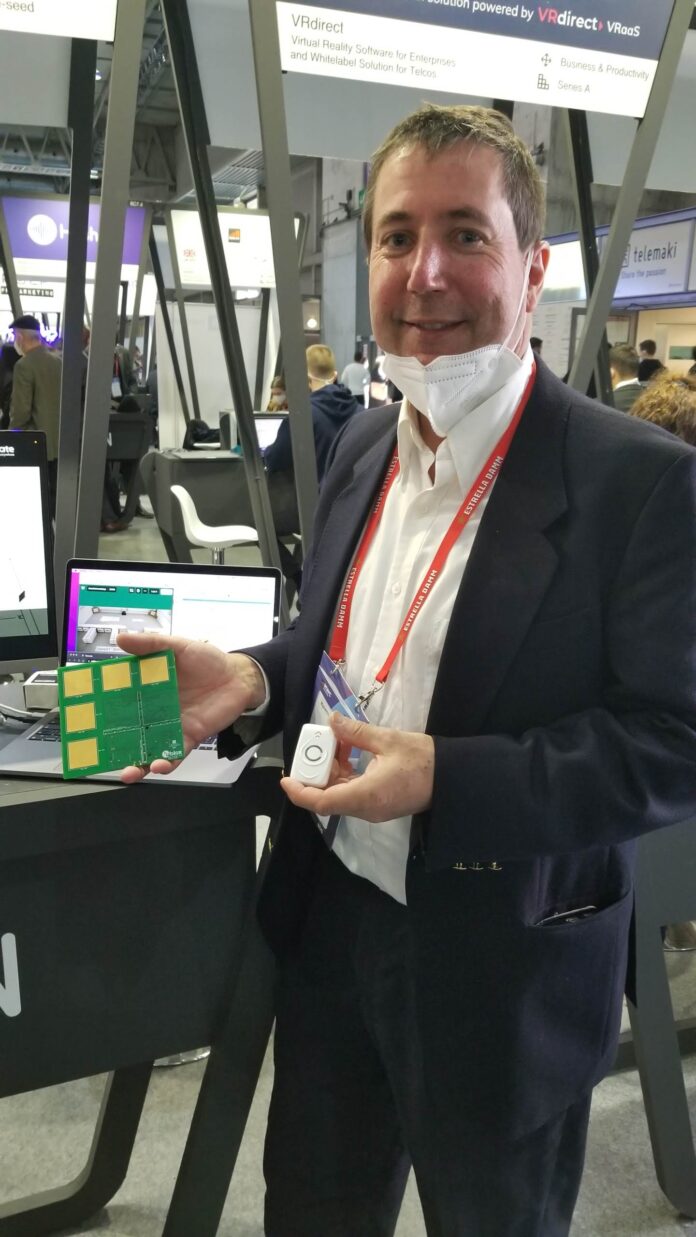 BARCELONA—About two dozen small- to medium-size location companies exhibited at the Mobile World Congress here to offer positioning capability and other features for European markets and beyond.
France-based Nestwave announced that the company's technology is being integrated into a new all-in-one ultra-efficient narrowband IoT (NB-IoT) chipset from IoT secure hardware and software specialist Trasna Solutions.  Developed by Trasna, the Safe-IoT Chipset will offer a fully integrated NB-IoT platform for low-power wide-area networks (LPWANs) embedding RISC-V cores for application, security and radio and enabling iSIM and Nestwave GNSS, the company said.
Lund, Sweden-based Traxmate, which exihibited in the 4 Years From Now area of MWC, is offering IoT-based asset tracking using u-blox GNSS modules.  The company integrates such tracking and positioning technologies as GPS/GNSS, Bluetooth Low Energy, Wi-Fi, cellular location and LoRa, said Bjorn Lindquist, Traxmate CEO.
"We are a sister company to Combain, which has been around for more than 10 years, so we can provide much more accurate indoor positioning," he said.  "Industrial markets and pet and asset tracking are areas we have had a lot of interest.  Indoor tracking is finally going to take off."
Another MWC exhibitor, Deeyook, a location-as-a-service (LaaS) company, has invented and patented a tracking solution to determine indoor and outdoor locations of items, assets, and employees.  Company CEO and co-founder Gideon Rottem, said the company's largest market is the supply chain—manufacturing, logistics and retail.
"We are starting in industrial markets, but seeing a lot of interest in healthcare.  Tracking 2,000 beds in a hospital is one of them," he said.
At CES, Infineon Technologies [IFX] and Deeyook announced a partnership to offer location solutions.
Barcelona-based RedGPS is getting more active in the South American fleet tracking markets, said Pedro Braga, the company's head of sales, at the 4 Years From Now conference at MWC.  "We are a software company using GPS and IoT.  We offer mobility solutions in Mexico, Argentina and many other countries in Latin America," he said.  "We believe the South American tracking market is very strong right now.  We have been working for six years in that market and now starting in Europe."
In other MWC location news:
Ubiscale announced a "tier one" customer for its Cobalt GNSS IP core that supports GPS, Galileo, and BeiDou as well as smart cloud assistance for
IoT sensors, asset tracking devices and mass-market mobile products such as wearables, animals and goods trackers.  "Our customers can definitely supersize the market scope of their next-generation chipset for IoT and get GNSS capability with unprecedented low footprint and optimal cost," said Samuel Ryckewaert, co-founder and business development manager at Ubiscale.
Another company, Loctio, plans to use low-Earth-orbit satellites for positioning.  The company's Cancri location system offloads the GNSS signal processing from an IoT device to the Cloud or Edge, said Lazoros Kapsias, Loctio CEO.