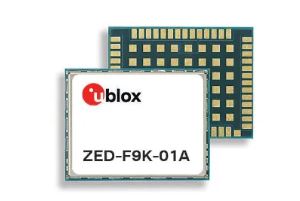 Swift Navigation Expands Skylark Capabilities
San Francisco-based Swift Navigation has expanded the capabilities of its Skylark precise positioning service to several product tiers.  The company will now offer new services providing RTK (real-time kinematics) and DGNSS (differential GNSS) options.  In addition, new BeiDou (BDS) signal support and regional coverage has been added, the company said.  Swift also announced that BDS signal is available to supplement existing for GPS and Galileo.
Contact:  Swift Navigation, press@swiftnav.com, www.swiftnav.com.
GMV and u-blox Partner for Positioning Solutions
Thalwil, Switzerland-based u-blox [UBXN] has partnered with GMV to provide ready-to-use positioning solutions.  The company says that functional safety is becoming "indispensable for automated or autonomous driving vehicles" for the auto and industrial sectors.
The new deal with GMV, which features safety algorithms and augmentation services, include's u-blox's positioning software and hardware.  The positioning solution will be marketed by u-blox as part of its existing GNSS receiver portfolio and PointPerfect GNSS augmentation service, the company said.  More details will be released in 2023.
In other company news, u-blox announced an automotive-grade variant, the ZED-F9K-01A GNSS module. The module offers a fully integrated lane identification solution, the company said.
ZED-F9K-01A will be on display at the upcoming CES 2023 in Las Vegas in January. Samples are available for evaluation, the company said.
Contact:  Natacha Seitz, u-blox, 41 76 436 0788, natacha.seitz@u-blox.com, www.u-blox.com.
Pozyx Launches Static Location Tag Feature
Pozyx has launched its Static Tag feature to further reduce the power consumption of its tags and provide accurate real-time location data in areas with limited coverage.  The feature, based on field tests with thousands of tags, improves battery consumption and positioning accuracy, the company said.  The tag is suited for enhanced real-time location services (RTLS) efficiency in warehouses and production facilities, the company said.
Contact:  Elly Schietse, Pozyx, marketing@pozyx.io, www.pozyx.io.
Quectel Offers Antenna Combo
Quectel Wireless Solutions has announced the YB0027AA combination antenna that combines high performance cellular, Wi-Fi, Bluetooth and GNSS antennas.  The new antenna can be screw-mounted on devices and also supports multiple connector types and cable lengths, the company said.
The company says YB0027AA offers a more flexible and reliable high-performance antenna solution for outdoor applications.  Other applications include for emergency service vehicles, emergency service networks, autonomous vehicles and remote monitoring applications, such as in buses and shipping port machines, broadband failover and remote television broadcasting, the company said.
Contact:  Quectel, marketing@quectel.com, www.quectel.com.
Honeywell Supports NASA's Artemis I Launch and Orion Spacecraft
Honeywell HON 0.97%↑technology is helping enable NASA's Artemis I launch, with guidance and navigation systems, among others.  The navigation and guidance systems include a barometric altimeter, which tracks the altitude of the Orion capsule in Earth's atmosphere as well as the inertial measurement system and GPS receiver, which track the position and movements of the capsule, the company said.
Contact:  Adam Kress, (602) 760-6252, Adam.Kress@Honeywell.com, www.honeywell.com.
Convey911 Uses NextNav's Vertical Location Service
Convey911 has selected NextNav NN 1.14%↑ for its z-axis vertical location intelligence.  Agencies using Convey911's solution will now be able to leverage z-axis data and visualization that is powered by NextNav's vertical location service, the company said.
Convey911 allows emergency personnel to connect with emergency callers via text and multimedia messaging in more than 135 languages.  The integration with NextNav's vertical location service will provide first responders with an emergency caller's precise location data, including their elevation level, the company said.
Contact:  Gillian Smith, NextNav, media@nextnav.com, www.nextnav.com.
Connexion Partners With Quickride
Connexion Telematics, the developer of General Motor's GM 1.63%↑ OnTRAC, has announced a partnership with shuttle service Quickride to integrate dashboard technology that allows dealers to manage their courtesy fleet and shuttles.  Features include fleet and courtesy transportation management; driver tracking, navigation, and route optimization; and a customer app with real-time shuttle updates.
Contact:  Tony Vigiletti, Connexion, tony.vigiletti@connexionltd.com.
Rand McNally Expands Telematics Platform into New Markets
Rand McNally has expanded of its API-first Rand Platform into additional field service markets.  Rand cites Toyota, Avis, and Aramex as customers, but now wants to move into the field service market to offer telematics solutions to fleets in construction, oil and gas and mining operations.
Some of the successes Rand McNally says fleet owners, with their telematics installed, have seen include:  A 45 percent reduction in fleet maintenance and administration costs, an 80 percent drop speeding violations among drivers, improving safety and a 99 percent recovery in stolen vehicle and equipment assets.
Contact:  Rand McNally, (800) 789-6277, https://fleet.randmcnally.com.
Otonomo Partners With Ramboll
Otonomo Technologies  OTMO 0.00 has partnered with Ramboll, who will use the company's Smart Mobility Data Platform to enhance its consultancy reports and transport models. Ramboll will also offer streaming vehicle data to road authorities for traffic management and road safety applications, the company said.  The new partnership will enable Ramboll to use the connected vehicle data available, including geo-enhanced floating car data, as well as extended vehicle sensors including, weather events, road friction and road sign placement.
Contact:  Juliet McGinnis, Otonomo, press@otonomo.io, www.otonomo.io.
---
News Without Motives.
1440 is the daily newsletter helping 2M+ Americans stay informed—it's news without motives, edited to be unbiased as humanly possible. The team at 1440 scours over 100+ sources so you don't have to. Culture, science, sports, politics, business, and everything in between – in a five-minute read each morning, 100% free.
---
MetAlert Launches GPS SmartSole With Canadian Distributor
MetAlert [MLRT], formerly GTX Corp., said Canadian distributor Red Dot Alerts has launched its new 4G GPS SmartSole, a wearable medical monitoring device integrated into an orthotic insole that allows "discreet tracking" and remote monitoring of Alzheimer's, dementia, and autism sufferers.
MetAlert uses GPS, Cellular, RF, NFC and BLE technology to enable subscribers to track, in real time, the whereabouts of people or high value assets, the company said.
Contact:  MetAlert, www.metalert.com.
ATrack Launches 4G Vehicle Trackers
ATrack Technology has launched two 4G fleet management products—the AX300 OBD tracker and AK500 telematics gateway.  The AX300 OBD tracker, which has compact size, supports ISO 15765-4, ISO J1939, and SAE J1708 communication protocols.
The AK500 Telematics Gateway incorporates an LTE Category 4 ultra-high speed wireless mobile network with 2.4GHz and 5GHz WiFi sharing, Bluetooth, engine diagnosis and real time position monitoring, the company said.
Contact:  Chloe Wang, ATrack, Chloe.wang@atrack.com.tw, www.atrack.com.tw.