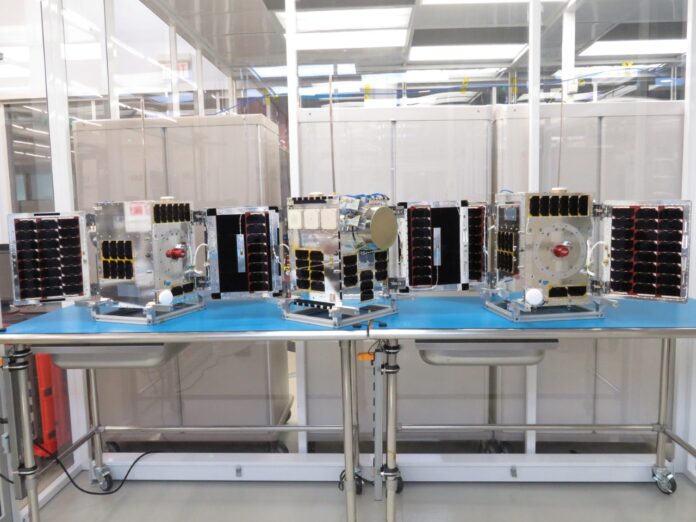 MetAlert to Acquire TrakTec for $4.5 Million
MetAlert [MLRT] has agreed to acquire Florida-based TrakTec, a location awareness technology company, for $4.5 million in a cash and stock deal.  TrakTec offers iGPS Watches and SafetyNet tracking systems that offer a range of enhanced monitoring services, the company said.  The iGPS products include the Wizard GPS Tracking Watch Phone, designed for children, and the Phoenix watch, a GPS-based smart wearable for seniors, the company said.
Contact:  MetAlert, (213) 489-3019, info@metalert.com.
Deftpower Partners With TomTom
Deftpower has partnered with TomTom [TOM2] to integrate EMPs into the head units of electric vehicles.  The collaboration allows electric vehicle manufacturers who work with TomTom to offer the apps from Deftpower clients to their own customers, the company said.
Deftpower is working with Ladeklubben and Avia, in five European countries, to provide access to providing access to charging networks.  Through the TomTom partnership, EV drivers can search for, and navigate to, charging stations directly from their vehicle, the company said.
Contact:  Deftpower, 31 085 130 29 96, press@deftpower.com, www.deftpower.com.
MapsPeople Partners With Virdee
MapsPeople has partnered with Virdee to combine its MapsIndoors with Virdee's mobile reception app, Virtual Reception.  The interactive mapping features allow guests to navigate in the hotel to find points of interest via the Virdee app, the company said.  This includes giving guests access to view amenities, select services and book locations.
Contact:  MapsPeople, www.mapspeople.com.
Trimble Partners With OneRail, Adds Features to Engage Lane
Trimble $TRMB has partnered with OneRail to integrate Trimble Maps technology as part of the Orlando-based transportation technology startup's delivery platform to enhance last mile logistics.  Leveraging integration with Trimble Maps, OneRail now uses PC*MILER commercial routing and mileage, location services, map visualization, and an advanced ETA engine.
The company also announced, at Manifest 2023, that its Engage Lane dynamic contract procurement solution now provides the industry's first availability of average dwell time metrics within a freight bidding workflow, the company said. This integration enables carriers and shippers to make better, more-informed freight procurement decisions, the company said.
Contact:  Eddie Kraft, Trimble, (732) 606-6189, maps.trimble.com.
Druid Software Partners With Combain To Integrate Location Technology
Druid Software has partnered with Combain Mobile AB to enable indoor and global location for enterprise 50 or 4C private networks.  The companies will package this location capability as a function of the LMF (Location Management Function) on the Druid Raemis core platform to provide location intelligence to enterprises.
Combain will produce the location calculation component of the 3GPP-compliant LMF for 5G, which equips the Druid Raemis core platform with positioning technology, the company said.  The companies believe that the collaboration's positioning engine core will spur the adoption of location applications for 5G private networks.
Contact: Tadhg Kenny, Druid Software, 353 1 201 4752, tkenny@druidsoftware.com; Andreas Ekengren, Combain, 46 722 059 680, andreas.ekengren@combain.com.
Velodyne Says 98 Percent of Shareholders in Favor of Merger
Velodyne Lidar VLDR -5.59%↓ has announced that 98 percent, of the nearly 50 percent of shareholders who have voted in a special meeting, have approved the company's merger with Ouster OUST -7.07%↓.  The special meeting will reconvene on Feb. 3.  Company officials say the merger will allow a more robust product suite and commercial reach.
Contact:  Jane Maynard, Velodyne Lidar, pr@velodyne.com.
Ground Control Communications With RF Geolocation Microsatellites
Space Flight Laboratory has announced that ground control successfully established communication with three radio frequency (RF) geolocation microsatellites developed by SFL.  HawkEye 360 Cluster 6 was launched on Jan. 24 on Rocket Lab's Electron Rocket from Wallops Island, Va.  The mission brings the number of HawkEye 360 microsatellites built by SFL and now in orbit to 18.
The HawkEye 360 constellation detects and geolocates RF signals for maritime situational awareness, emergency response, national security and spectrum analysis applications, the company said.
Contact:  Robert Zee, SFL, (416) 667-7400, info@utias-sfl.net, www.utias-sfl.net.
Comtech Names Sirqul as EVOKE Technology Partner
Comtech CMTL -0.90%↓ has announced that Sirqul will become the company's first "publicly announced" EVOKE technology partner.  EVOKE is Comtech's Innovation Foundry, which is led by the company's chief growth officer.  Sirqul also announced Comtech will integrate its communications solutions, precision location-based services, and cloud native technologies with Sirqul's Engagement-as-a-Service (Eaas) IoT Platform.
Contact:  Jamie Clegg, Comtech, (480) 532-2523, jamie.clegg@comtech.com.
---
Create a FREE ManyMe Account.
---
ANELLO Photonics Awarded DIU Contract
ANELLO Photonics has been awarded a Defense Innovation Unit contract for navigation solutions compliant with the C5ISR/Electronic Warfare Modular Open Suite of Standards for the U.S. Army.  During the next year, ANELLO will demonstrate the capabilities of its sensor fusion technology for military vehicle navigation, the company said.
Contact:  Gerhard Boiciuc, ANELLO Photonics, (312) 505-5356,
352881@email4pr.com, www.anellophotonics.com.
Beaconsmind Adds Indian Coffee House Chain
Switzerland-based beaconsmind AG [MLBMD] has added one the fastest growing coffee house chains as a customer for its location-based marketing solutions in India.  The unnamed coffee house chain currently operates cafes in ten cities and aims to increase the number of cafes to around 300 in over 20 cities, the company said.  By using the beaconsmind Suite software, in conjunction with the app from the coffee house chain, the company is opening up new marketing and communication channels.
Contact:  Max Weiland, beaconsmind, 41 44 380 73-73, maxweiland@beaconsmind.com, www.beaconsmind.com.
JAVAD Rolls Out T3-NR GNSS Network Rover
JAVAD GNSS' new T3-NR is a small and light GNSS Network Rover, with an integrated MEMS IMU, designed for a full day of field work, the company said.  When paired with the JAVAD Mobile Tools for data collection, the T3-NR connects to real-time networks for corrections to achieve GNSS RTK with IMU tilt compensation, the company said.
T3-NR can operate for 25 hours on a single battery charge, ensuring full-day operations, the company said.
Contact:  JAVAD GNSS, (408) 770-1770, www.javadgnss.com.
Incognia Identifies Suspicious Locations
Location Identity company Incognia has announced the launch of a new feature, Suspicious Locations, that combines device and location signals to identify, well, suspicious locations.  Markets include fraud and risk management teams across industries, including food delivery, ride-hailing, social media, marketplace, financial services and gaming.  Incognia defines a suspicious location as a place where a high density of risky devices congregate.  Incognia maps signal environments based on a combination of GPS coordinates, WiFi signals, Bluetooth, and cellular network data, the company said.
Contact: Marisa Wong, for Incognia, (415) 994-0900, www.incognia.com.
LocoNav Announces Preferred Partners
LocoNav has announced that Peninsular Malaysia's largest Isuzu dealer, Automotive Corporation Malaysia, is now a preferred partner.  The company also said that Africarriers Limited, Tanzania's automobile industry pioneer, is now a LocoNav Preferred Partner in Tanzania.
Contact:  LocoNav, https://loconav.com.
U.S. DoT Solicits Members for the ITS Program Advisory Committee
The U.S. Department of Transportation (U.S. DOT) is soliciting individuals who wish to join the Intelligent Transportation Systems Program Advisory Committee (ITSPAC). The ITSPAC will provide advice and recommendations to the U.S. Secretary of Transportation on matters relating to ITS, provide a forum for national discussion and recommendations on ITS activities, and promote the coordination of external ITS activities with federal ITS activities, the agency said.  ITSPAC membership requires experience in and familiarity with future innovations in technology, business development, and strategic planning issues.
Contact:  U.S. DoT, www.federalregister.gov/d/2023-01769.
Esri Signs Space Act Agreement with NASA
Esri has signed a Space Act Agreement with the National Aeronautics and Space Administration (NASA) that focuses on extending access to the broader global community of NASA's geospatial content for continued research and exploration.  This includes new datasets from nearly 100 spaceborne sensors, measuring atmospheric health, land-based phenomena, and characteristics of the oceans, the company said.  Efforts will add to the existing NASA data in ArcGIS Living Atlas of the World, including maps and apps.
Contact:  Jo Ann Pruchniewski, Esri, (301) 693-2643, jpruchniewski@esri.com.
SandboxQQ Wins U.S. Air Force Contract for GPS Compliment System
SandboxAQ has been awarded a Direct-to-Phase-II Small Business Innovation Research (SBIR) contract by the U.S. Air Force to research quantum navigation technologies.  SandboxAQ will advance research and development for its quantum navigation system, "which is being designed to complement GPS for accurate navigation in degraded, contested, or denied environments where the loss of precision GPS may negatively impact operations," the company said.
Contact:  SandboxAQ, www.sandboxaq.com.
People
Grab Holdings $GRAB has promoted Philipp Kandal to chief product officer.   Kandal, who will continue to lead the company's Geo organization, helped to develop GrabMaps.  Philipp co-founded and was the CTO of Skobbler, which was acquired by Telenav.
Placer.ai has named Dan Hight as vice president, channel partnerships. Hight held executive positions at several companies, most recently at NextNav NN 

-0.66%↓

.
The Institute of Navigation has Logan Scott recipient of the Captain P.V.H. Weems Award given in recognition of continuing contributions to the art and science of navigation.
ION also announced that Frank van Diggelen is the recipient of the ION Distinguished Service Award for his "extraordinary service to the Institute of Navigation." Van Diggelen has served as the president of ION from January 2021–January 2023. He is a past recipient of the ION' Kepler Award and Thurlow Award.
Autonomous vehicle veteran Bobby Hambrick has established The Hambrick Foundation. Hambrick was chief autonomous officer at Hexagon's Autonomy & Positioning division.  He was CEO and founder of AutonomouStuff.
Jobs
Multiple Openings. TomTom.
Global Navigation Satellite System Designer. Airbus.
Key Account Manager. Bridgestone Mobility Solutions.
Multiple Positions. EVERYWHERE Communications.
Senior Product Marketing Manager. Trimble.
Marketing & Communications Manager. Reflex Aerospace.